Thanks for visiting us here at Leisure RV Sales, your full-service RV and trailer destination here in beautiful Ontario Canada. If you're looking for a Jayco RV or a Jayco Travel Trailer in Tecumseh Ontario, we'd be glad to serve you. Leisure RV Sales have a wealth of experience in the industry, with over 23,000 RVs sold over our 62-year history. Today we're bringing to you a luxury Travel Trailer from Jayco, one of the industry's premier brands, ladies and gentlemen, we give you, the 2019 Jayco White Hawk.
>>Download the 2019 Jayco White Hawk Brochure
Construction
If you're looking for a solid, and robust travel trailer that will serve you for many vacations over many seasons, look no further than the Jayco White Hawk. A quality travel trailer starts with quality construction, and with the White Hawk, that's what you'll get. A simple example; most brands use cheap plastics for their trailers' wheel wells, Jayco has fitted the White Hawk with galvanized steel, impact resistant wheel wells for incredible durability and protection from road debris. The coach itself is based around a Norco NextGen frame with an integrated A frame for incredible strength and rigidity, and the body is formed from Jayco's vacuum-bonded laminated Stronghold VBL walls, this also includes any slide outs your model may have. In addition, it features the exclusive Magnum Truss roof system, constructed with seamless DiFlex II material, this all adds up to incredible strength and huge longevity.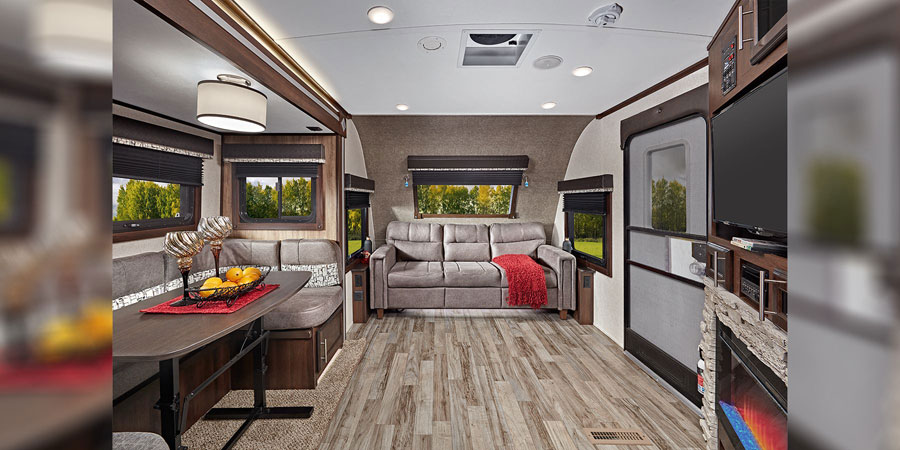 Jayco wants you to trust in their construction, and so they offer an industry leading warranty, proving they stand behind their product! With 2 years as standard, this limited warranty ensures you drive away safe in the knowledge that your trailer will look after you as long as you continue to look after it. Our team here at Leisure RV Sales would be more than happy to explain the warranty to you in great depth.
Living Area
The 2019 Jayco White Hawk has some serious wow factor in the living area, this is truly a luxury home on wheels. As you step aboard, you'll be taken aback by the incredible design throughout. Not only is it beautifully designed, but it's also incredibly spacious too, and smart features like the available booth dinette make for smart use of the space. Available luxury features include up to a 50 inch TV, a media center with AM/FM/CD/DVD/Bluetooth capabilities, and even a 30 amp electric fireplace – perfect for camping in the winter months! Key features of the White Hawk can be controlled from the centrally located control center, the ultimate in convenience!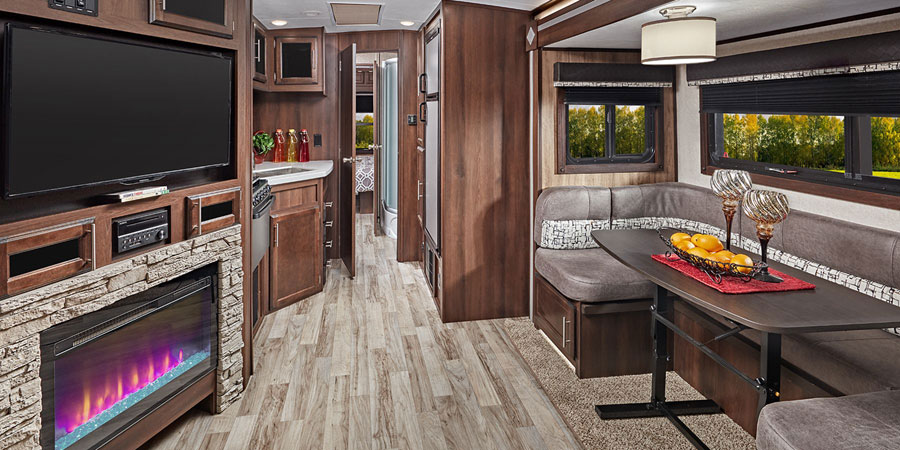 With beautiful woodwork finishes complimenting the decorative fascia, valances, and rich fabrics, the 2019 Jayco White Hawk is truly a stunning place to be; home away from home springs to mind!
Sleeping Quarters
One of the true beauties of choosing from the Jayco White Hawk line is the sheer variety you'll have; want space? You can opt for a space-saving Murphy bed that quickly and conveniently folds away into a comfortable couch. Looking for something even more comfortable? Why not opt for a White Hawk with the exclusive 60 inch by 80 inch Queen Size Simons Mattress, including bedspread; this option is a true residential option, that may make you think twice about wanting to ever go home again!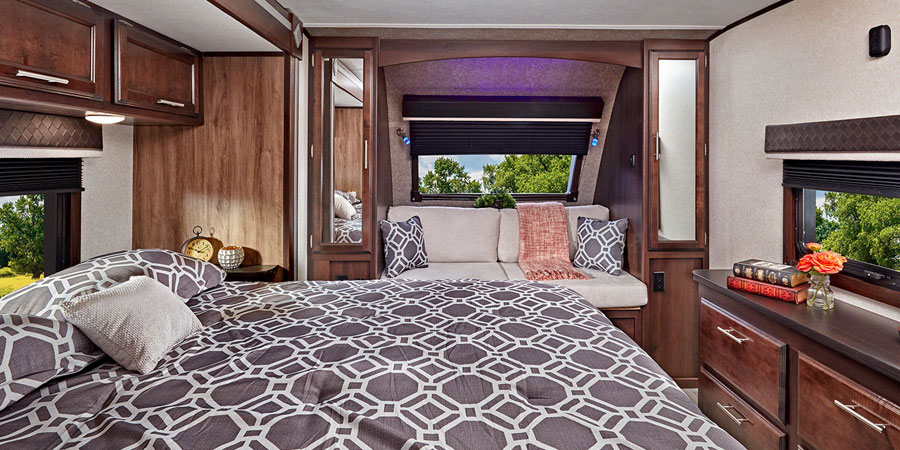 The 2019 Jayco White Hawk is available with hanging wardrobes with adjustable shelves and solid wood door enclosures, and select models even include an all-new full closet; perfect for those looking to spend extended periods on the road.
Kitchen
Time and time again here at Leisure RV Sales we hear "It NEEDS to have a great kitchen". Well, the 2019 White Hawk certainly has that! Every model includes a 3 burner, 9000 BTU range, a stainless steel microwave, and a stainless steel oven. Surrounding these great appliances, solid hardwood, jointed cabinets, with the classic Jayco screwed and glued lumbercore stiles. Up top, every Jayco White Hawk comes with solid surface counters, this makes them very durable, as well as very good looking! This model, no matter which floor plan you choose, is generously equipped; every White Hawk features an extra deep, stainless steel paneled fridge for excellent capacity.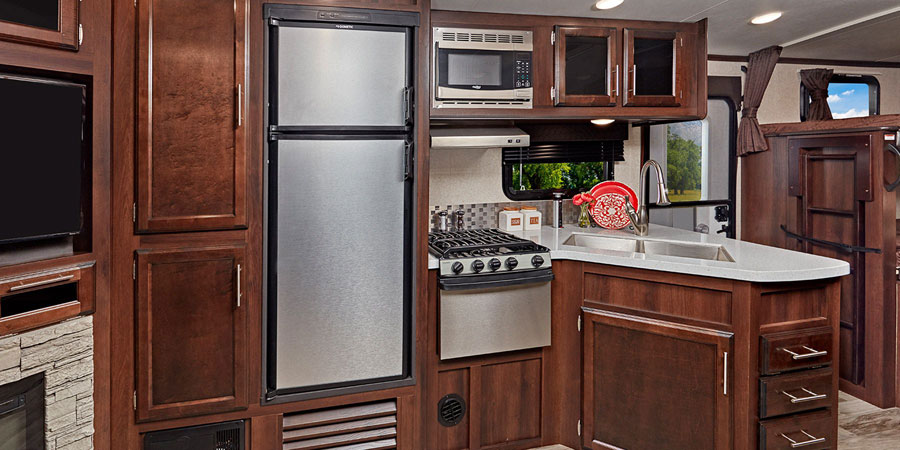 If cooking outdoors is your thing, the 2019 Jayco White Hawk can definitely meet your needs. Select models feature a beautiful lighted outdoor camp kitchen, including a gas burner cooktop, embossed metal counters, a sink, storage, and even a mini-fridge.
Bathrooms
If you have a phobia of campsite bathrooms, fear not, for every 2019 Jayco White Hawk comes with a residential style bathroom, featuring a 34 inch radius shower with solid enclosure, a skylight, a useful medicine cabinet, a power roof vent to keep the steam out, and even a porcelain toilet with convenient foot flush function.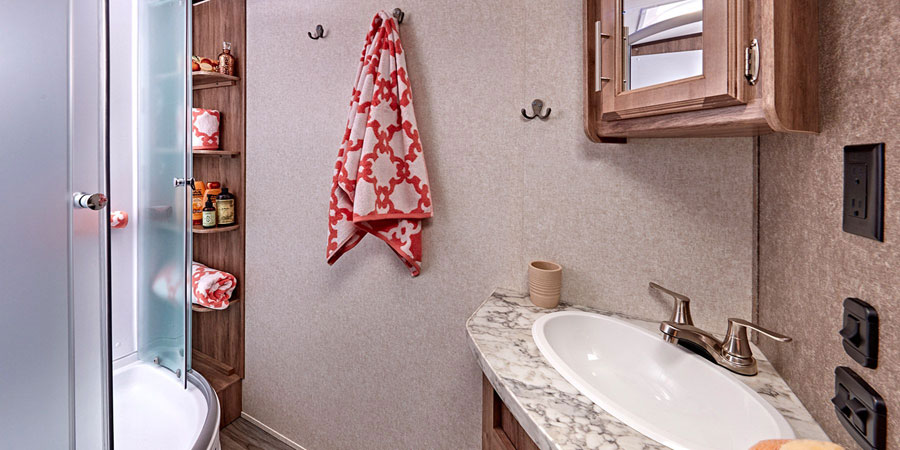 Looking at the bathroom in more detail, you'll also find handy hanging hooks, as well as shelf space for all of life's essentials. As with the rest of the trailer, the cabinetry is hardwood with screwed and glued lumbercore stiles.
Floor Plans
Variety abound! The 2019 Jayco White Hawk can be had in any one of 16 phenomenal floor plans, with and without slide outs, with varying berth numbers, and even with amazing features like theater seating! Of course, your Jayco White Hawk can be customized to your preferred specification here at Leisure RV Sales, and our friendly team would be more than happy to help you set that up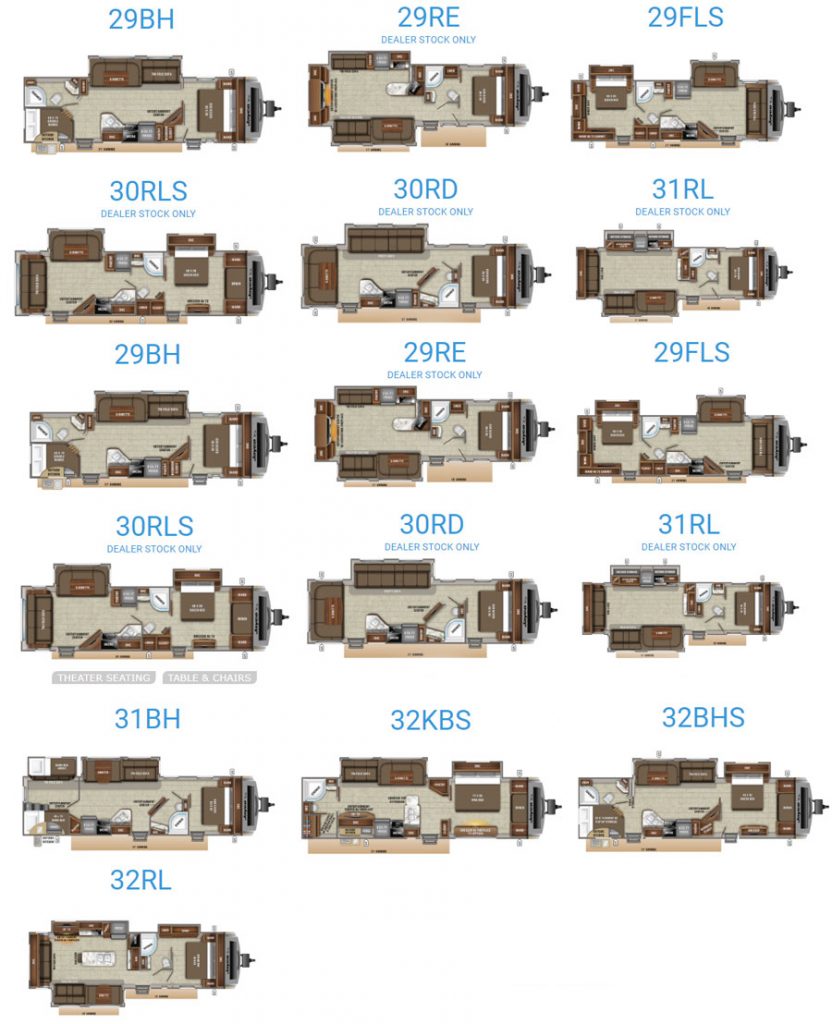 Storage
Jayco has ensured that the 2019 White Hawk doesn't suffer from a lack of storage opportunities. You'll find cubbies, nooks, crannies, and all manner of other storage spaces throughout the trailer, and for bulkier items, Jayco has included pass-through storage underneath on select floor plans. With this option selected you'll get huge storage capacity, accessible from both sides of the trailer.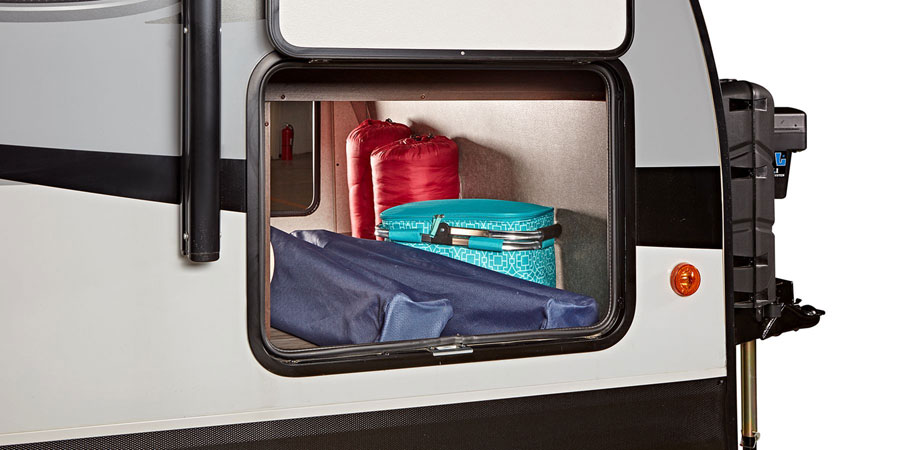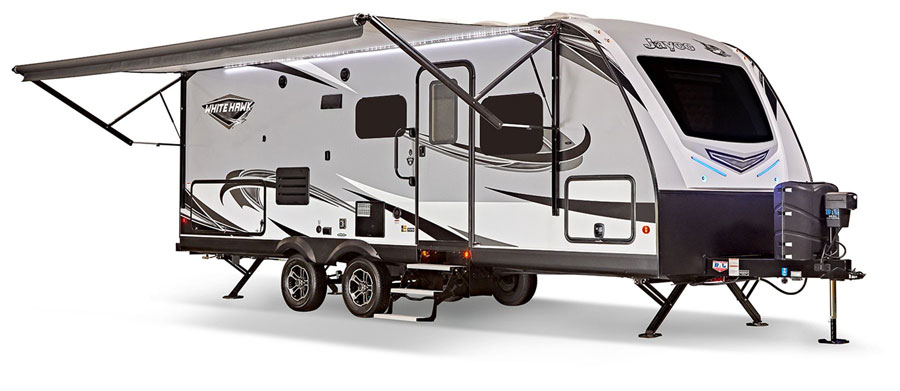 We hope you've enjoyed taking a look at the all-new 2019 model year Jayco White Hawk. This ultra-light travel trailer really does represent the next generation of recreational vehicles. The team here really do love this new trailer, and we're sure it's going to be a hot seller. We like to say around these parts, is that there's no better way to find out more about a trailer, than by seeing it in person! Words and pictures really can't do this unit justice, so with that being said, we'd love for you to come see us so we can show off this brilliant travel trailer; we hope to see you soon at Leisure RV Sales!