The recreation vehicle industry is still growing every single year as more people are starting to take advantage of what mother nature has to offer in their own backyard. An RV is not just the old family camper anymore, they have come a long way and are much more comfortable and affordable than ever before; they also do a lot more. Enter the 2020 Jayco Octane Super Lite. the recreational toy hauling machine that has a little bit extra when it comes to a garage on wheels.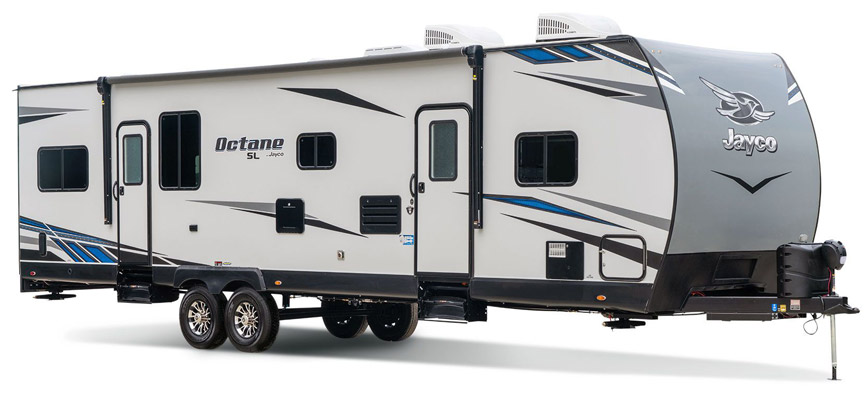 If you have been in the market for something to haul your toys with more protection and style you definitely need to consider this offering from Jayco RV. This is not your ordinary hauling RV, and it isn't hard to tell, from first glance, that the team that engineered this machine was going for something special. You are going to get a cargo and workspace that feels just like you are in your home garage with all the benefits of being mobile. You are not going to get the luxuries of some family and travel-focused trailers, but that isn't the main focus of an economical hauler anyways.
Large and Accommodating
One of the most important aspects of a hauling RV is the amount of usable space you have to take advantage of. Jayco trailers are well known for their focus on maximizing usable space, and they do not disappoint with the 2020 Jayco Octane Super Lite. Even the smaller versions still easily fit eight people sleeping with enough space to fit your garage with all of the amenities you need to be comfortable.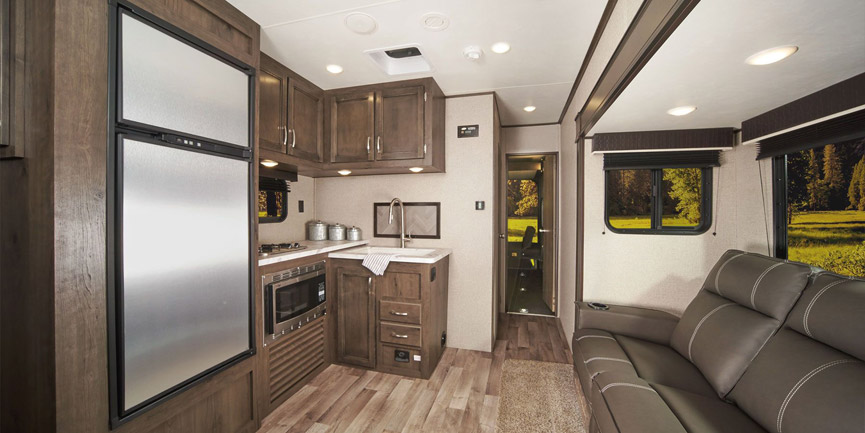 When you first look in the cargo area you will be drawn to the wood-patterned vinyl flooring and be in awe in just how much space is inside this trailer, depending on the size and floorplan you choose. There is a reason the Jayco dealers in Ontario struggle to keep these things in stock sometimes. You have upwards of 12.5 x 8 feet of actual workspace for your toys, which means you can fit some of the largest toys possible inside with space to do your business. The seven-foot ramp is the same on every model, and it can easily handle up to 2,500 pounds.
 
Essential Amenities
If you are looking through the lots at RV dealers in Ontario you will see various haulers available, and some that are jampacked with comforts and luxuries outside of the work area. These types of toy haulers are great, if you have an unlimited income, for the rest of the campers and RVers out there a budget is a very real thing. That is why it is so nice to see the effort put into the 'living' area of the 2020 Jayco Octane Super Lite. It may not blow you out of the water, but it is very functional and comfortable.   The 'master bedroom' is at the front of the trailer with the bathroom and not as large as some others, but it doesn't have to be for you to be comfortable. You still get a queen-sized bed to sleep on, plenty of storage, and a bathroom that doesn't leave much to the imagination, but it does hold 96 gallons of freshwater.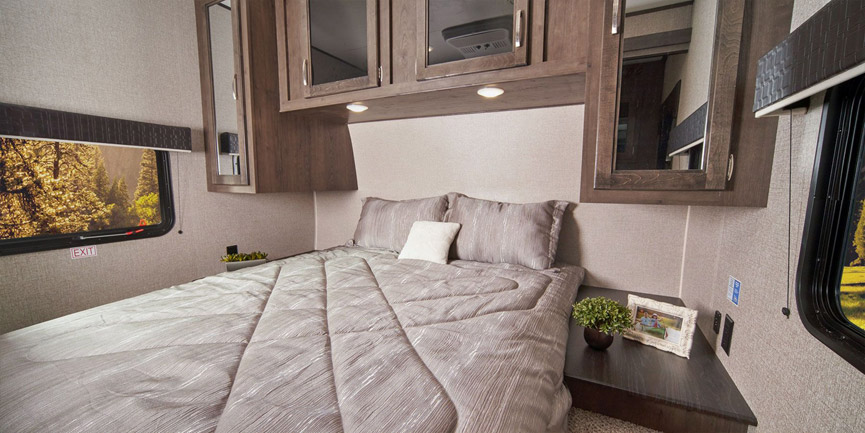 On the opposite end of the RV, you can find a multi-function area that has your main workspace, queen-size bunk beds, sleeper sofas, and storage. The beds even operate electronically to make cleanup and storage a breeze. Add in a kitchen that sports stainless steel, dual sinks, and a prep station, and you really have everything you need to live with your toys on the road. For when you aren't on the road you can sport up to an 18-foot awning to keep cool and shady on those hot days.
The Workspace You Need
Let's face it, the most important part of a toy hauler is going to be the workspace and how it functions. Jayco dealers in Ontario are selling these haulers because they have a space crafted to be functional and have just about everything a garage on wheels could need. On the outside you have the 13,500 BTU air conditioner mounted to make sure everything stays cool while you work. You also get the extra handy electric tongue jack for when you need to raise and lower your hitch multiple times in one go. A 30 amp power service with exterior LED lights is the icing on the cake for the outside of this hauler.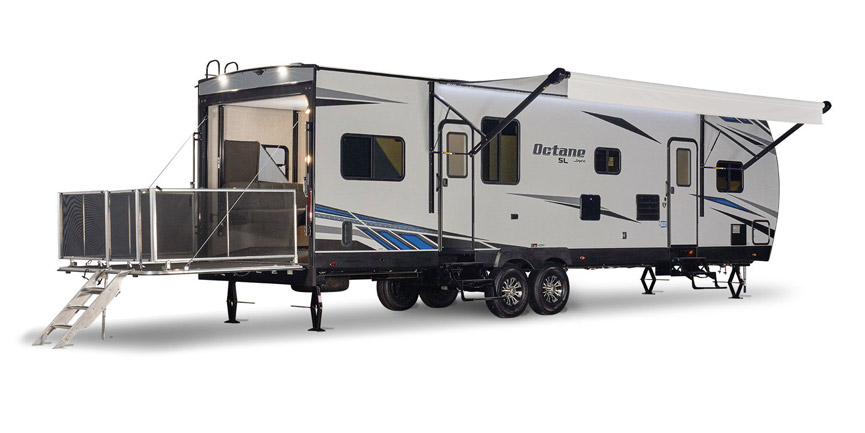 On the inside is where the 2020 Jayco Octane Super Lite series really shines for a workspace. It has just about every anchor placement you could think of, which is essential for hobbyists with multiple vehicle and toy types. The garage comes equipped with extra overhead storage, and air vent ports in crucial areas. You also get to haul a fair bit of weight in your garage with the models ranging from 4,700 to 7,090 pounds of carrying capacity respectively. 
6 Awesome Floorplans to choose from: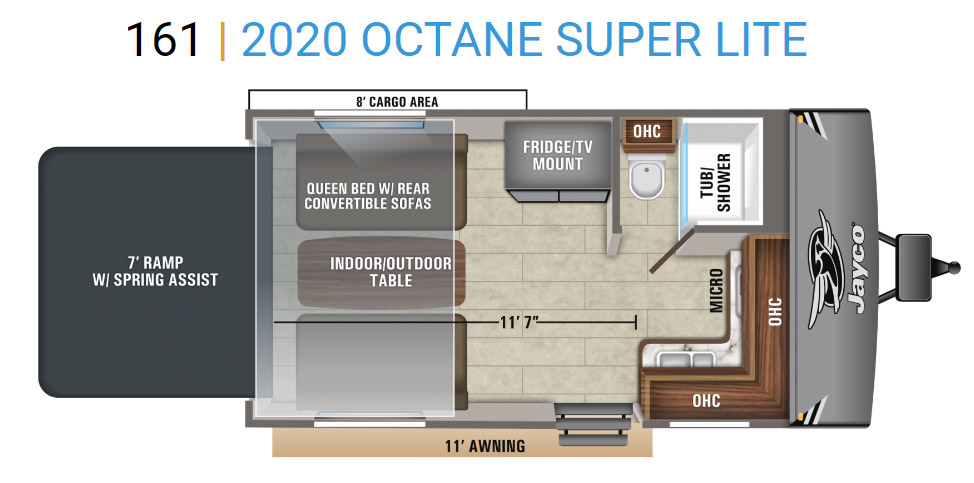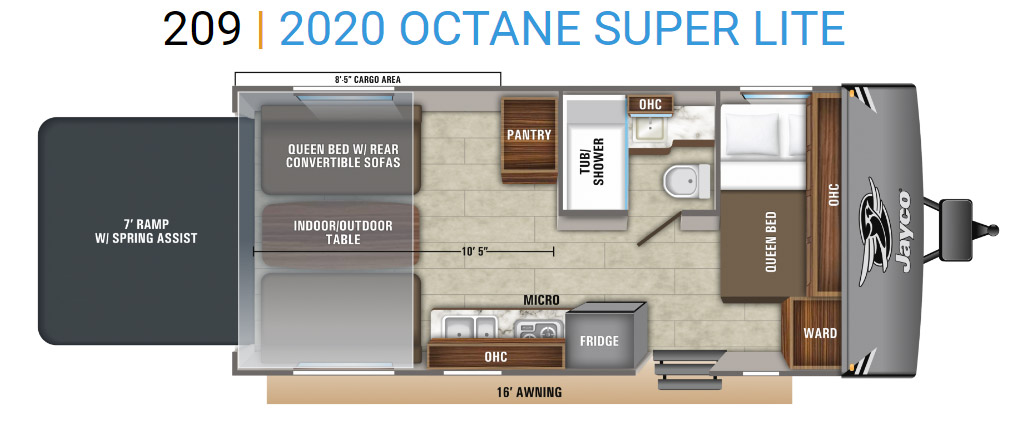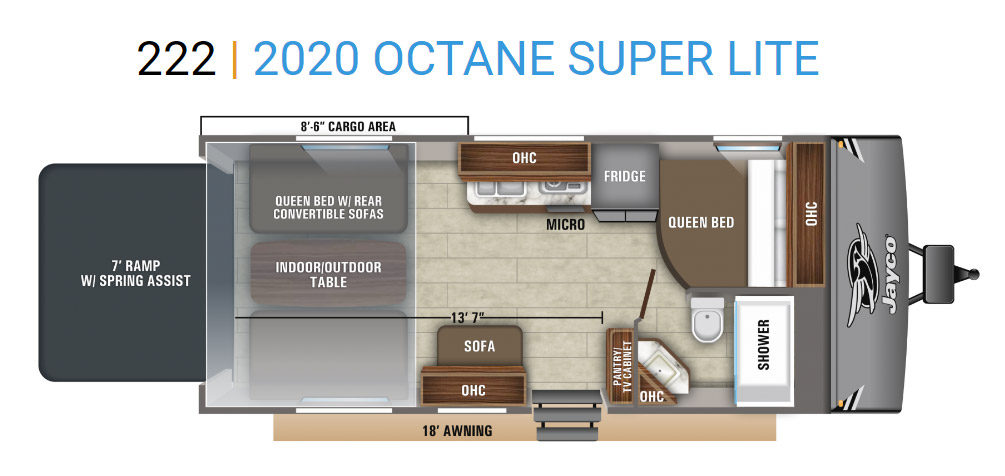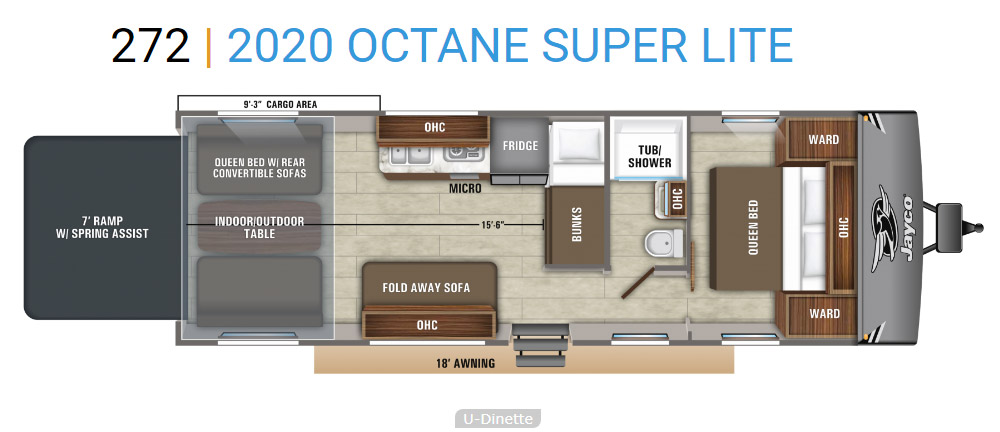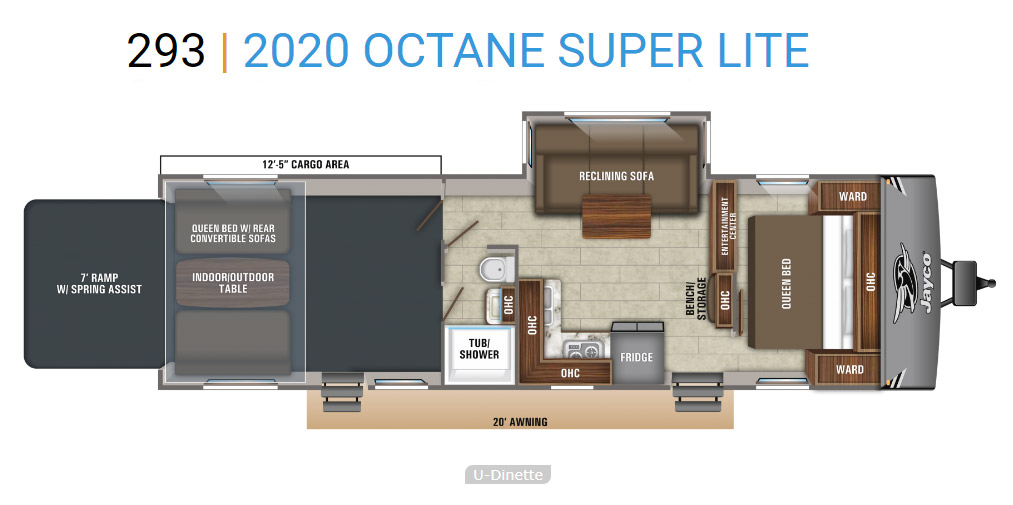 Jayco Octane Super Lite Series: The Result
If you are in the market for a new RV to haul your toys and have space to work on them, the 2020 Super Lite series is going to provide you with just about everything you need at a price that is reasonable. There are other haulers out there that are going to provide more bells and whistles, but these always come at an extra cost. While these extras are always going to be nice, a true outdoorsman and camper are not going to fret over a few extra luxuries for their bathroom, bedroom, and kitchen area.    What really matters with this type of vehicle, and why Jayco RV dealers in Ontario sell so many of them, is the function of the workspace. There is not much else on the market right now that offers so much for such a reasonable starting price. The 2020 Jayco Octane Super Lite series is going to give you a big bang for your buck while still keeping up with all of the stiff competition on the market.   We here at Leisure Trailer Sales pride ourselves in being the best Jayco RV dealer in Ontario, or we would like to think so. The 2020 Octane Super Lite series is a hauling family we are proud to sell and we give it our seal of approval. We know there are many RV dealers in Ontario to choose from, but we like to think we treat people different. You can get a great deal at any Jayco RV dealer in Ontario and walk away fairly satisfied, or you can come see us and get the full customer service experience and leave feeling like family. We have everything you need to take care of your RV, including a smile and someone who really cares.
Looking for something bogger? Check out the new 2020 Jayco Eagle Fifth Wheels