Jayco RV has been putting out quality trailers and haulers for over 50 years and their experience is showing with their entire 2020 lineup. Take a look at the amount of Jayco RV dealers Ontario has to offer, they are very popular. There is a larger need than ever for economical campers and trailers as people just don't have the spending power that they used to. Enter the 2020 Jayco White Hawk; this is a travel trailer that is going to have people gawking and you sitting comfortably all while not breaking the bank. It may sound too good to be true, but Jayco trailers have been doing this for years and have a few tricks up their sleeves.   For anyone who is looking to get into an affordable travel trailer this year the time has really never been better. What Jayco is offering in the White Hawk is everything you need to travel the country and see the sights. While a travel trailer may seem like a luxury for taking a vacation, it is all about the experience and the memories. When you travel with a 2020 White Hawk behind you there is a feeling of security that you have a well-built, beautifully designed trailer to spend your downtime in. This travel trailer does it all at an economical price so you can focus on making your memories.
Strong and Functional Exterior
When looking at RV dealers Ontario does have more choice than other areas, but Jayco is still a name that people respect. The first thing you are going to notice about the 2020 Jayco White Hawk is the impressive profile on the front. It has been dutifully designed to be as aerodynamic as possible and it is a thing of beauty. The walls are all vacuum-bonded laminate, which means they can stand up to some pretty severe conditions. It is all set together on a Norco NexGen frame for maximum stability. Your new Jayco trailer is about as strong and sturdy as it gets.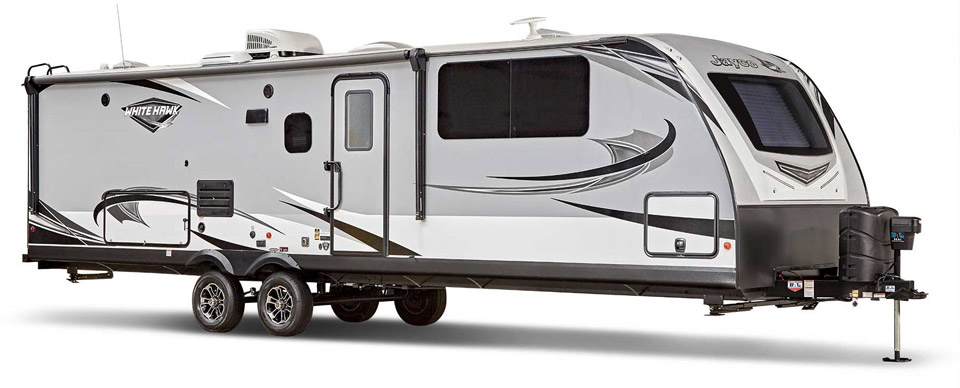 The best part of this trailer may just be the outdoor kitchen that it comes equipped with. Regardless of the White Hawk floorplan, you decide on you are going to get at least a 20-foot awning that covers your fully functional outdoor kitchen. You get a two-burner range with sink and fridge, enough to cook a full meal, clean up, and refrigerate the leftovers for the next day. With the outdoor kitchen, you get to spend more time outside with your family and mother nature while still enjoying a great meal.

For those RV enthusiasts who still like to have their electronics available, the 2020 Jayco White Hawk will have you covered. You get a standard 30 amp service jack, exterior speakers, and even a television bracket with cable outlets. You can bring part of the home with you and you will never have to miss one of the big games again.
Comfortable and Relaxing Interior
Now we can move on to the part most people are interested in; how is the interior? Any of the Jayco dealers Ontario has will be able to tell you that the price is not a reflection of the quality you get in a Jayco trailer. Standard equipment is going to give you just about everything you want and need. You get hardwood cabinets, stainless steel sink, and stainless appliances. There is even a beautifully placed skylight to give you more natural light inside your trailer. Your kitchen in your RV may end up looking nicer than the one in your home.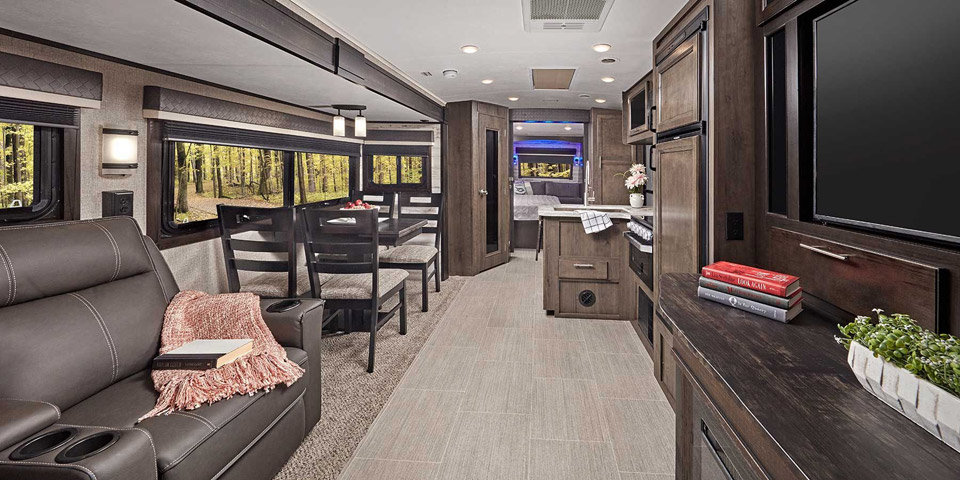 Your entire home on wheels is going to be cooled effectively and efficiently with a 15,000 BTU air conditioner that is mounted on the roof. You will have no problems dealing with those hot, sticky summers when you are chilling inside your Jayco trailer. With the 40 inch television included in the customer value package, you will feel just like you are at home wherever you go in the country. Never miss another Raptors game again when you are traveling.
Bed, Bath, and Beyond
Throughout the entire trailer, you have high-efficiency LED lighting so you never get lost in the dark. The living room has a corner entertainment center with an L-shaped lounging sofa with a pull-out table.  In the very front of the trailer, you get a murphy bed that pulls double duty as a sofa. The bed is queen-sized and also has two large nightstands on either side to offer some storage as well. This is the only bedroom with some floorplans, but with others, you also get some very handy double bunk beds.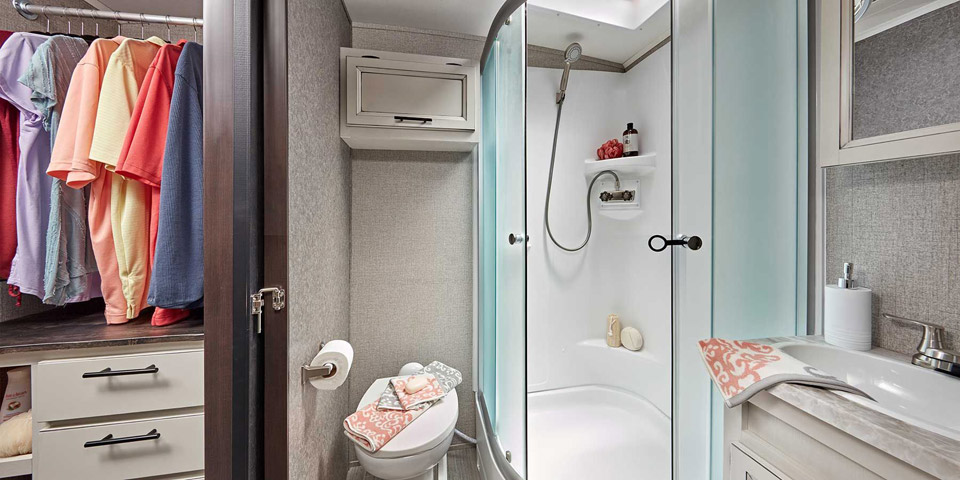 The last thing to take a peek at on the inside is going to be the bathroom. You never expect to have anything too special for a bathroom in a travel trailer, but the one in the 2020 White Hawk is very comfortable. It has enough room that you don't feel too cramped when getting cleaned up after a long day on the road. On the far side of the bathroom, you get extra storage that shares space with your outdoor kitchen. There are a very functional linen closet and pantry for your storage needs.
Jayco Knows How to Build a Travel Trailer
When a company has been in business for over 50 years it means that they have to know what they are doing. Consumers are very loyal to a brand that treats them well, and Jayco owners are very loyal indeed. There are families that have been the Jayco dealers in Ontario for generations, and that is saying something about the quality of the product.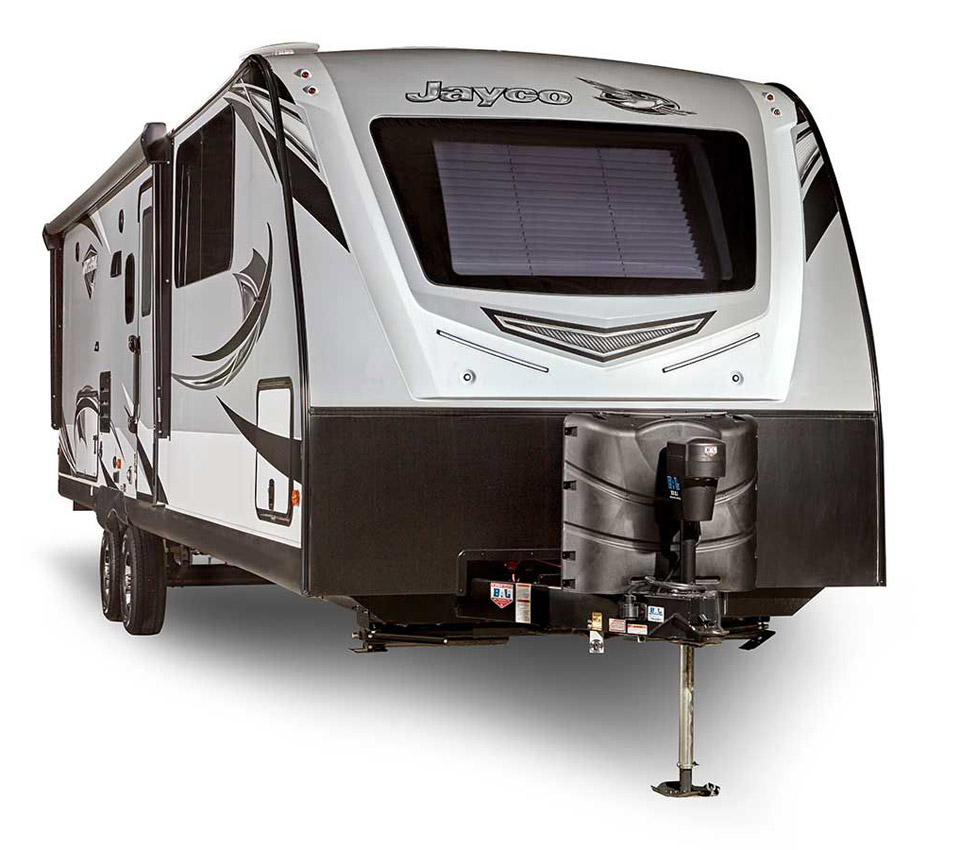 ---
The 2020 Jayco White Hawk Floorplans
---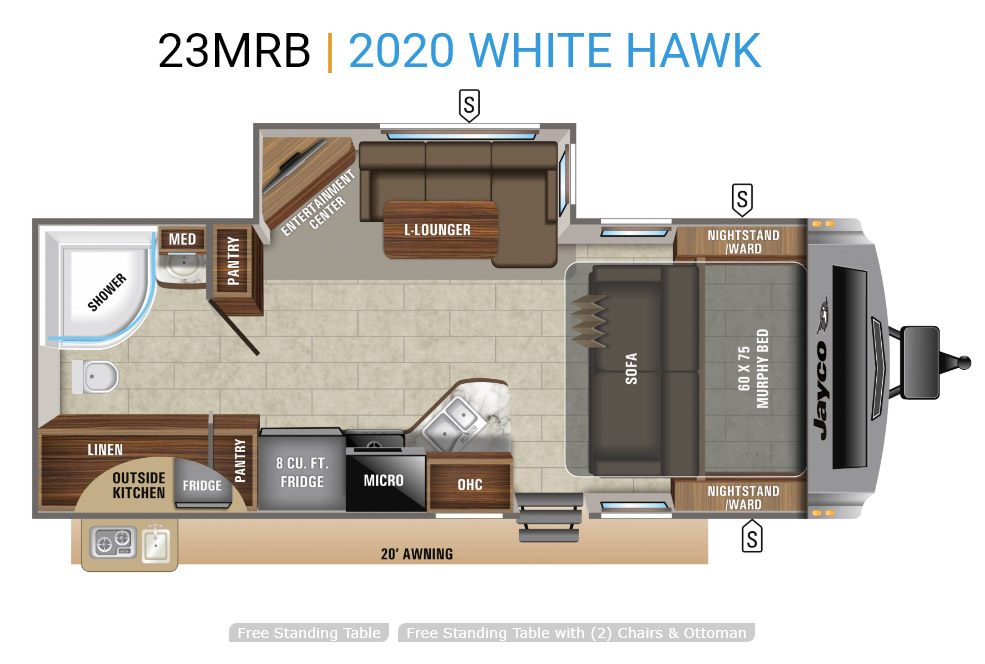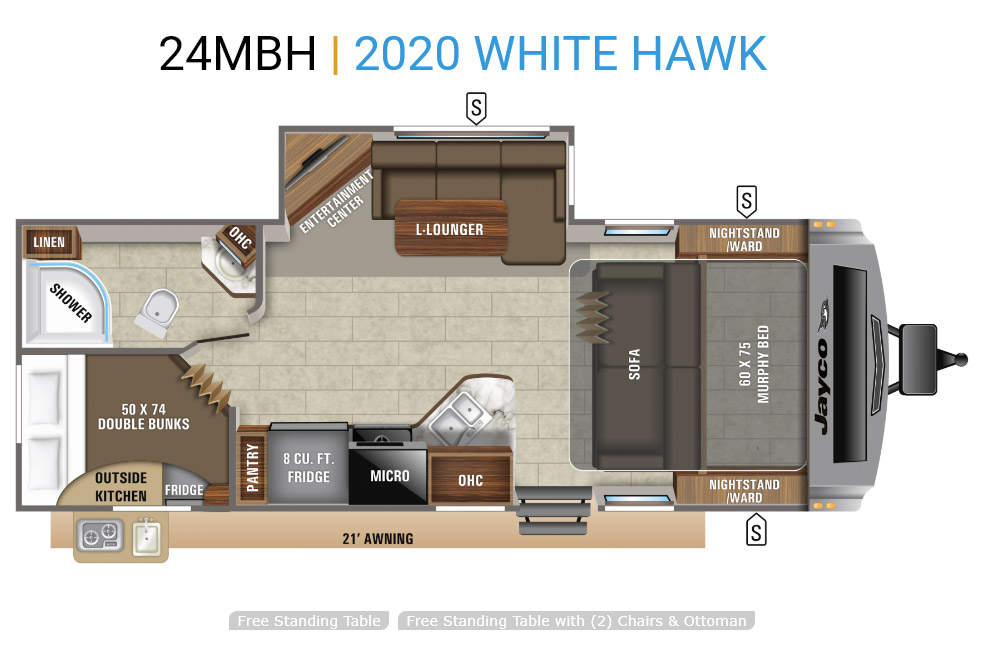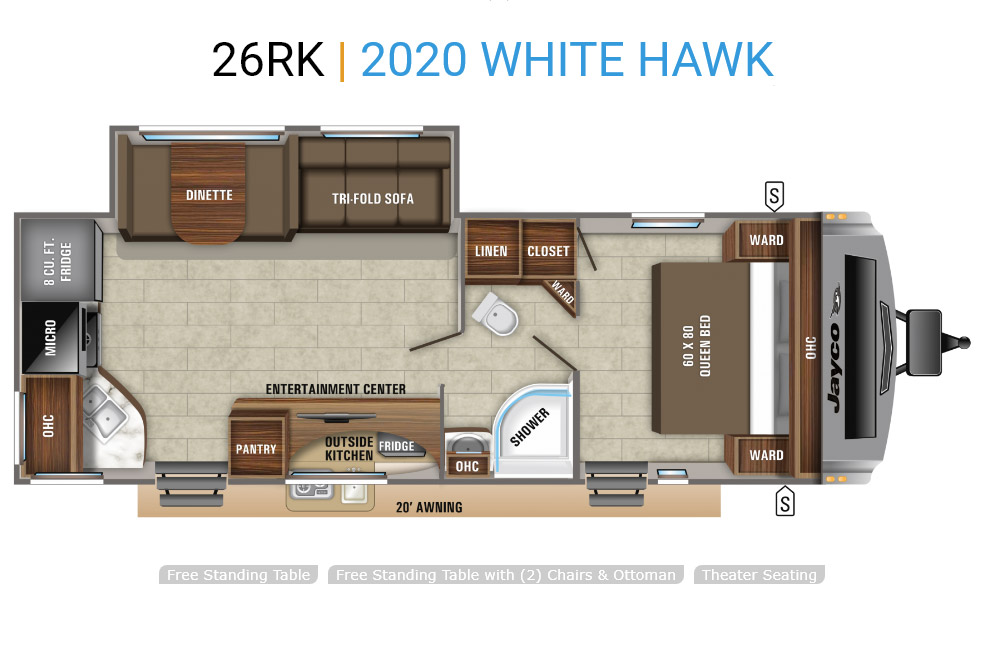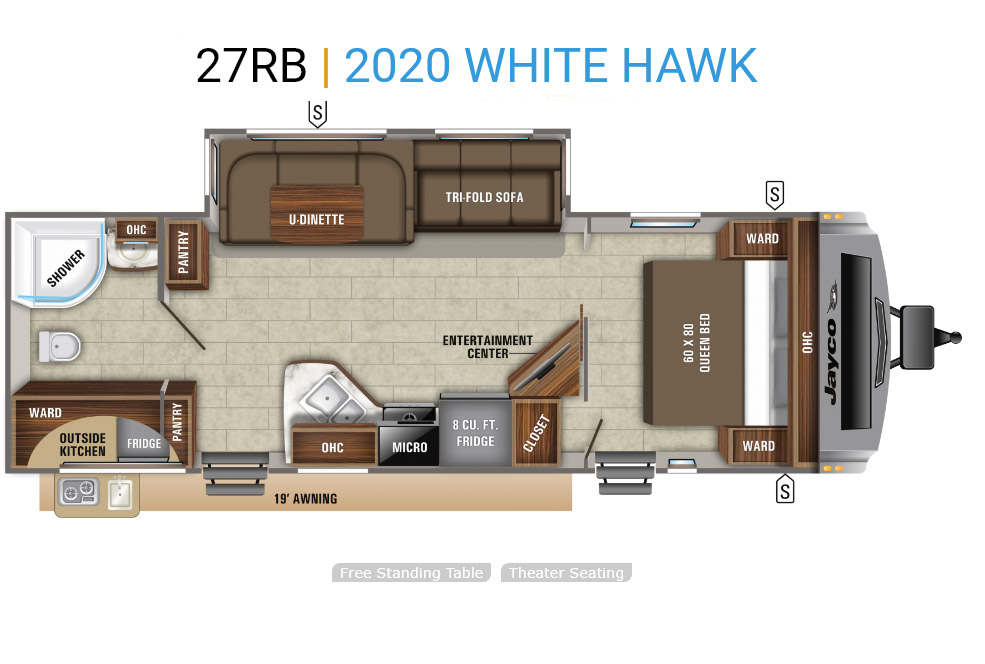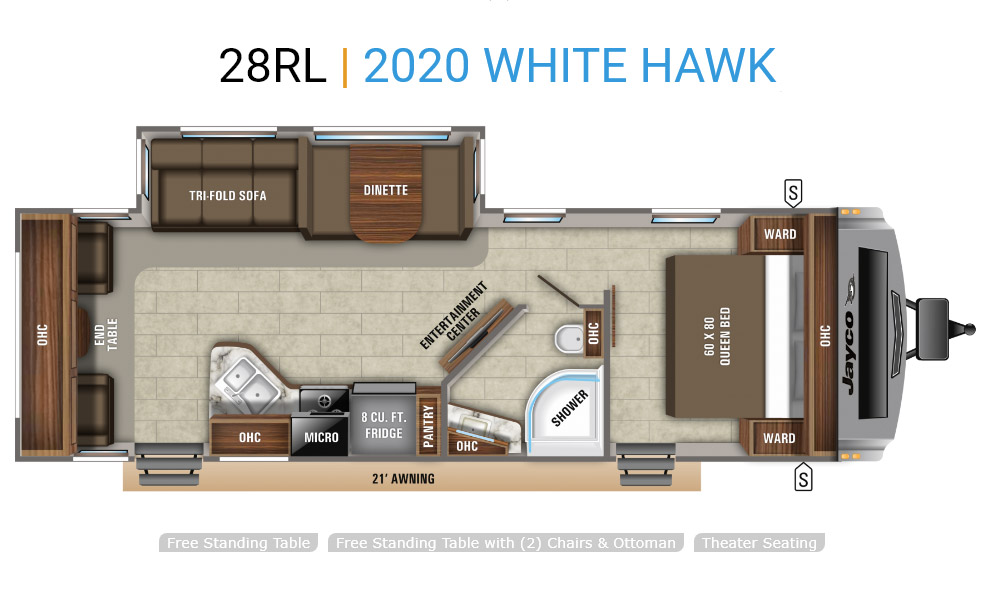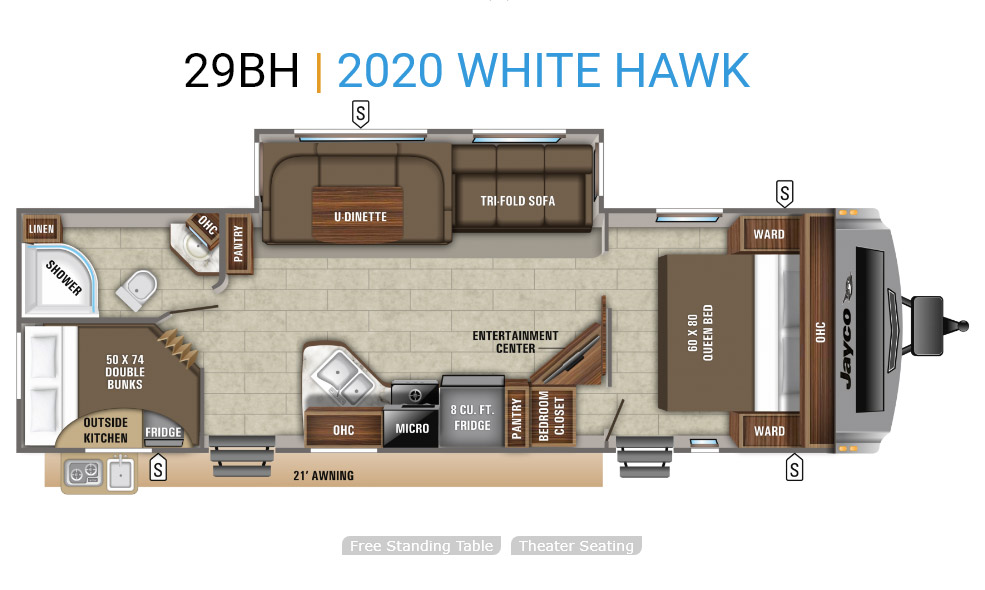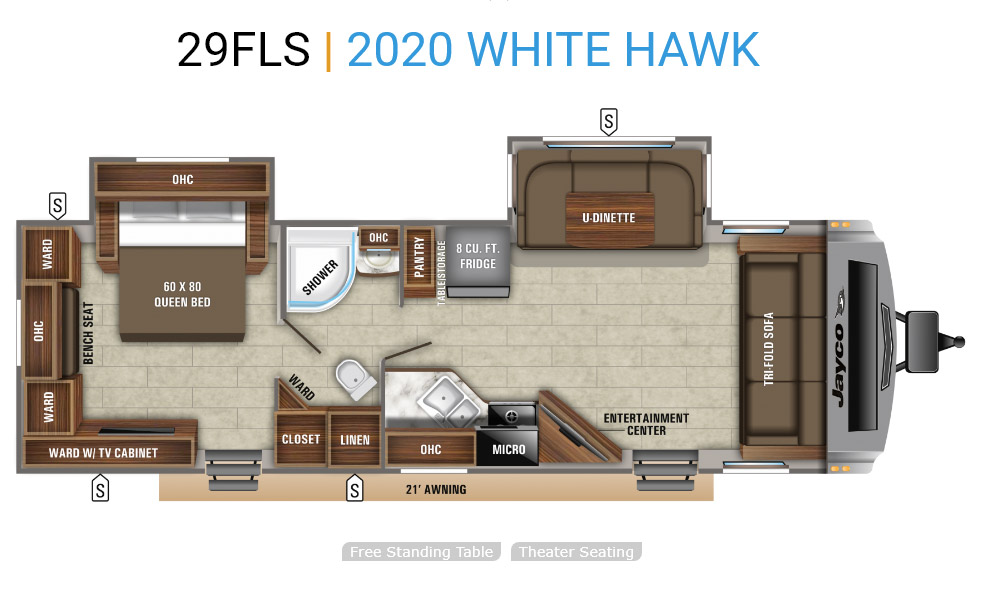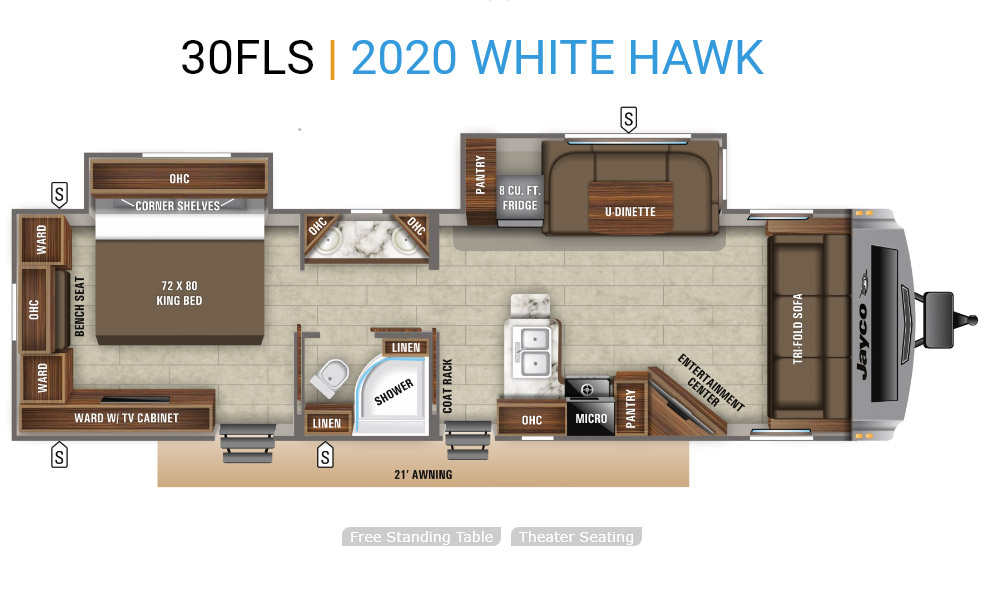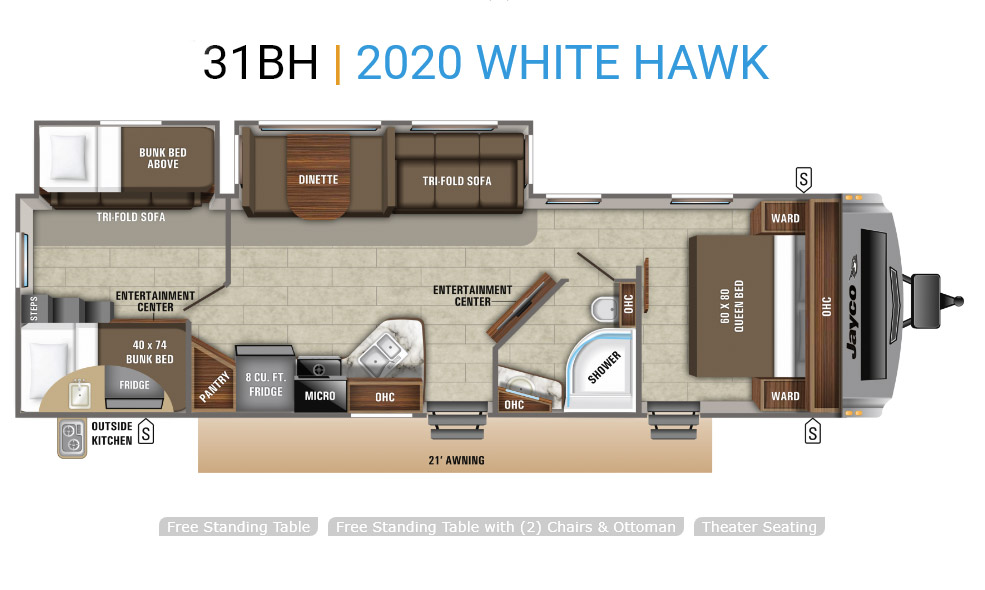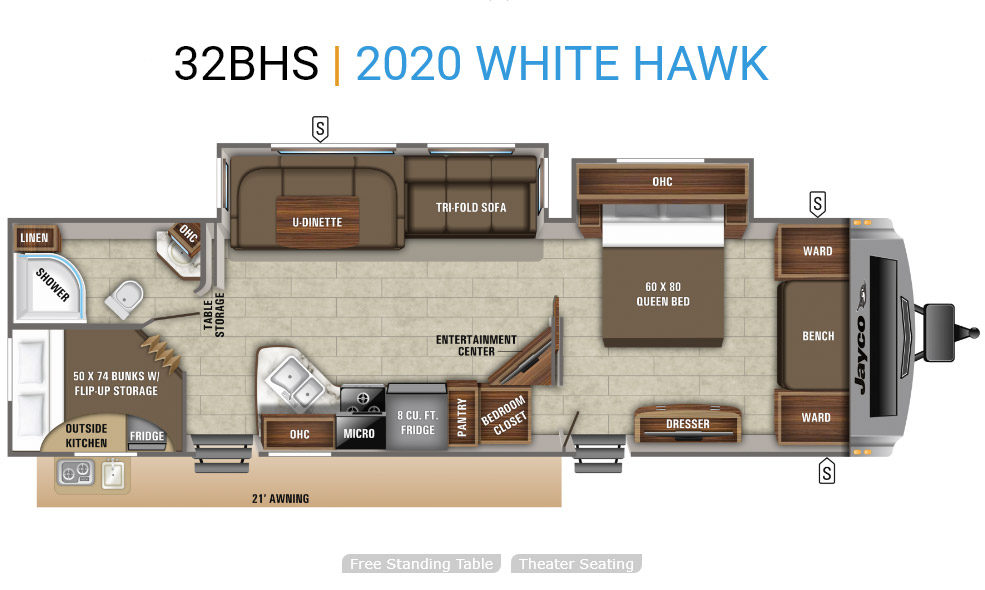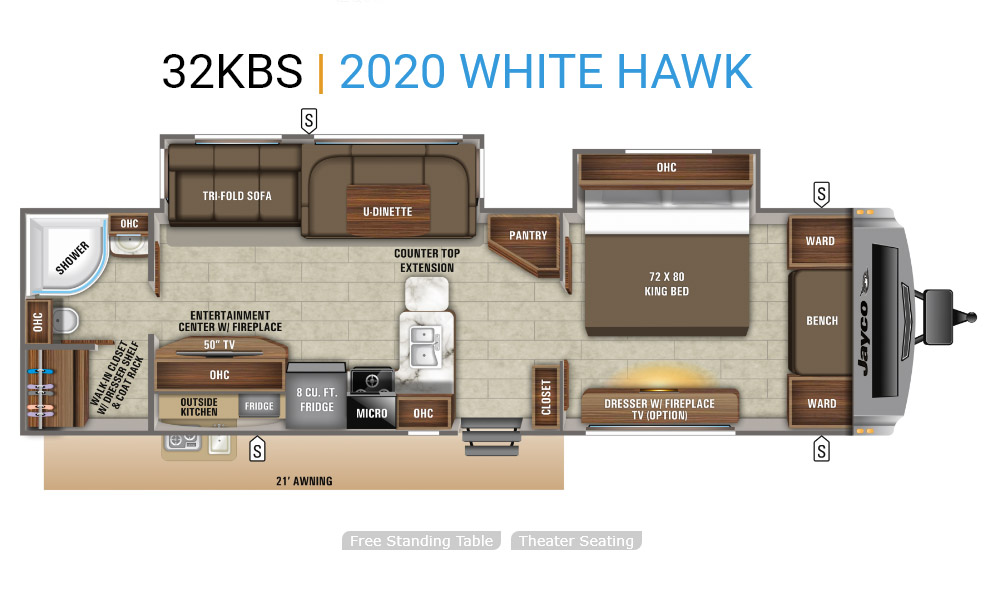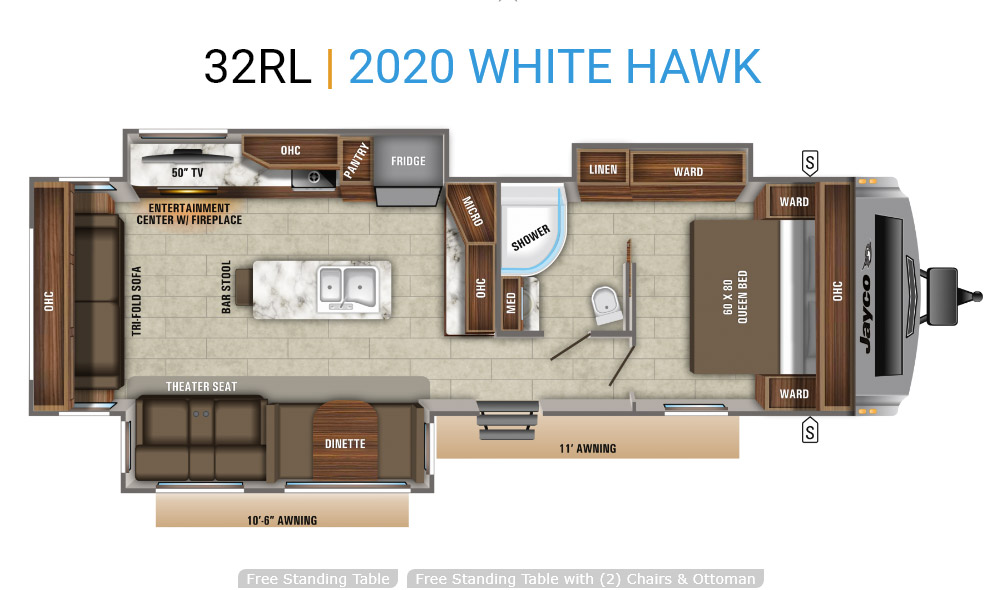 We here at Leisure Trailer Sales are proud to offer the best Jayco trailers and haulers that money can buy, and we go the extra mile to make sure our customers are well taken care of. Not only are we a certified Jayco seller we have the knowledge, equipment, and experience to handle anything you may need. It is our pleasure to serve the local community and help families make more memories.
---
Looking for something bigger in a Fifth Wheel? Check out the new 2020 Jayco Eagle Fifth Wheel
---
Check out our latest blog: 9 advantages of buying from an RV Dealer