Campers for sale Ontario
Today we are going to focus primarily on camping trailers for sale in Ontario, and boy, there are some great ones! Leisure Trailer Sales have been proudly serving the area of Tecumseh, Ontario and beyond since 1957 – we've sold and shipped camping trailers from coast to coast, and over the years we've learned a thing or two about what makes for great camping trailers Ontario. We've been in business a long time now, and along the way we've brought many Canadian families into the Leisure RV family, so for our repeat customers – a huge thank you! If you're joining us here at Leisure Trailer Sales for the first time, we hope that you'll see the advantages of buying from us, as a top-rated RV Dealer in Ontario we know you have a lot of choices, so it's truly humbling that you've decided to consider us for your next camping trailer purchase.
Camping trailers Ontario are the perfect introduction to camping. Some scoff at the idea of pitching a tent and sleeping, to all intents and purposes, on the ground, but going for a camping trailer gives you all of the benefits of tenting, with none of the drawbacks. You'll hear the sounds of nature, you'll see the stars, and you'll do it all from the comfort of a residential bed! Inside you'll benefit from features like refrigerators, plentiful storage areas, and on some models, even curtained interior baths and showers – who said camping can't be civilized!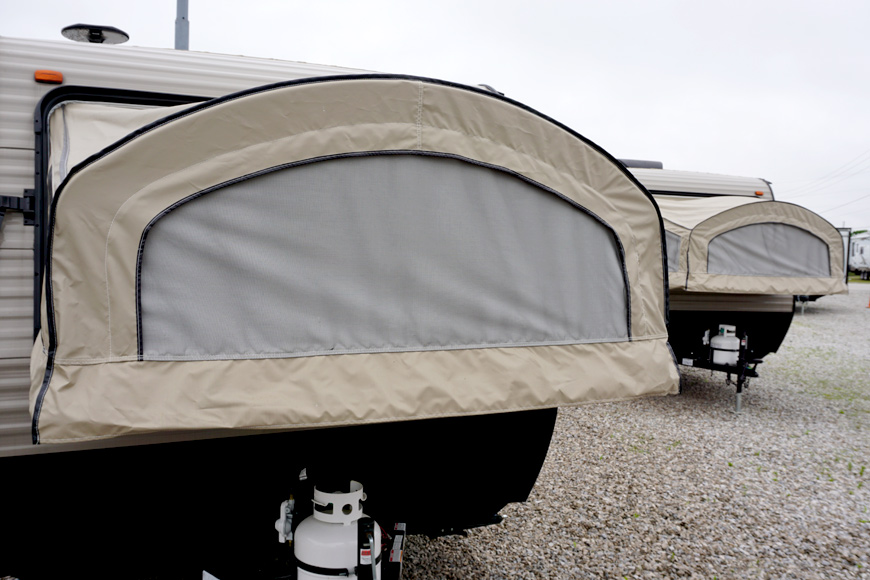 If you're looking for Campers for sale in Ontario, you're likely to find yourself spoiled for choice. With superb models available from camping trailer pioneers Jayco, you really can't go wrong. These camping trailers feature comfortable accommodations in a compact package. You'll find plenty of seating, dining space, even cooking facilities, giving you increased options when the weather outside takes a turn for the worst.
Today's tent trailers for sale in Ontario are an absolute breeze to rig, too. In a couple of simple steps, you're going to be ready to start enjoying your trip; no fussing with canopies and poles here! For example, the Jayco Jay Sport comes with a simple to use lifter system; this system incorporates wide lifter posts that are integral with the tent, as well as a leveling tongue jack and bumper welded steel construction. Not only are today's campers easy to prepare, but they're also extremely easy to tow. Because they are incredibly lightweight, they can be towed by compact SUVs, and even some more powerful sedans; additionally, because they have such a low profile when packed away, they have very little wind resistance, making towing safe, and easy. This has an additional benefit of reducing your gas costs too, winning all round!
Leisure Trailer Sales are proud authorized dealers of Jayco camping trailers. Jayco is a stalwart of this section of the RV industry, and are happy to stand behind their products; they offer an unprecedented five-year warranty on the following components of their tent trailers;
Frame;
Roof;
Floor;
Tents;
Bed platform;
And a lifter system.
Recognizing that camping trailer owners are often adventurers, these units can be had with special outdoors packages, such as Jayco's Baja package, which adds chunkier, nitrogen filled tires, increased ground clearance, and retractable entry steps.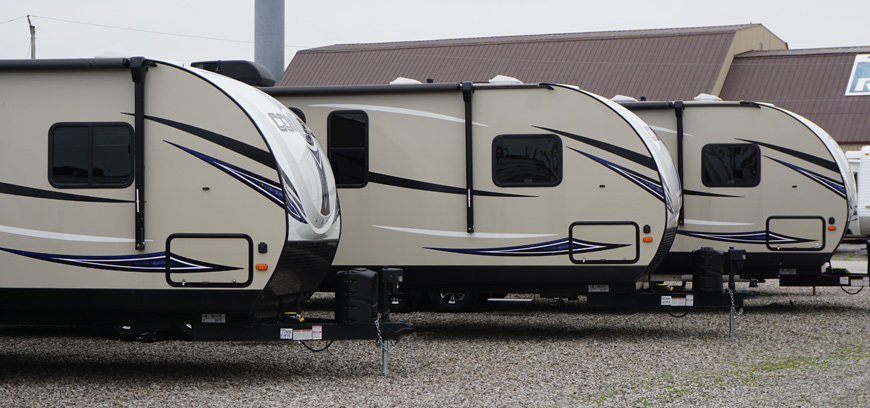 Leisure Trailer Sales also have used camping trailers for sale in Ontario, so even if you're not in the market for something new, we have you covered. If you're interested in downsizing from a travel trailer to a camping trailer, we are currently paying top prices for trade-ins! We need quality units like yours for our lot, and offer some of the most competitive deals on part exchange you'll find anywhere in Canada. We strongly suggest giving us a call to let us know what you'd be trading to figure out the price ahead of time, or why not get started now using our handy trade in value tool on our website?
If you're thinking of financing your new camping trailer, make sure you speak to our friendly team before approaching anyone else! We work directly with some of the biggest national banks to secure the best rates for RV specific loans. Financing an RV is a convenient way to spread the payments of your investment over time; it's safe, convenient, and allows you much more flexibility with your finances.
We hope our roundup of campers for sale in Ontario was useful! Come and see our team for more information, we can't wait to meet you!
Why buy from Leisure Trailer Sales?…
"Leisure Trailer Sales has the best salesmen. Thank you Mike Fleming for all your help. Finance Dept. Andrew is so helpful, very courteous and polite. Thank you for your patience and help!!!!!" – Review By: Brenda Morris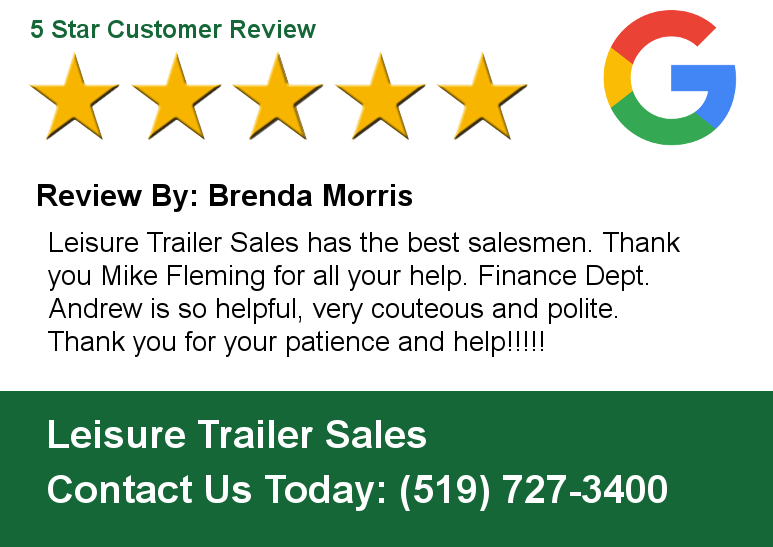 See all our reviews on Google here
---
Contact our RV Sales Ontario department today! Or visit us directly at:
Leisure Trailer Sales
204 Patillo Rd, Tecumseh, ON N8N 2L9
---
View our in-stock camper inventory