RV Care & U.S. based Priority RV Network form alliance for customer service!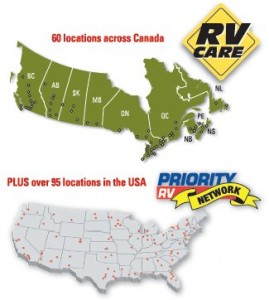 U.S. based Recreational Dealer Cooperative Association (Priority RV Network) and Canada based RV Care Network have now formed North America's LARGEST RV Dealer Network for their traveling customers.
Canadians who buy from an RV Care dealer will now receive priority emergency service for major breakdowns while traveling in the US and vice versa, when Americans who buy from a Priority RV Network dealer travel in Canada.  This alliance will enhance the traveling experience for all RV Care & Priority RV customers.  There is now more than 154 dealerships in the US and Canada who will offer a major selling advantage for the buying customer. 
Both RV Care and Priority RV Network will contine to operate as separate entities.  RV Care currently consists of 60 full-service RV Dealerships in the 10 provinces across Canada, while Priority RV Network has 94 dealers across 41 states.