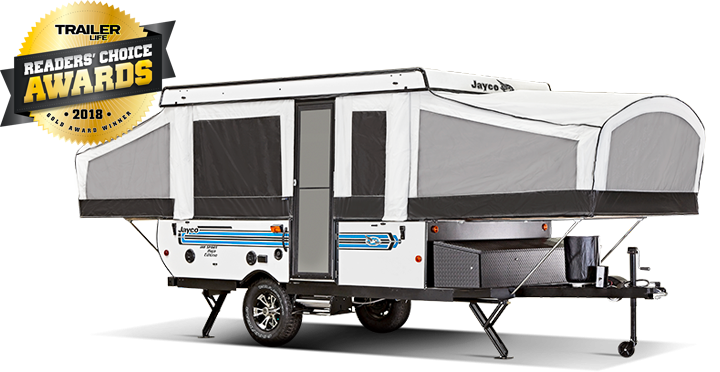 Tent Trailers for Sale Ontario
Hello to one and all! Welcome to Leisure Trailer Sales, your number one destination in Ontario for RVs in the region. We are based in gorgeous Tecumseh Ontario but are proud to serve the entire nation, we have sold and shipped RVs from BC to Newfoundland and everywhere across Ontario, and are thrilled to be recognized as one of the top RV dealers in Ontario. We've been in business since 1957, and over that half-century and more, we've created a reputation for a great selection of new and pre-owned RVs, stellar customer service, and the finest aftercare. We think of each and every one of our customers as family, and whether your family has been visiting ours for multiple generations, or whether this is your first experience with our RV dealership in Ontario, we would like to say a heartfelt thank you for even considering us for your next purchase; we understand you have a lot of choices, and it means a lot to us when we can be even a small part of your experience.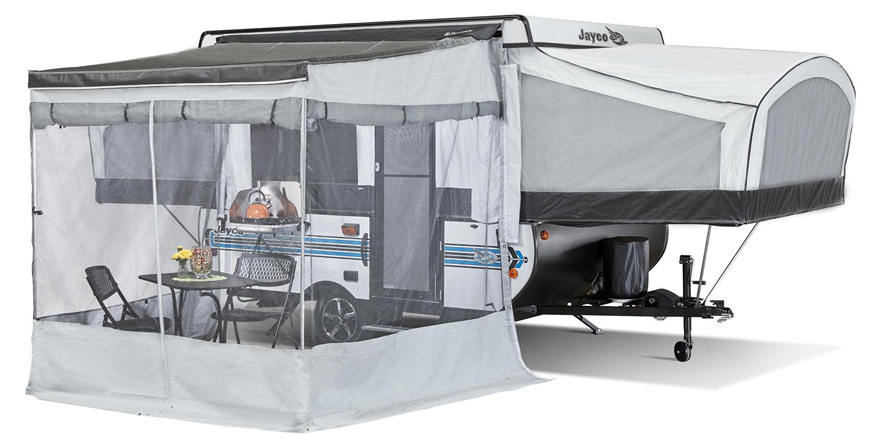 If you're looking around the internet for 'tent trailers for sale Ontario', look no further! Leisure Trailer Sales carry some of the finest new and used tent trailers in Ontario available today. In case you are new to the RV lifestyle, allow us to take a moment to explain exactly what a tent trailer is! Tent trailers, sometimes called pop up trailers or camper trailers, are a towable RV with a solid base and roof, with collapsible sides. This makes them incredibly compact when stowed, but provides the user with space comparable with a standard travel trailer when erected. For ease of transport, many of the features inside fold and collapse too. Of course, their big benefit is that they bring with them the best of traditional tent camping, without the whole sleeping on the ground part! You're going to get most of the luxuries and creature comforts of any other RV, but the soft sides are going to help you feel closer to nature – so, if this appeals to you, a tent trailer may just be the right option for you! Many tent trailers for sale today include features like showers, ovens, toilets, even TVs!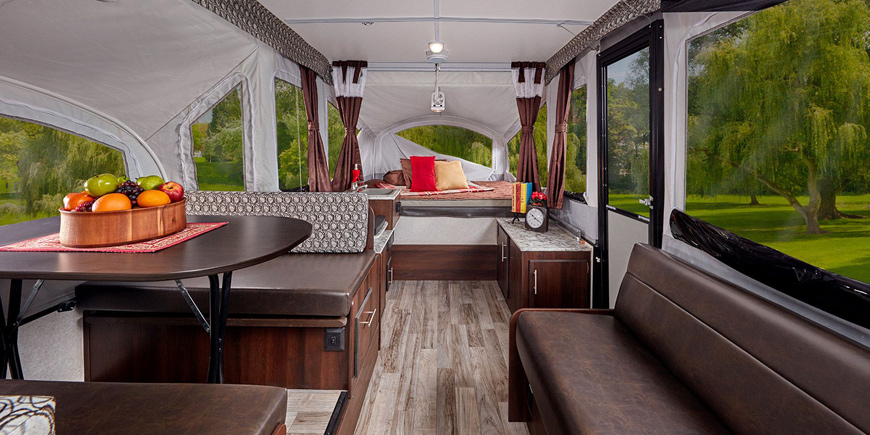 When considering camping trailers Ontario, one name springs right to mind – Jayco! Lloyd Jay Bontrager, Jayco's founder, revolutionized (and some say invented) the design and concept of the Jayco tent trailer, so of course, they are pretty well qualified when it comes to this section of the RV world! Jayco's Jay Sport models offer a wide range of floor plans, with many variations in available amenities. No matter which suits you best, you're going to find comfortable interiors, with thoughtfully laid out designs, helping you to maximize available space. You'll find provisions for indoor and outdoor cooking and dining, plush sleeping arrangements, and more!
When you purchase a Jayco Tent Trailer, you're also purchasing a trailer that is:
Easy to tow
Easy to assemble
Easy to live with
Stable
Safe
Secure
Jayco prides themselves on these factors and offers an incredibly generous 5-year warranty on the frame, roof, floor, tents, bed platform, and lifter systems on all of their new tent trailers. With confidence in their product like that, you can purchase safe in the knowledge that Jayco stands behind their products.
Jayco offer add ons to their tent trailers for sale Ontario too, just as you'd find on their larger models, you can also equip your Jay Sport tent trailer with the Baja Package, which brings with it 15 inch tires filled with nitrogen for better resistance to temperature variation, increased ground clearance, and retractable entry steps.
Leisure Trailer Sales do carry used tent trailers too, we strongly suggest keeping a close eye on our inventory on our website, and if you see something that piques your interest, give us a call or just come on down and see it. Our used tent trailer selection changes regularly, so check often! Speaking of our used selection, we are always looking for great quality trade in RVs like yours, so if you're looking to perhaps downsize to a tent trailer, give us a call to set up a time for an appraisal, or get a head start with our online trade-in tool on our website.
---

People drive from all over Ontario to buy their RV from us…

"We purchased our first family RV through Leisure Trailer Sales, and it was an awesome experience. All staff members we dealt with were friendly, knowledgeable, and genuinely excited for us. Picking it up was a breeze, gave a thorough walk through before we left, fixed a few things on the spot and if anything was missing, they installed it for us quickly and without extra cost. It was over a 2-hour drive to get there but it was well worth it. Thank you Leisure Trailer Sales!" – Kevin and Lindsay Boere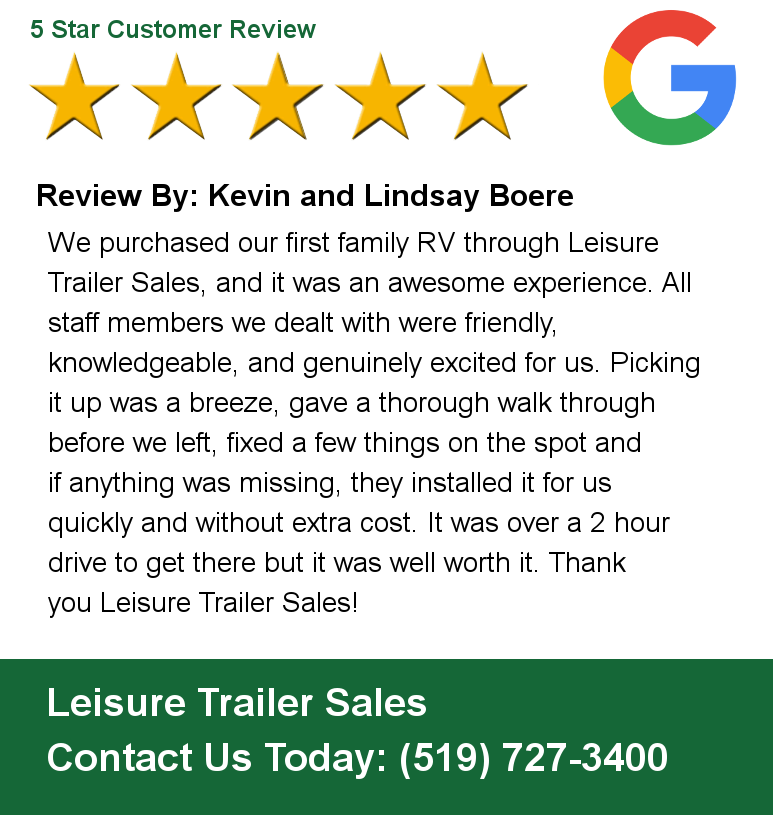 Read more reviews here
---
We value your time, and hope that this has been a good insight into the world of tent trailers for sale in Ontario for you, our tent trailers for sale here at Leisure Trailer Sales are amongst the best you'll find anywhere! Come see us as soon as possible, summer's almost here!
View our in-stock Tent Trailer inventory
Looking for the Best RV Sales Ontario has to offer?… Find us at:
Leisure Trailer Sales
204 Patillo Rd, Tecumseh, ON N8N 2L9