Used Travel Trailers
Hello everybody, welcome to Leisure Trailer Sales – we are a full-service Ontario RV dealer serving the beautiful area of Tecumseh, Ontario (just outside Windsor, Ontario), and beyond! We've been selling used travel trailers, used camper trailers, and all other kinds of used RV trailers across Canada since we opened back in 1957!
We're thrilled you've joined us again for another installment of our RV blog – today's focus is used travel trailers. Used travel trailers for sale in Ontario make up a huge section of the sales within the industry, and with good reason. Opting for a pre-owned or used travel trailer can be a smart way to get into your first RV, or even to upgrade your existing unit. You'll get all of the benefits of the RV lifestyle, at a noticeably lower price point.
There are numerous advantages to buying a used travel trailer in Ontario, most obviously, the lower price – the initial depreciation is absorbed by the original buyer, leaving you to pick up a bargain with big savings; Leisure Trailer Sales feature a wide selection of used travel trailers on our lot, with models as recent as 2018 and 2019 for sale. Of course, all models will depreciate eventually, but buying used gives you a real head start, which is especially important if you like to change it up every couple of years!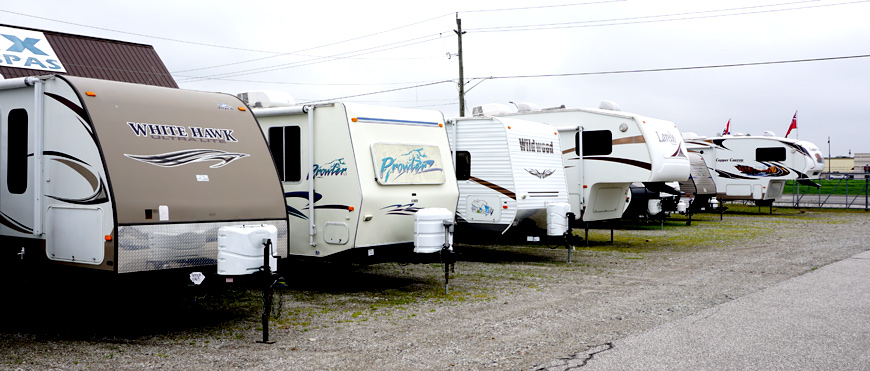 If you're looking at used RV trailer, specifically used travel trailers, you're also going to benefit from the power of knowledge! Because used models have been on the market for longer, you're going to find more real-world reviews of the specific model you're looking at, especially when compared with brand new releases, which often only feature information from the manufacturers themselves. This is extremely important, as even a used travel trailer can be a big investment. So we suggest once you see a model you like, do a little research, and you're sure to find some reviews!
Of course, buying a new RV or travel trailer means you're going to be able to custom order direct from the factory, but consider this – when buying a used version, you may find that the savings are so significant, you can use the cash you save to invest in custom features and modify your new (to you) travel trailer. This is a fairly common practice, and although it involves a little more work, can be extremely beneficial for your wallet. The availability of OEM parts and accessories at Leisure Trailer Sales means that you could even be fitting the same add on's as you'd order from the factory anyway!
Of course, our selection of used RVs changes frequently, and while we cannot guarantee any specific makes and models will be in stock at any given time, we frequently carry travel trailers from big brands such as:
Forest River
KZ Recreational Vehicles
Jayco RV
Winnebago
Gulf Stream
Coachmen
Discover Canada
Keystone RV
R-Vision
Starcraft
Fleetwood
And many more!
Another major advantage of going with a used travel trailer is going to be your ability to take it into some real backcountry without driving on eggshells! Of course, you're going to want to look after any RV you buy, but people tend to approach rougher terrain with a lot more trepidation when it comes to a fresh from the factory floor unit! However, if you know that the trailer has a number of trips under its belt, you're probably more likely to push the envelope!




Once again, we have a great selection of used travel trailers, used RV trailers and used camper trailers for sale. In fact, our entire used RV selection is amongst the best in the region. We sell at competitive prices and offer the very top dollar for trades.
We hope you've found this introduction to our selection of used travel trailers helpful, it is our primary aim to make sure you get the best value for money and have the very best used RV buying experience possible. We are conveniently located ar 204 Patillo Road in beautiful Tecumseh Ontario, and we find that viewing our lot in person is the best way to get an appreciation of our used RV choices. If you can't make it see us in person, no worries! We keep our website up to date as often as possible with the units on our lot, so if something on our website tickles your fancy, call ahead to find out more, and to set up an appointment to view. Thanks for reading, and we hope to see you soon!
We are located at:
Leisure Trailer Sales
204 Patillo Rd, Tecumseh, ON N8N 2L9


---
---