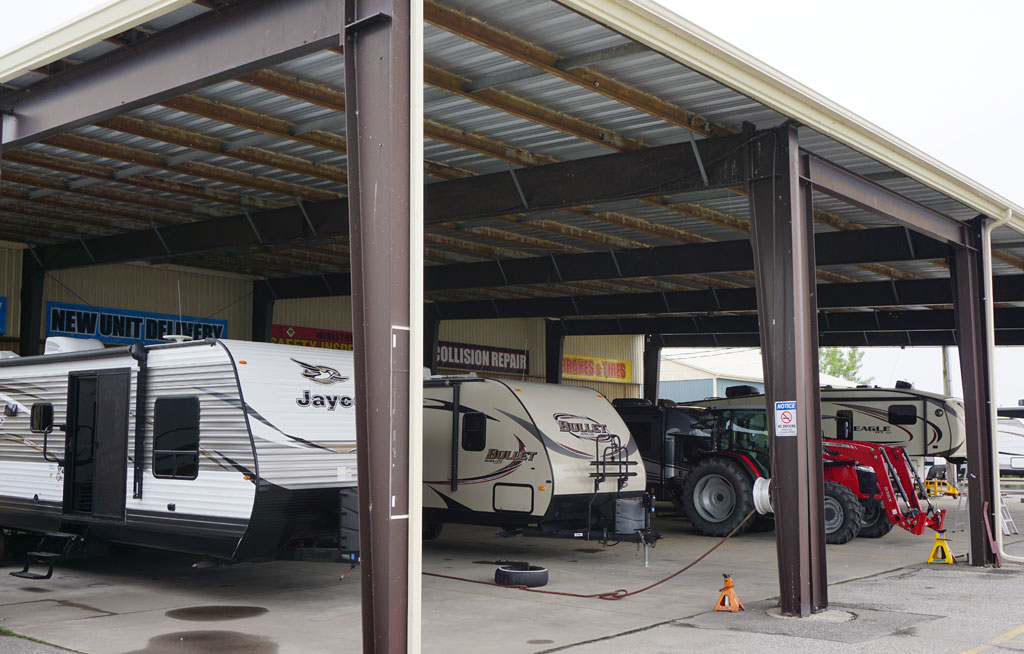 WHY CHOOSE LEISURE TRAILER SALES FOR ALL YOUR RV SERVICE NEEDS?
Shop Labour Rate $140/HR
• Red Seal Certified RV Technicians
• Industry Trained
• TSSA safety inspections
• Authorized warranty and preferred repair facility for most insurance companies
• Department of motor vehicle trailer safety inspection
• Hitches and wiring
• Propane systems
• Brakes, springs, running gear
• Fiberglass, structure repair
• Water systems
• Accessory installation
• We Service all makes and mode
Our RV service department is open Monday thru Friday 8:30am-5:00pm; closed Saturday & Sunday.
Be sure to checkout our wide range of RV Parts and RV Accessories from all major suppliers available from our store or through the convenience of online shopping.
Be sure to also ask us about the Complete Extended Protection Plan's Available "It could be the best money you ever saved."
Note: All services are plus taxes and any required parts.
RV Wheel Bearing Packs
Single Axle * Double Axle *
Inspect brake shoes, bearings and magnets

Clean & repack wheel bearings

Adjust break linings as needed

Verify the operation of the electric break magnets & break-away switch

Grease seals are extra, prices vary by axle size
RV Water Heater Service
For operation safety and fuel efficiency
Check condition of Anode Rod

Adjust burners and electrodes

Check burner assembly, remove nests, bugs, webs, etc.
RV Oven / Range Service
Check for proper LP pressure & adjust as needed

Check for accumulation of dirt, grease, dust or spider webs

Light each range burner one at a time, check for variable flame while rotating the valve

Test oven temperature: adjust as necessary to +/-25 of set point
RV Refridgerator Service
Verify unit is air tight in compartment

Refrigerator is properly vented (roof and sidewall)

Clean and adjust burner and orifice

Inspect and test all door seals

Check LP Pressure and proper voltage

Clean roof vent and check baffle
RV LP Inspection Service
Price fluctuates depending on year of trailer *
Inspect regulators and LP tanks

Complete a drop down pressure test

Complete a line pressure test
RV AC Service
Check air temperature drop across the evaporator coil

Check compressor amperage

Remove and clean A/C Filter

Examine Shroud for cracks and damage

Clean and unclog A/C roof drains
RV DeWinterize
Fill fresh water tank with Spring Fresh

Pump Spring Fresh through all water lines
RV Annual Safety
Remove wheels & inspect bearing, brake linings

Inspect break-a-way switch & cable

Inspect tires for pressure, wear & leaks

Ignite & check all appliance operations

Inspect roof & vent seals

Check all exterior light operations

Air pressure test & complete water system

Check for Norcold & Dometic recall
RV Spring Safety Inspection - Tent Camper
LP leak check (manometer with repair only)

Lube & inspect lifter system

Pack wheel bearings (grease seals extra)

Check operation of A/C (if any)
Ministry Safety Check
Inspect trailer & estimate all repairs

Inspect exterior lighting & tire wear

Inspect brake operation & shoe thickness

Inspect break-a-way switch, safety chains

Inspect shackles, plates, bolts & hangers
Slide-out Room Lubrication Package
Lubricate slide-out seals with Magic Boss Rubber Seal Conditioner

Lubricate slide-out rails with Magic Boss Lubricant & Protector

Includes one bottle of each mentioned. Cans will be put inside RV once work is complete
RV Winterization
Drain fresh water tank and water heater

Blow out water lines with compressed air

Fill P-Traps with anti-freeze

Pump anti-freeze through fresh water lines with Antifreeze

Includes 2 gallons of antifreeze

Icemaker, washer/dryer prep extra
RV Winterization - Park Run
Go out to your campground to winterize trailer

Drain fresh water tank and water heater

Blow out water lines with compressed air

Fill P-Traps with anti-freeze

Pump anti-freeze through fresh water lines with Antifreeze

Includes 2 gallons of antifreeze

Icemaker, washer/dryer prep extra
Seal Tech Leak Test
This system draws outside air into the RV via the roof vent, where it's dispersed, creating a positive inside pressure. The pressure difference causes air to flow outward through any outer skin faults. The application of a soapy water solution to suspicious areas of the outer skin results in a very visible bubble, exactly over each fault.
Hook up machine to roof vent

Apply soapy solution to outside of unit

Customer will be called with an estimate to repair any and all leaks
As we are the responsible producer of the tires we sell and import into Ontario we have partnered with YESS to manage our products' end-of-life management.
Via YESS's network management, we, the producer, pay for the collection, transportation and management to responsibly recycle our tires into new rubber products. To help you help us to recycle your tires at the end-of-life, please click here to find a location nearest to you where you can drop off up to 10 tires off the rims at no charge.
To book your RV Service appointment today, call our RV Service department at:
519-727-3400 or Toll Free at 1-800-363-8925 and we'll be more than happy to help you