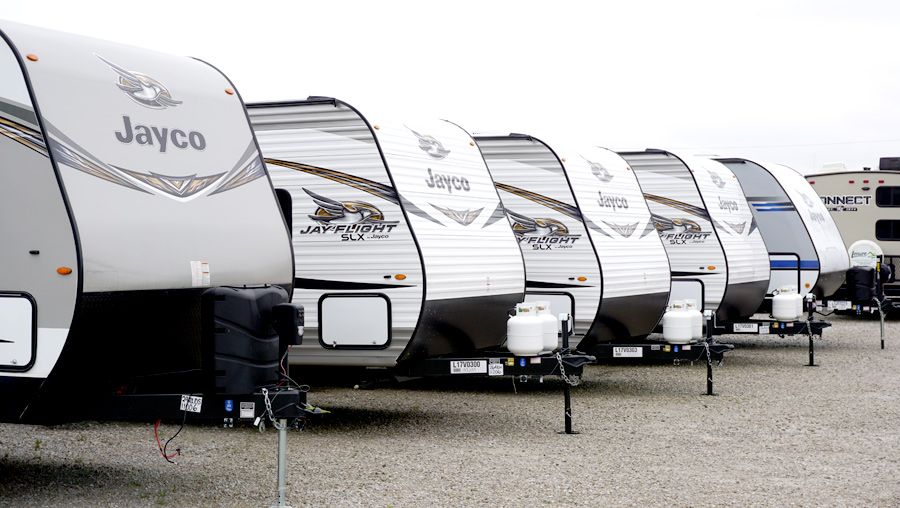 Travel Trailers for sale Ontario
Hello all, and welcome to the Leisure Trailer Sales blog! We've got another great installment for you, where this time we'll be looking at the various RVs and travel trailers for sale in Ontario. Leisure Trailer Sales have been in business here in beautiful Tecumseh Ontario since 1957, meaning we've had over half a century's worth of experience in selling campers in Ontario.  Whether you're a repeat customer, or whether this is your first interaction with our dealership, we want to pass on our sincerest thanks for considering us, for your next Camper purchase. As your travel trailer dealers in Ontario, it is our mission to provide the very best choice, prices, and customer service, and we think you'll find we hit the mark across the board!
Here is what one happy camper recently had to say about their travel trailer purchase from us…
"Thank you to all of the amazing staff at Leisure, for helping us find our perfect trailer! From the moment we stepped through the doors we felt at home. Our salesman, Mike Flemming, has been beyond helpful, kind, considerate, and patient. The sales process was easy and we were well taken care of… not to mention the fact that they are dog friendly, so our pup was able to be with us while we shopped!
We are so excited for a season of camping in our new trailer. Thank you Leisure staff!"-Review By: Margaret O'Flaherty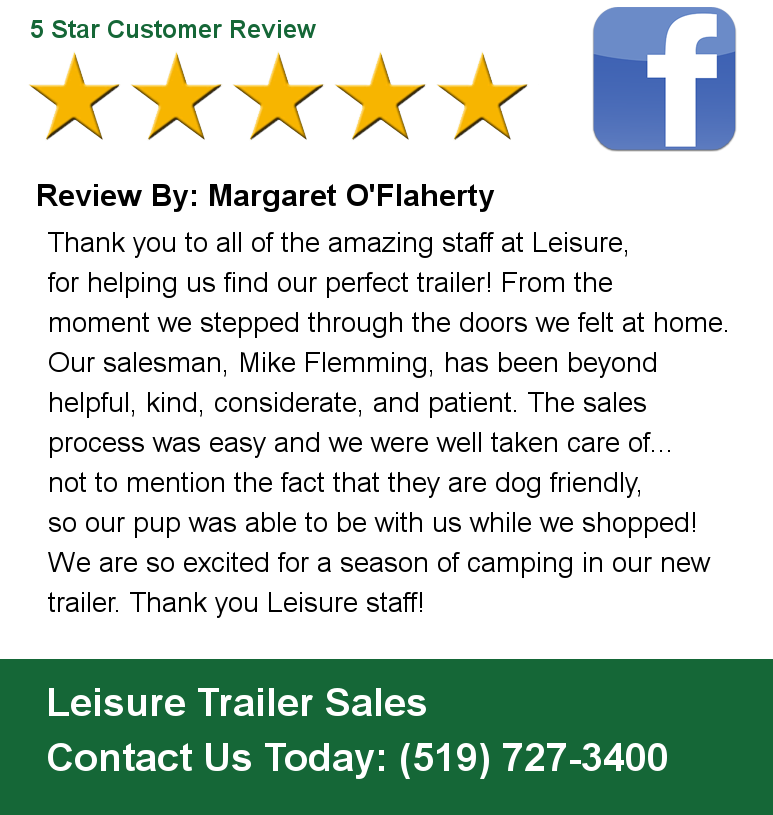 Need more proof we are one of the best RV Dealers in Ontario? Click here to see more reviews
So, when it comes to travel trailers for sale Ontario, we've got some of the very best! We carry a top end selection of new RVs and travel trailers in Ontario, as well as some great used campers for sale. Our lot is full right now, and we want to talk you through some of the models we feature as authorized dealers, from manufacturers like:
Winnebago
Jayco RV
KZ Recreational Vehicles
Coachmen RV
While these brands are largely household names amongst those in the know about RVs, we're going to give you a little breakdown of each of these manufacturers below with the aim of giving you some background on what they're about, and how they might best fit your needs. Read on to find out more!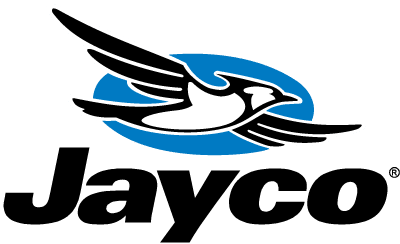 Jayco RV
Jayco RV has a huge selection of campers for sale in Ontario, especially at Leisure Trailers. This is a powerhouse company with more than 1 million units built since their company's inception. Widely regarded as North America's best selling travel trailer brand, Jayco produce everything from basic tent trailers and teardrops, through to well-equipped toy haulers, luxuriously appointed fifth wheels, as well as a range of travel trailers from basic ultralight units, to opulent full-size campers. Jayco is held in high regard for their quality, as well as their vast selection of available units. Leisure trailer sales always keep many Jayco RVs on the lot, and our team would be more than happy to show you around.

KZ Recreational Vehicles
KZ Recreational Vehicles (KZ RV) are one of the brands under the umbrella of the Thor Industries family of companies. They have been built in Shipshewana, Indiana since the founding of the company back in 1972. KZ RV is a dynamic brand with a full range of models from ultra-lightweight travel trailers, lightweight units, full-size travel trailers, and fifth wheels, toy haulers, and even an additional range of luxury fifth wheels, travel trailers and toy haulers. KZ RV builds RVs in a contemporary way, using next-generation materials; for example, their 'Sonic X' model, which is crafted from featherweight carbon fiber, and it's so light that even mid-size SUVs are sufficient to tow it!

Coachmen RV
When it comes to travel trailers for sale in Ontario, Coachmen RV is one of the brands that spring immediately to mind! These are very popular models, and have been since the company was founded over 55 years ago! This brand pride themselves on freedom, flexibility, reliability, safety, and security, and they deliver on all of these points. Coachmen travel trailers have the weight of a huge company behind them – they are built in Coachmen's state of the art, 220-acre facility in Middlebury Indiana. Coachmen ensure a close relationship with their customers and are committed to providing a quality product from the top down. They have a huge selection of travel trailers for sale Ontario and are definitely worth checking out.



Winnebago
Winnebago is most widely known for their motorhomes, but did you know they also build amazing travel trailers too? They build some excellent teardrop, and ultra light travel trailers, as well as some full-size units. The fit and finish of these travel trailers Ontario are just spectacular, and you're sure to love the fun colors that Winnebago's travel trailers are available in. Leisure Trailer Sales are an authorized Ontario Winnebago dealer, and our team would absolutely love to get you more information about these great models.
---
When searching for the best RV Sales Ontario experience… you will find it at Leisure Trailer Sales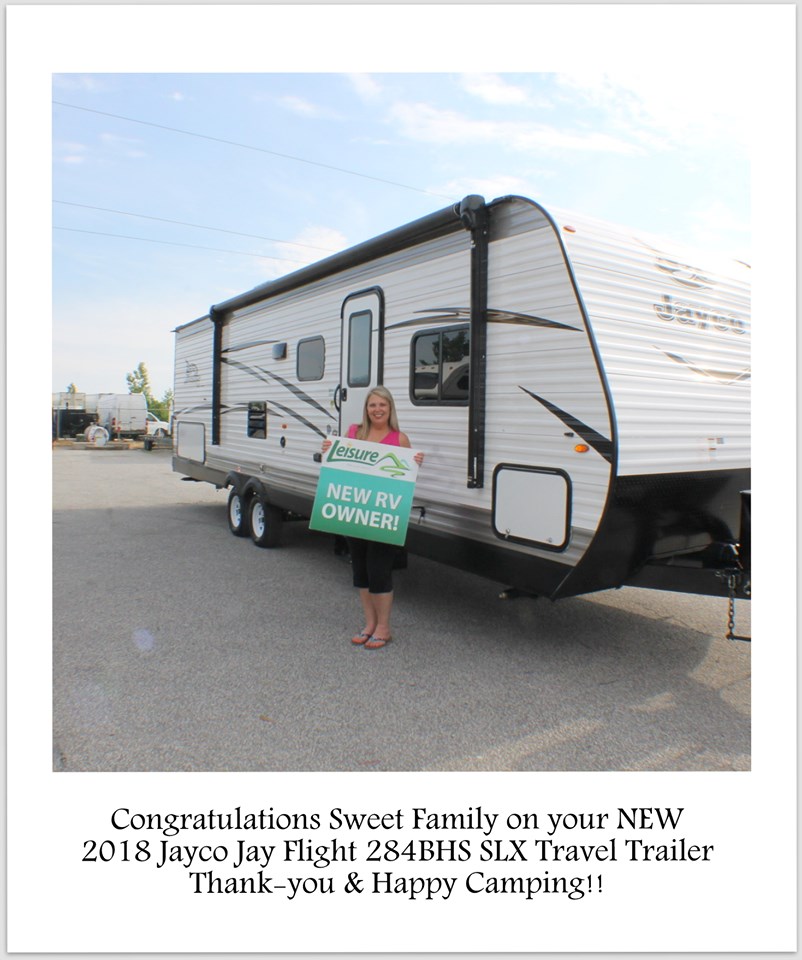 Here is another great article on "Which RV Brand should i buy?"
We hope to see you soon here at Leisure Trailer Sales! If you're looking for travel trailer dealers in Ontario, we're here for you! As we highlighted above, we have a great selection of travel trailers for sale in Ontario, and we hope to show them to you in person very soon!
We are located at:
Leisure Trailer Sales
204 Patillo Rd, Tecumseh, ON N8N 2L9
---
---