Hello everybody, thanks for joining us once again on the Leisure Trailer Sales blog. Summer is here and there's never been a better time to hitch up an RV and hit the road to explore and enjoy all four corners of our beautiful country. Leisure Trailer Sales have been RV Dealers Ontario for 62 years now, and know exactly what makes a great RV – That's why we're proud to be an official dealer of Jayco Trailers Ontario. Jayco has been in business for a long time, too, and is renowned for making some of the finest RVs on the market today. As authorized Jayco RV dealers Ontario, Leisure trailer sales carry a full range of RVs from this incredible brand. Today you're in for a real treat, as we'll be talking to you all about Jayco's flagship RV line – the Jayco Eagle. The Jayco Eagle represents just what can be possible when it comes to luxury on wheels. The Eagle line is available as a fifth wheel or as a travel trailer, so no matter what your preferred RV style is, there are Jayco trailers for sale to suit your needs. Jayco's Eagle line is one of the longest-running and most successful brands on the market, so, without further ado, let's take an in-depth look at the Jayco Eagle.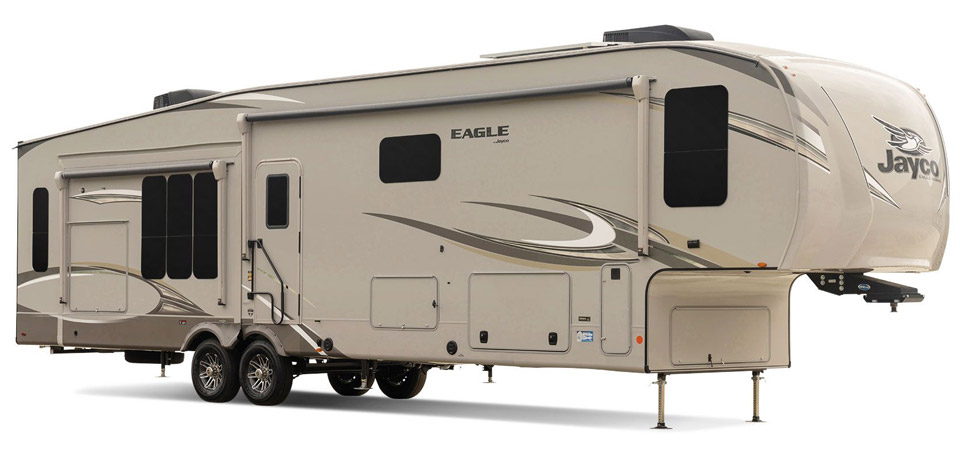 Without Jayco's legendary construction techniques, the Eagle wouldn't be half the RV is actually is. The Jayco Eagle's longevity is largely thanks to small details you'll never even notice, hidden beneath the surface, things like screwed construction which leads to a much more secure build quality over the staples that competitors bond their frames with. Jayco RV always uses oversized nail plate joint fasteners on both sides of the trusses in order to tighten up the trusses themselves, this ensures a much smaller chance of movement and a more rigid RV. Also, as wires tend to be hidden in the frame, you want the safest set up possible to avoid hidden dangers in the future – Jayco's use of 2×2 studs not only form an integral part of the Magnum Truss roof system but also provide a smoother edge for wires to run along when compared with competitors who simply use 1" aluminum strips in their roof supports. While we're talking about the Magnum Truss system – this revolutionary roof gives the Jayco Eagle a fully walkable surface with a max load of over 4500 pounds. Under the same weight, competitors' roofs literally collapsed. The Jayco Eagle also benefits from Climate Shield Weather Protection. This is billed as the ultimate in RV weather protection and has the primary benefit of extending your camping season. It helps to make your RV as efficient as it is possible to be, no matter whether it's extreme heat, or extreme cold you're encountering. The system is comprised of a combination of the following features:
Flexfoil insulation – this double-sided reflective insulation keeps interior temperatures in, and exterior temperatures out.
G20 Tint Windows – These dark tinted windows help to resist the rise of temperature when the sun is out.
Double Layer Fiberglass – In the fifth wheel version, the front cap gets a double layer of fiberglass insulation and Flexfoil insulation to help keep the bedroom at the most comfortable temperature possible.
PEX Plumbing – The water lines are PEX tested and can withstand temperatures as low as -40 degrees Fahrenheit.
Heated Underbelly – This feature takes forced air and radiant heat to the undercarriage of the RV to protect tanks, lines and vital systems from freezing in sub-zero temperatures.
This is undoubtedly a big RV, and traditionally big RVs can be a lot to handle from a towing perspective. That all changes with the Jayco Eagle, thanks to the Four Star Handling package – exclusive to the Jayco Eagle line up. This package features Dexter axles with self adjusting 'Nev R Adjust' brakes, Dexter shackles with wet bolt fasteners and bronze bushings for reduced wear and tear when towing, Goodyear Endurance tires with Durawall technology for increased resistance to cuts and punctures, and the MORyde rubberized suspension system, for unparalleled absorption and isolation of road shock. If all this isn't enough, upgrade to the 5-star system, which includes all the above plus MORyde pin boxes, for the ultimate in handling. Besides the 5-star add on, all of this comes as standard on the Jayco Eagle and Jayco Eagle HT.
---
Jayco's famous Eagle brand fifth wheels boast modern styling, innovative design, best-in-class construction and exclusive features that are sure to make every destination more enjoyable than the last.
---
Now we're going to take you into a little more detail about what makes the Jayco Eagle line up so special. Even as you enter, you know this is a top-class RV – the Jayco Eagle is equipped with American made anti-slip aluminum entrance steps, complete with LED lighting. There's an electrically powered awning with integrated LED lighting. As you step inside, you'll be greeted by a bright and airy farmhouse style interior design. Cabinetry is finished in a distressed farmhouse white, and the hardware has a rustic feel with contrasting accents. There are lots of large windows, and this allows light to stream into the RV. It's one of the most welcoming RVs on the market for sure.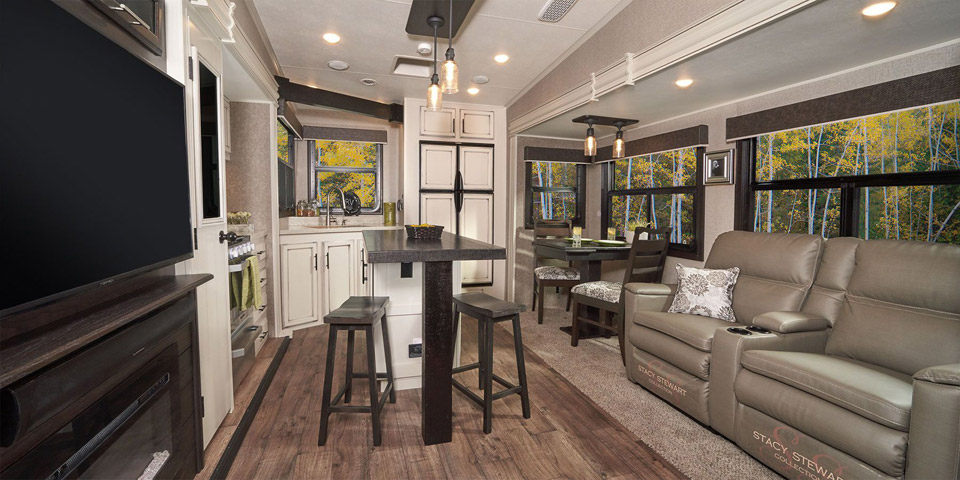 If you think yourself something of a campsite chef, then the Jayco Eagle Range is certainly going to float your boat. The storage is simply incredible, there are drawers, cupboards, and pantries galore, including in the rolling island, to ensure that you can pack everything you need to cook up a storm. There are choices of refrigerators for the interior that will make sure you've got supplies for long haul trips – you can choose from a 13 cubic feet, or even a 21 cubic feet residential fridge. The kitchens in the Eagle also boast solid surface countertops, soft close drawers and convenient USB charging ports. If you prefer cooking outdoors, the Jayco Eagle's got you covered there too, with the industry's best outdoor kitchen! This awesome al fresco food prep area features a hybrid cooktop grill, with a fridge, overhead storage and even an optional 32 inch LED TV – it's a decadent setup for the most discerning campers. Jayco's interior design team really excelled with the 2020 Jayco Eagle models. The experts carefully curated a selection of rustic fixtures and paired them with incredibly fine details and hand-glazed maple tones. It's all about creating that sense of home that you can take with you wherever you choose to roam, and they really did a great job with it. They included subtle, yet powerful details like a barn board table in the living area, as well as seeded mason jar lights; it's a timeless look you're going to enjoy for a long time.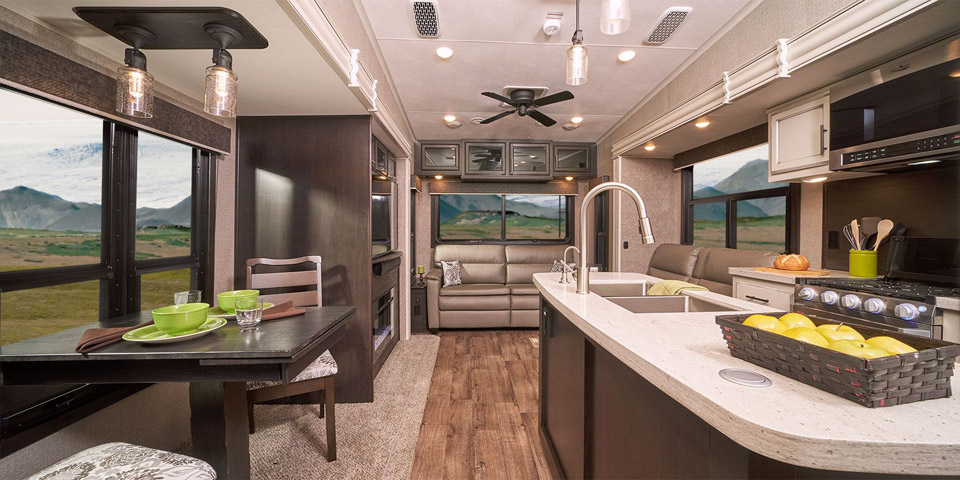 The dining area boasts huge garden windows, which bring you incredible views, as does the rear window too. One of the greatest things about the RV lifestyle is that you choose your views, all you've got to do is set up in your happy place, and you're good to go. You'll take in everything nature has to offer in the comfort of your own home away from home. Residential features are densely packed into this incredible RV. You'll get wall hugger theater seating positioned right across from the large 50 inch HD TV. So, just because you're out of town, doesn't mean you have to miss out on that big game or the latest headlines! Moving into the master bedroom, Jayco Trailers Canada offers the Eagle models with a King Size bed, featuring a luxurious Simmons Beauty Rest Mattress for the best night's sleep possible. Of course, each unit comes as standard with a residential quilted bedspread and pillows, as wells as smart LED reading and nightlights. In the master bedroom, there is also a large front wardrobe with washer/dryer prep – perfect if you feel you need these features to allow an extended stay.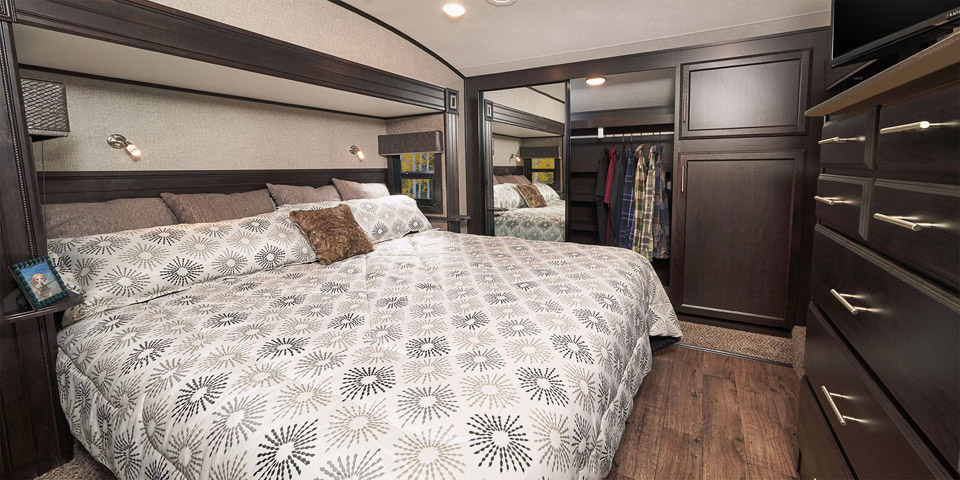 There are numerous sleeping arrangements possible in Jayco Eagle series, and thanks to the enormous tri fold hide a bed couch, complete with residential sleep surface, no matter whether you're settling down for the night on a real bed or a makeshift bed, you're probably not going to notice the difference or even care, as even the folding cots on the Jayco Eagle provide extraordinary comfort. The master bath is spectacular in the 2020 Jayco Eagle. It features a genuine porcelain toilet with foot flush for a convenient and hygienic experience. There is a gorgeous stone and glass backsplash behind the sink, and of course, there's a huge walk-in shower. Humidity in the bathroom stays low thanks to the EZ Breeze vent. The bathroom is capped off with a handy medicine cabinet, but it's no ordinary cabinet – it features LED backlighting and custom framing. You really could be forgiven for forgetting you are in an RV when you step foot in this bathroom. Between the different Jayco Eagle models and Jayco Eagle fifth wheel models, there are a total of 34-floor plans available. That is a truly astonishing number of options, and it really gives you the flexibility to choose the layout that is perfect for you and your family and friends. There are models with up to 3 slide outs available, giving you so much extra floor space when you're rigged at your destination.
Jayco Eagle Fifth Wheel Floorplans: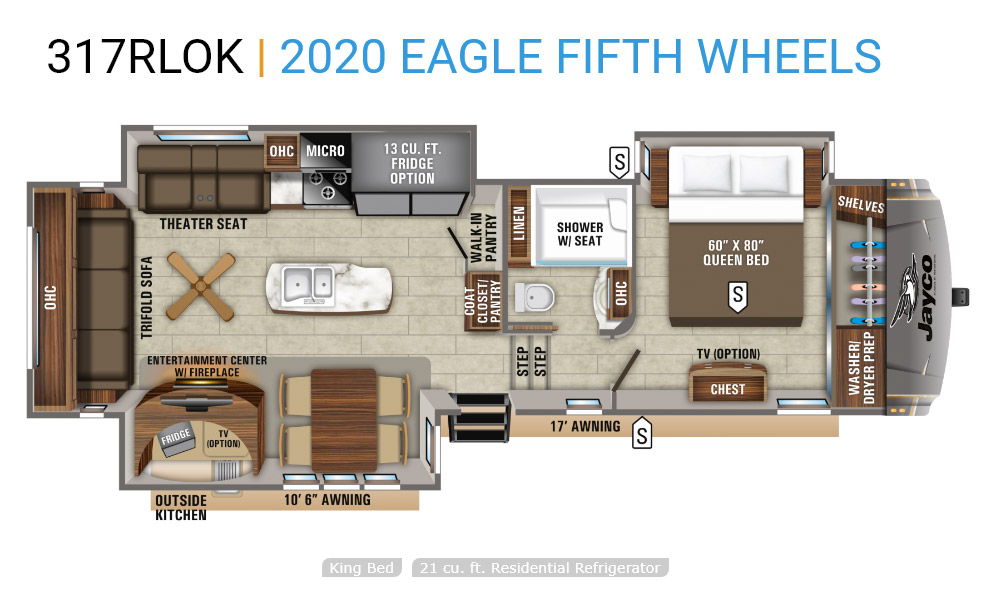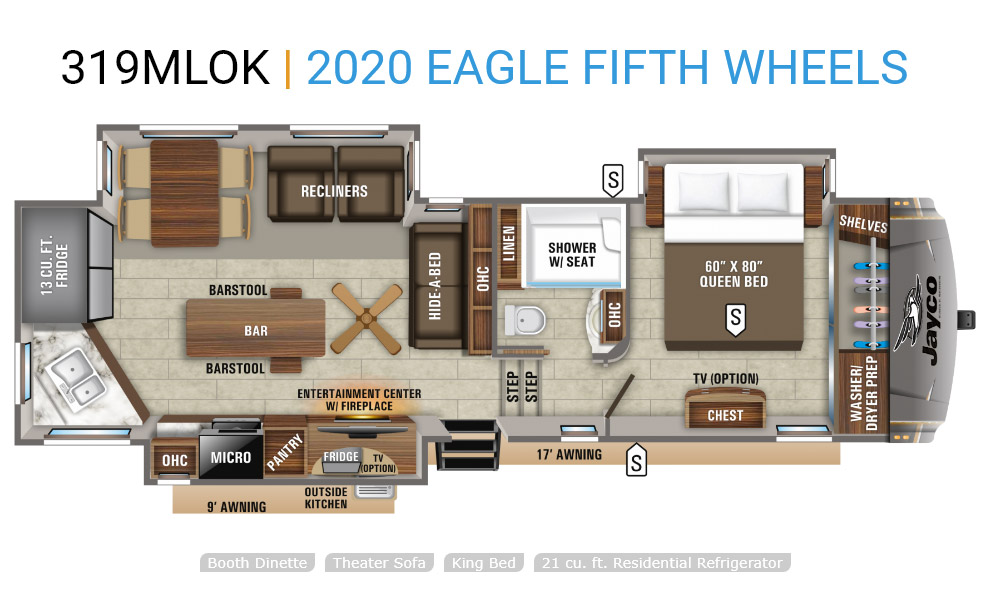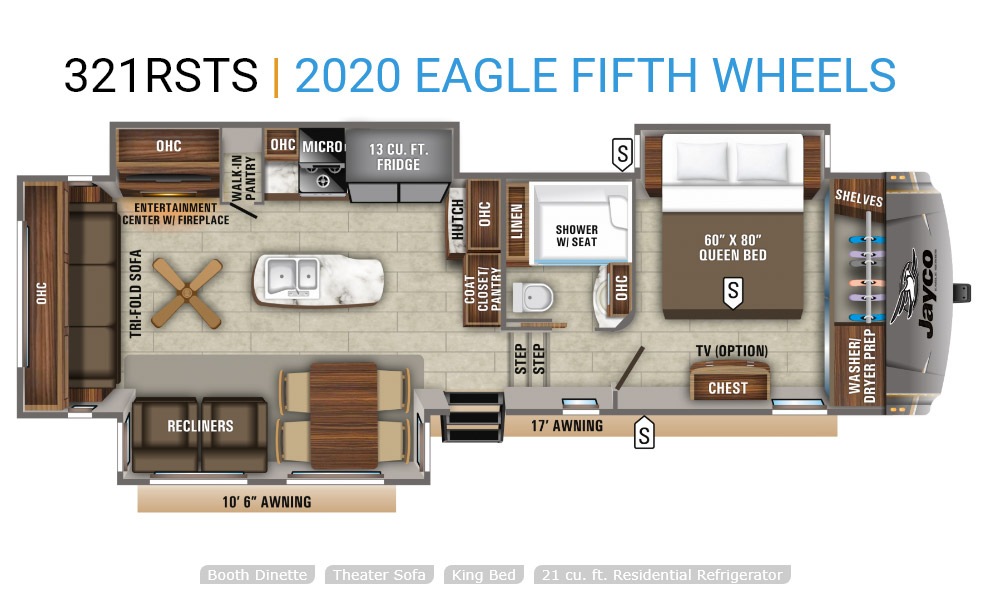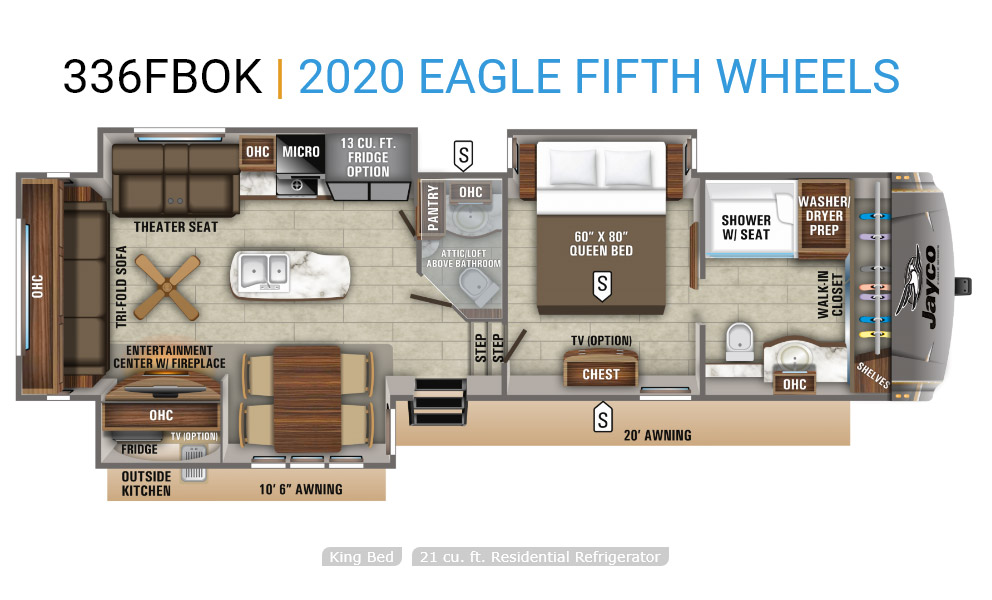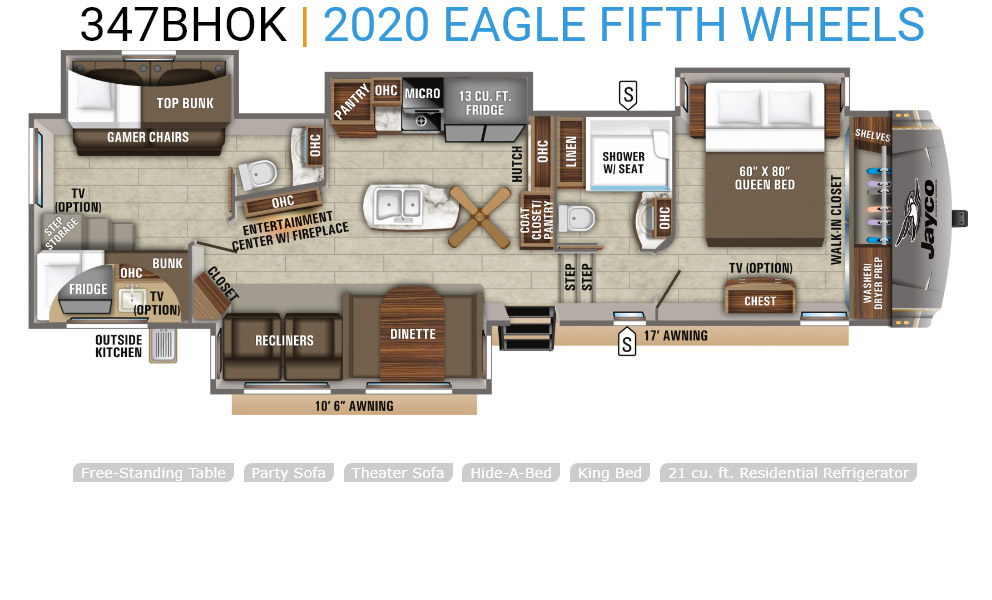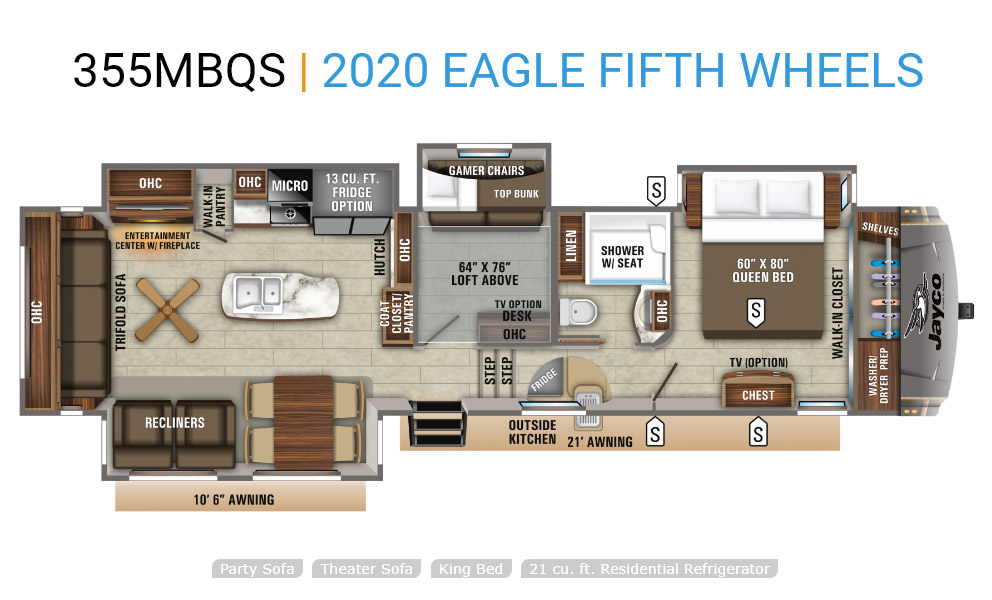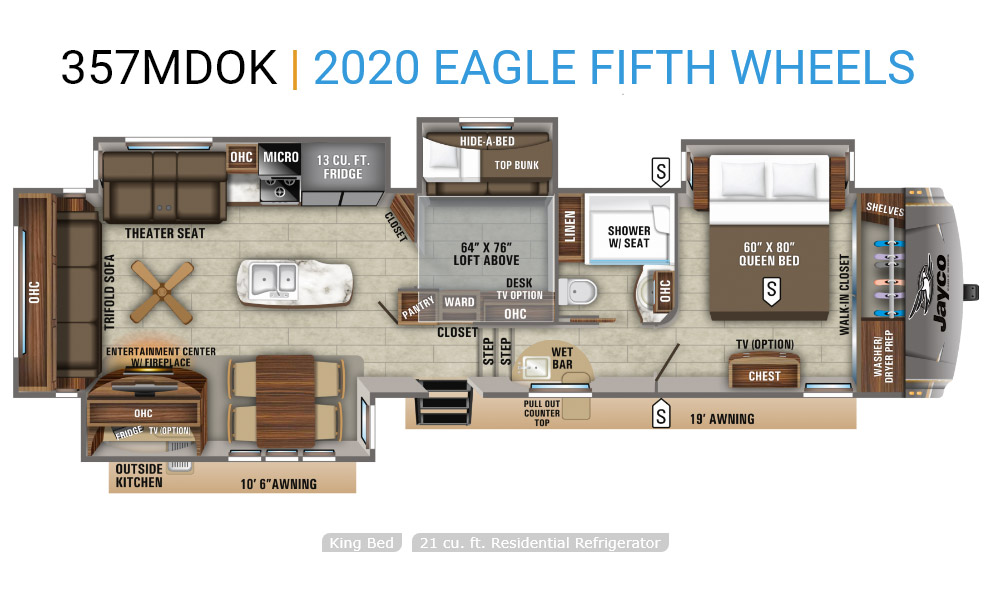 Of course, there's always room for more opulence, and that's why Jayco offers optional extras like the luxury package. This package includes frameless windows, LG Hi-MACS solid surface kitchen countertops, an attractive LED fireplace, and a soundbar for incredible audio on your TV. Other options you can choose include an electric auto-leveling system, a second power awning, and even a second air conditioning unit. The Jayco Eagle also benefits from Jayco's Jay Smart system, designed to make RV towing safer. This unique system makes it clear what you're doing with your tow vehicle by highlighting even further your braking and turn signals. This gives lots of warning to other road users and can significantly reduce your chances of an accident on the roads. The Smart in Jay Smart stands for Safety Markers and Reverse Travel, and it seamlessly links up to your tow vehicles signals with no special adjustments or connections necessary. The system activates when brakes are applied (3 flashes from the rear SMART lights followed by solid illumination until the brake is released), when turn signals are activated (flashing SMART lights on the rear, side, and front), and when hazard lights have been turned on (all SMART lights flash together).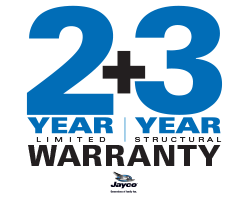 As with all Jayco trailers for sale at Leisure Trailer Sales, the Eagle range gets a 2-year limited warranty and a 3-year structural warranty. The 2-year limited warranty covers you for a full 24 months (or 24,000 miles, depending on what comes first) from the original date of purchase. The 2020 Jayco Eagle's 3-year structural warranty covers you against the unlikely event of defects in the laminated walls, roof or floor assembly. This is an industry-leading warranty, and it's one of the many reasons campers keep coming back to Jayco for their next RV.
We very much hope that this was an informative look at the 2020 Jayco Eagle. As we already mentioned, year on year this is one of the most successful RV lines not just from Jayco, but from any manufacturer in operation today. The Eagle just oozes luxury, it's got something for everyone, including the most demanding campers out there! So, if you're looking to get into something a bit special, we really can't recommend this unit highly enough! At Leisure Trailers, we have Jayco Eagle RVs in stock and we recommend coming to see them in person too – this was a fairly comprehensive introduction, but seeing this RV in person is a wholly different experience! If you want to set up an appointment to view, you're certainly welcome to do so, but if you happen to be in the Windsor Ontario area and just want to drop in, you're definitely welcome to do so – regardless, one of our incredible sales team will ensure that all of your questions are answered, and maybe you'll drive away with a brand new Jayco Eagle! We hope to see you soon.
VIEW OUR IN-STOCK JAYCO EAGLE MODELS
Looking for something smaller and light-weight to haul your toys? Check out the new 2020 Jayco Octane Super Lite Toy Hauler or are you looking for something smaller in a standard Travel Trailer? The new 2020 Jayco White Hawk could be just what you're looking for! Check out our latest blog here: 9 Advantages of buying from an RV Dealer