Good day to everyone! Welcome back to Leisure Trailer Sales blog. Here in beautiful Tecumseh Ontario we're getting excited for a long and fun-filled camping season ahead. If you've been looking for an RV for sale Ontario, then now is definitely a good time to think about buying! You've got the whole warm season ahead to get out there and enjoy what Mother Nature has to offer. Our family owned and operated Ontario RV dealer has been in business since 1957, that's over 50 years assisting some great people into great RVs and trailers.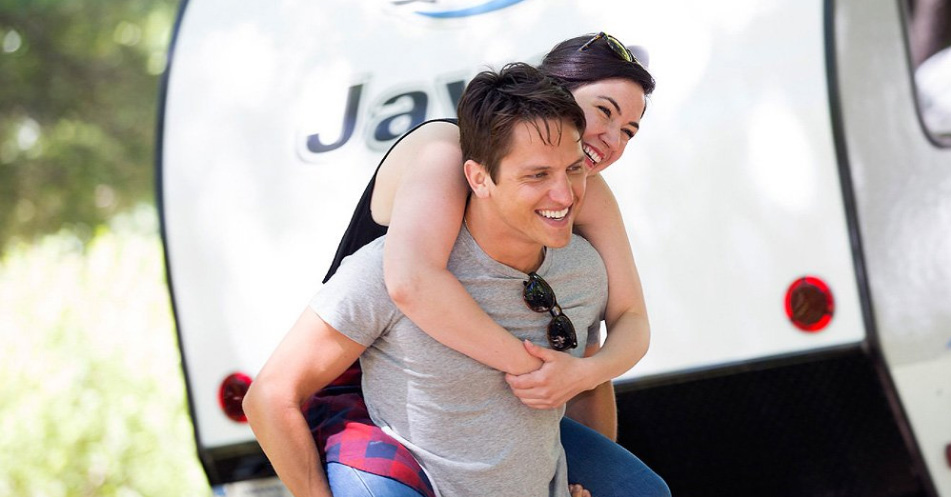 One of the most commonly asked questions we get here at Leisure Trailer Sales is "which RV brand should I buy?"   It's a good question, and it's really not a simple answer. There are so many variables in the RV market, and some brands specialize in certain styles more so than others. So while we're happy to help you answer that question, the most important starting point is a question for you – what are you looking to get out of your RV experience? Only then Should you start to consider the RV Sales Ontario search.   'RVing' is seeing a huge boom in popularity, the idea of staycations, and home tourism has really taken the industry by storm, and this can only be a good thing for today's RV buyer. For something that was once seen as a retirement hobby, the RV lifestyle has become hugely popular with millennials, and as such manufacturers have reacted and included some incredible features in their models. Not only that but because this generation is a huge consumer, the trailer builders are doing very well, which means better prices for everyone!   Our aim today is to give you some high-level information about the amazing RVs we keep in stock here at Leisure Trailer Sales.  We will tell you a little about each of the brands we stock, and which types of units they sell, as well as some information on the models that are available. As we already mentioned, ultimately the best RV brand for you, is the one that suits your needs and budget best, but without further ado, here are our recommendations for the top RV brands available today.
Jayco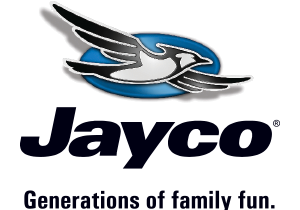 Jayco RV is one of the oldest companies out there, based in Middlebury Indiana, they've been in business for almost as long as Leisure Trailer Sales. Founded in 1968 by RVing hall of Famer Lloyd 'Jay' Bontrager, Jayco revolutionized the industry with their innovative pop-up tent trailers. One truly special thing about this brand is that corporate management is still led by the Bontrager family. Jayco were also the pioneers of the first 5th wheel trailer with a full height stand up bedroom, a design that is one of the most popular available today. With around 50,000 units per year being constructed, and a total over 1 million RV builds under their belts, it's safe to say Jayco have the hang of it by now!   Jayco's 2019 line up includes:

Pop up or Tent Trailers
Jay Sport is one of the originals, and still one of the best in this category. It benefits from heavy duty, corrosion resistant, high strength frame, and cooking are a really convenient option thanks to the stainless steel indoor-outdoor stove, it features wind deflectors and it's perfect for cooking up a hearty meal after a hard day's play. The construction is bumper welded steel, and it's finished in a scratch-resistant embossed aluminum exterior.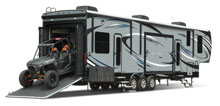 Toy Haulers
Jayco's Toy Hauler line up is absolutely action-packed. You'll have models like the Octane Super lite, with up to 6 berths available, and wide body construction, you're getting a lot of RV in a little package. The Jayco Octane builds on the Octane Super Lite with up to 8 berths, dual retractable electric queen beds, standard fiber glass side walls, and premium Espresso Wood Cabinetry. Finally the Jayco Seismic, which includes a standard 6 point leveling system, solid surface counter tops, and a home theater system for cozy nights in with its 50 inch HD TV.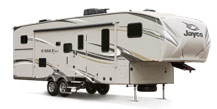 Fifth Wheels
Jayco Fifth Wheels have made a big name for themselves for their luxurious fifth wheel trailers, from the lightweight to the ultra-opulent. The range starts with the Eagle HT; it has a range of floor plans and sleeps up to 10, and features a plush pillow top Denver Mattress. Structurally it benefits from Jayco's Climate Shield and frameless windows. The range gets bigger with the Jayco Eagle, again sleeping up to 10, but with some extra features like LED interior lighting, and Congoleum wood effect Diamondflor flooring. The next step is the Jayco Pinnacle, this adds top shelf features such as cherry cabinetry, extra wide residential showers, and solid top cabinetry. Sitting atop the range is the Jayco North Point; this beauty comes with a 6 point electric auto leveling system, a 15,000 BTU Central air conditioning unit, an arched ceiling with an astonishing 82 inches of height, and big screen LED HD TVs in the living areas.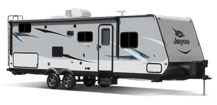 Travel Trailers
Jayco has an enormous range of Jayco travel trailers to suit every budget, taste, and need. It starts with the hummingbird, an ultralight unit with big features such as a standard power awning, LED lights, and a next Gen Norco A Frame. Expanding in size, you've got the Jay Feather that builds on the hummingbird with a spacious plywood dinette and sturdy bunk bed frames. Jayco's adventure travel trailer, the White Hawk, is built for fun and features 5/8" tongue and groove decking and even the frameless G-20 dark tinted windows, perfect for keeping things cool. The Jay flight SLX and Jay Flight, with accommodation for up to 12, models in sizes up to 38', stainless steel kitchen appliances and even luxurious Simmons mattresses on select models make superb choices for a family RV. Of course, there's the Jay Flight too! It's America's top-selling travel trailer and has been for 11 years straight; it sleeps up to 12, and it has plenty to keep the whole family entertained. The Jay Flight Bungalow is one of the more luxurious models in the lineup, with a towering 96" interior, 102-inch widebody construction, and diamondflor hardwood style flooring. If you don't like fifth wheels, but want a comparably sized travel trailer, consider the Jayco Eagle and Eagle HT travel trailers; they have upgraded gel coat exteriors, solid surface counter tops, Simmons residential mattresses and many other class leading and class-exclusive features.
KZ RV
KZ RV is another company with a rich history, just like Jayco, KZ RV hail from Middlebury Indiana, in the heart of America's Mid West. Founded by Daryl Zook in 1972 out of a gas station, KZ RV has grown exponentially since then, so much so that they caught the attention of one of the world's biggest RV manufacturer umbrella companies, Thor Industries. KZ RV produces a wide range of RV styles and sizes, ranging from ultra-light towables to full-size travel trailers. They build in both aluminum and fibre glass and produce some of the best quality RVs for sale today. Travel Trailers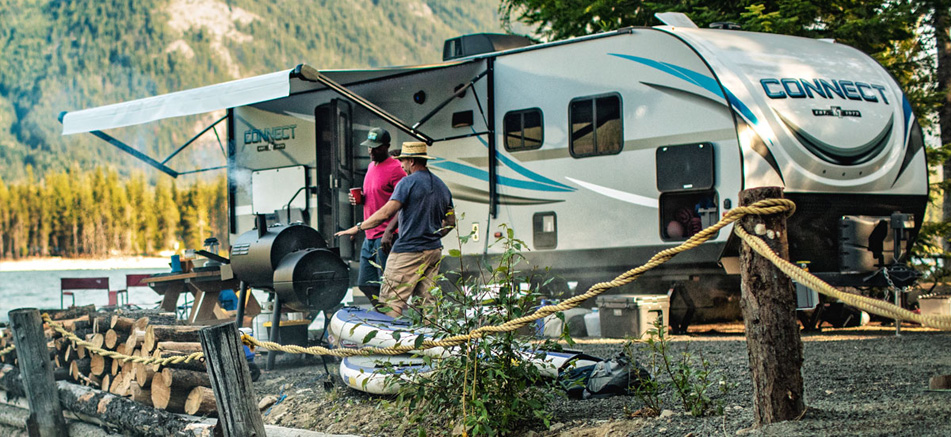 KZ offers a range of great travel trailers, including the Sportsmen Classic, an ultra-lightweight model with value in mind. This is an affordable model and comes up to 19' in length. No truck required either! If you've got an SUV, you'll have no issues hauling this. There are many floor plans to choose from, and living up to its name, there's even an off-road package. The KZ RV Escape is another ultra lightweight, however, it sacrifices nothing when it comes to luxury – it's beautifully finished inside and out, and packed with stylish décor – it's also available as a toy hauler! The KZ RV Connect is a lightweight travel trailer that is not only affordable but beautifully appointed too. It's available in 13 floor plans and comes with a residential style kitchen, tons of storage and a high-end fiber glass exterior. The range-topping KZ RV Spree is a luxury lightweight travel trailer option – this model is a high-end RV with spacious interiors, top-grade fixtures, and fittings, and even detail-oriented touches like motion sensor lighting.
Coachmen

Coachmen RV is a stalwart of the RV industry; in business since 1964, they've built a wealth of experience in the field, and also originate from what is seemingly the epicenter of RV production – Middlebury Indiana. The company was started by the Corson brothers, and from humble beginnings, they have built to date over half a million trailers (now over 600,000). The company are actually publicly traded and are listed on the New York Stock Exchange, as well as having the prestigious honor of being considered a Fortune 500 Company. You don't get accolades like these for nothing, and this should be an initial indication of how excellent Coachmen's product really is. Their travel trailers and fifth wheels are a phenomenal value, bringing luxury to almost every budget.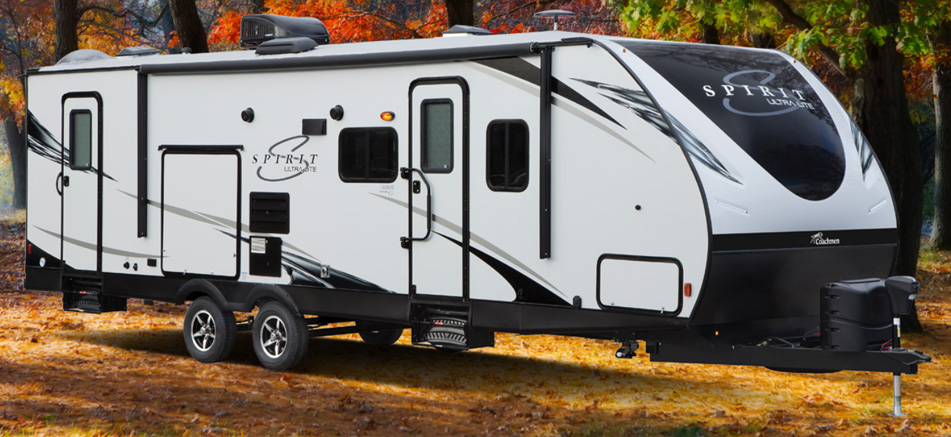 Coachmen RV's Northern Spirit line of RVs and travel trailers are widely known as some of the most pet-friendly units on the market today – you'll note features like an outdoor dog leash clip lend credence to this reputation. They have a huge amount of storage space, with thoughtful spaces like the 'store – more cargo center. For your comfort, there's a 60' x 80' residential bed, and helping to keep things organized, a built-in laundry hamper. If you're inclined to dine outdoors, why not take it a step further and cook out there, too? The Coachmen RV Northern Spirit features a well equipped outdoor kitchen that should have everything you need to cook up a storm.
Winnebago
We think it's fair to say that Winnebago is the name when it comes to rvs for sale in Ontario. The company was founded in Winnebago County, Iowa by a group of Californian investors looking to inject money into the local economy. Winnebago's first RV was built way back in 1966, to much adoration as this was a quality product being sold at almost 50% less than comparable RVs from their competition. While the brand is generally synonymous with motor homes, they also have a wonderful selection of travel trailers in a range of sizes, and they are really worth checking out! These trailers stand out from the crowd with their bold color ways, and are really a sight to behold!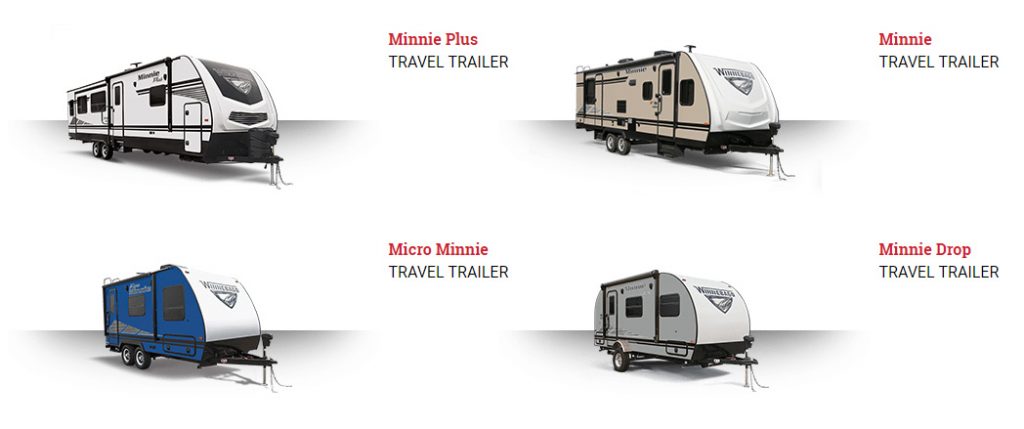 The Winnebago range of travel trailers starts with their smallest, the Winnie Drop; a classic teardrop ultra lightweight unit. It's an aerodynamic camper that can be easily towed. Unusually for this category, some floor plans even feature a slide out! Ceiling height is up to 6' 5" which makes this a very comfortable choice if you're looking for a small travel trailer. The next size up is the Micro Minnie; it features a spacious interior, generously equipped kitchen, and a front bedroom with a queen bed. Another step up in size is the Winnebago Minnie – this is a full-width travel trailer that is jam-packed with features. There's, of course, the signature Winnebago exterior color options, and available slide-out rooms. Construction is extremely sturdy, and it features aluminum frame laminated side walls. Adding to the features of the Winnebago Minnie, the Winnebago Minnie Plus – this travel trailer really looks the part, it has an attractive, and aerodynamic front cap, and there are several models featuring multiple slide outs for additional space. The interior is also upgraded over the Minnie. It features a curved interior ceiling and a hard wearing gel coat covered fiber glass exterior. Finally, the Winnebago Spyder – this is a serious toy hauler for those who like to live life to the extreme. The 100-gallon freshwater tank allows you to get out into the backcountry for extended periods, alternatively gives you enough water to keep your gear washed down. It comes in white or black fiber glass, and features the 'spyder' decal on the front cap. For those looking for a more 'home away from home' feel, the Winnebago Spyder can be ordered with the stainless steel appliance package. Inside, there's a barreled ceiling, providing huge headroom, and enough clearance for a ceiling fan. The floor is linoleum throughout, making it easy to keep things clean, even with muddy toys! The accommodation is spacious too, there's even a walk around queen bed. The best part though? The industry-leading storage space!   So if you're looking at buying a used RV, or just looking for Travel trailers for sale Ontario in general, we'd love to help you. We hope this guide to the RV brands we carry has been useful, and of course if you'd like to know more about any of them, we can't stress enough how welcome you are to come to the lot, check out what we have, ask all the questions, and get all the answers! Leisure trailers are here to help! So stop searching google for 'RV dealers near me', because you've found your dealer already! Summer's almost here, so what are you waiting for? We can't wait to meet you!   Check out our post on the 9 advantages of buying from an RV dealer