Hi Everyone, and once again, our sincerest thanks for choosing to join us for another entry on the Leisure Trailer Sales RV blog. Whether you're considering your first RV purchase or you're shopping around with the aim of upgrading your current rig, we're confident that we have what you're looking for ready and waiting in our large inventory. Leisure Trailer Sales have been in operation since way back in 1957, and with this kind of experience, you can trust that we understand how to recognize the best of the best when it comes to RVs; owing to this, it shouldn't come as a surprise to you that we are proud KZ RV dealers Ontario! KZ Trailers offer KZ RV offers a large variety of travel trailers, fifth wheels and destination trailers, but today's focus is going to be squarely on the KZ Sportsmen Series. This exciting range of RVs blends luxury and utility seamlessly, giving you a trailer that can go anywhere but in style and comfort.
Exterior
The KZ RV Sportsmen is a sleek looking trailer that's just as feature-packed outside as it is inside. Upfront, the Sportsmen boasts a power tongue jack, this makes your hook up process incredibly simple, on top of that, it features a light, too, so you'll have no problem guiding your tow vehicle on to your trailer. Just behind the power tongue jack is the standard twin 20-pound propane bottles. Unlike most RVs at this price point, you're getting a gas cylinder cover, this protects the gas supply and also keeps your trailer looking nice, too. The other great thing about having the cylinders mounted is that you're able simply to swap them at any exchange location rather than having to find a propane filling station. Another great standard feature of the KZ Sportsmen (and every other KZ RV) is the solar prep – this is exceptionally handy if you're planning on boondocking or camping in more remote locations as it'll let you keep your batteries charged indefinitely when you hook up your solar panels.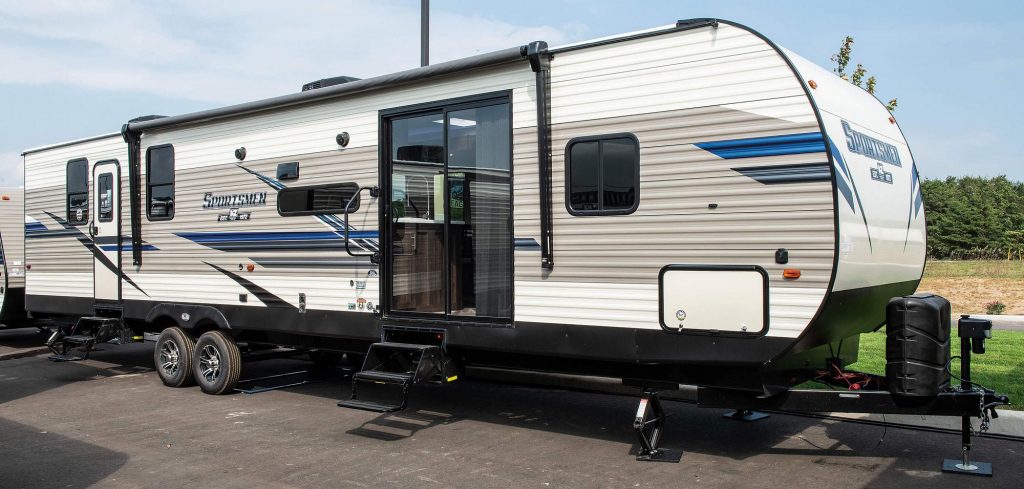 Your pass-through storage area is large, and is completely finished, which lends a nice touch, not only is it nicely finished, but it's also lit, too – perfect for later arrivals at your destination. It comes with magnetic latches – this makes holding open the hatch far easier and means no plastic hooks and less to break. The latch is also secured with your entrance door key – this is a superior feature to the majority of competitors' RVs that make use of cheap locks that can be easily accessed by a common skeleton key, or even jimmied with little effort. Inside the pass through you'll find your detachable power cord – this is a great feature that really makes set up and break down easily. Instead of working with a fixed cable that you've got to jam into a tiny box, with a detachable cord like this you can just coil it up and throw it back in the pass-through.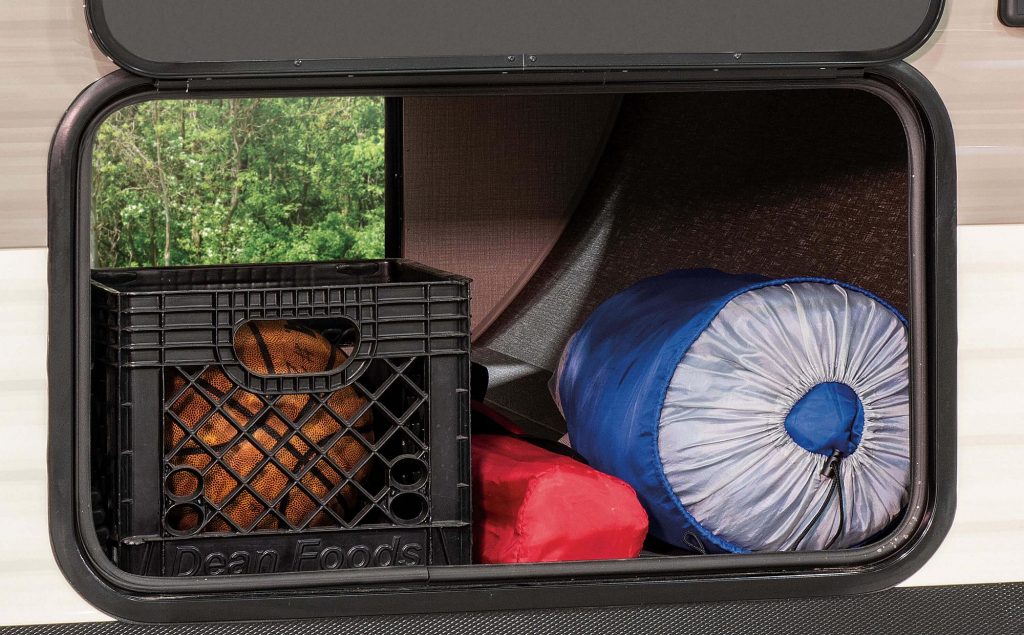 The Sportsmen get a large power awning. Up top, there are LED strip lighting, too. The beauty of the LED lighting on these trailers is that it works whether or not the awning is deployed. This lets you enjoy the outdoors during the dark hours, even if the wind is too strong to rig the awning. Getting in and out of your KZ RV Sportsmen is a breeze – it boasts solid steps that don't flex or buckle, and there's a nice big swing away grab handle, too. The entry door itself features a unique friction design that lets the door stay open in whichever position you leave it – again no more latches and hooks to contend with, which certainly helps with loading and unloading the trailer. Keeping things steady, the Sportsmen benefits from four standard stability jacks – they are scissor type and take out all wobble and shake from your unit when you're camping, making the camping experience much more comfortable. This RV is equipped with nitrogen filled radial tires. If you didn't know, nitrogen-filled tires are less susceptible to air loss over time, and in addition, they are also, thermally speaking, more stable than air-filled tires, in that they are more resistant to loss of pressure during exposure to extreme cold. The axles are easy lube type, which really helps to reduce the amount of maintenance required; with these axles just apply a small amount of grease before each trip and you're good to go!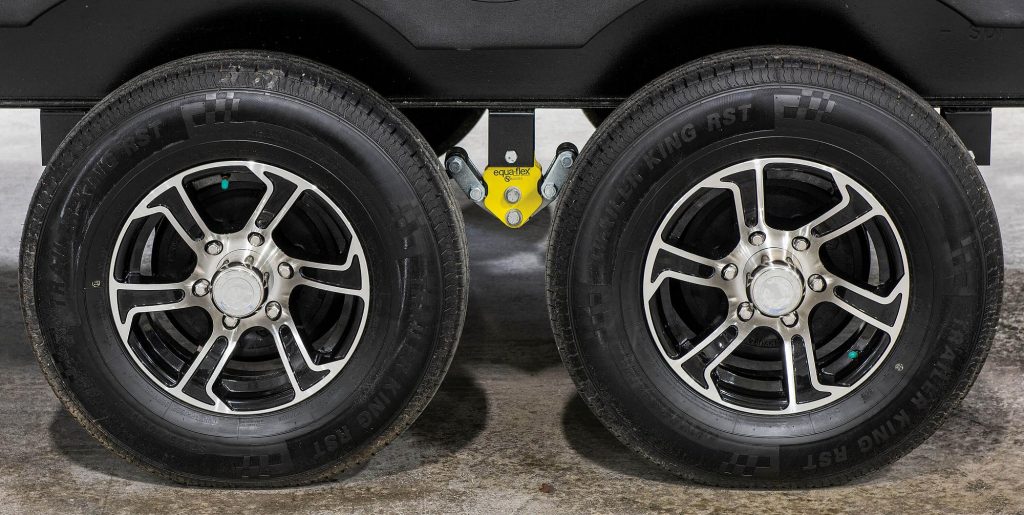 A cool feature of the Sportsmen is the outdoor cable connection; something of a luxury amenity, this connection is mounted just above the external power outlet, giving you the ability to bring your TV outdoors under the awning to enjoy in the fresh air on better weather days. There are gas and electric DSI water heater, it boasts direct spark ignition, which eliminates having to come outside with a lighter to get your hot water started. If you're likely to be needing a lot of hot water in a short time, then this system actually lets you run gas and electric power at the same time. Rather than relying on repair kits, this unit comes readily equipped with a spare wheel and tire. Of course, nobody wants a flat or a puncture, but it's nice to know in the event this happens, you're a quick wheel swap away from getting back on the road. Rear camera prep is also available on the KZ RV Sportsmen, this is especially useful for getting set up at your campsite, but also because you can use it as a rearview camera when driving to your destination, which is great for road safety.
Interior
It's often said that the heart of a home is the kitchen, and as the KZ RV Sportsmen is hopefully going to be your next home away from home it's only right that it should be equipped with a beautiful, amenity-packed kitchen. One of the first things you're likely to notice is the seamless one-piece countertop, not only does it look great, but because there are no joins, there are no areas for water to get down in to and potentially cause mold issues down the line. Mounted in the countertop is a country-style stainless steel sink. It's nice and deep which really helps to prevent splashing during use. There's also a single lever stainless steel faucet fitting finishing off the look.

The kitchen area also features spacious overhead cabinets that really make the most of the available space. Drawers are crafted from sturdy plywood and can support up to eighty pounds on their smooth rolling drawer guides. The kitchen has a dedicated spot for a trash can, too. There's a great 3 burner cooktop finished in the residential-style, it has a glass cover, and looks fantastic. The oven is glass-fronted and has beautifully finished knobs with electric blue backlight. Unlike some competitors' RVs, the Sportsmen does come with a standard microwave, perfect for quick reheats! Your refrigerator can either be gas/electric, or you can choose to equip a 12 volt 10 cubic foot version. Storage is definitely not in short supply here, the kitchen boasts a large pantry, which is perfect for storing all your pots and pans, as well as other cleaning supplies – in fact, it's big enough for a broom, too.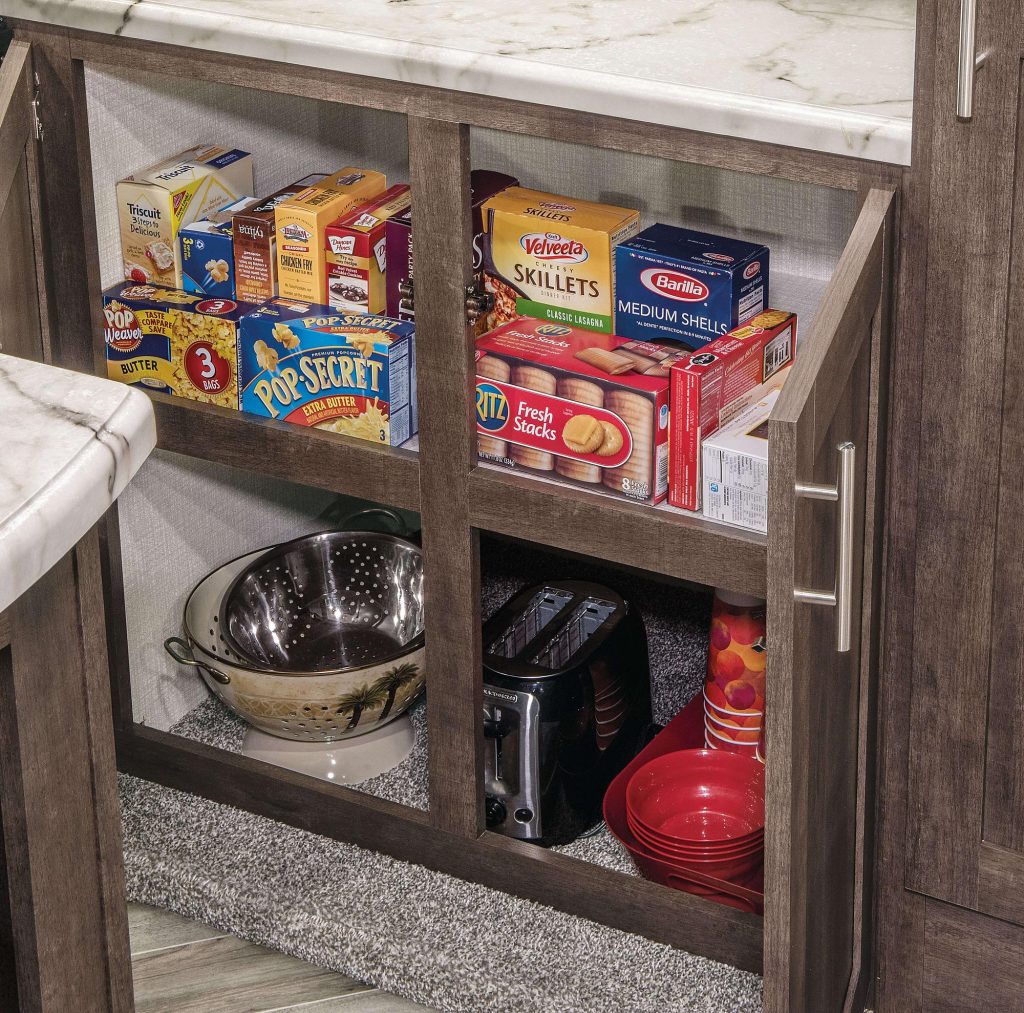 Moving on to the living area, you'll love the large 36-inch dinette. Under the dinette seating, there's a hidden secret – helping you to keep everything organized, there are cubbies with perfectly sized plastic bins, keep your condiments in there, napkins, whatever you want! Further, into the living room, there's a large sofa with a fold-down center section, this creates more theater seating like experience with cupholders and a large armrest. There's a clever storage area hidden beneath the couch too, it's easy to access and doesn't require any dismantling or folding of the couch. Another big benefit of the KZ RV Sportsmen over other competitors' RVs is the inclusion of two (super comfortable) recliners as standard. The living room also boasts an optional working fireplace, so especially on cooler days, you're going to take the stress off the main heating system.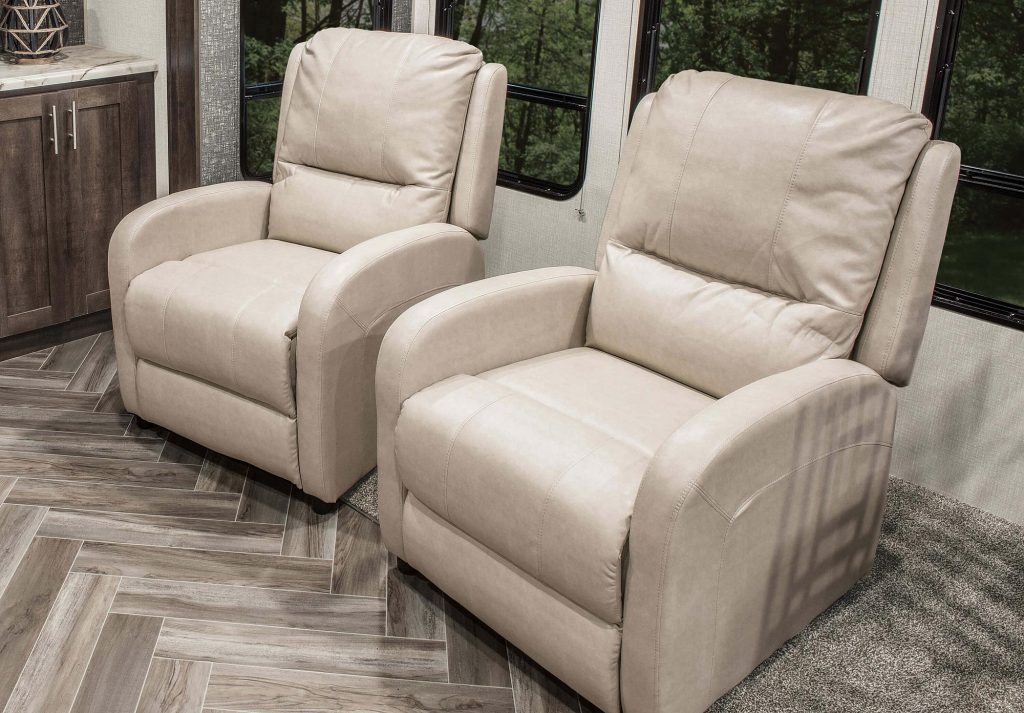 This unit benefits from a media center that includes an AM/FM radio, as well a CD and DVD player, this is especially nice as many new RVs are moving away from including this feature, but not everybody is quite ready to give up their DVD collections quite yet, so it's great that KZ RV have chosen to keep it equipped. There's a mounting point pre-marked for your wall-mounted TV, making it a simple process to get a TV of your choice hooked up. Above the fireplace, there's a pair of USB ports that give you a great spot to charge phones and tablets, as well as a safe place to place them while they power up. KZ RV has equipped the Sportsmen with a large, roomy bathroom. The shower is cleverly installed to maximize space, and the toilet features a convenient foot flush as standard. The bathroom does include a medicine cabinet with a nicely finished mirror front. The theme of great storage continues in this area with a big linen closet for all your bathroom supplies, too.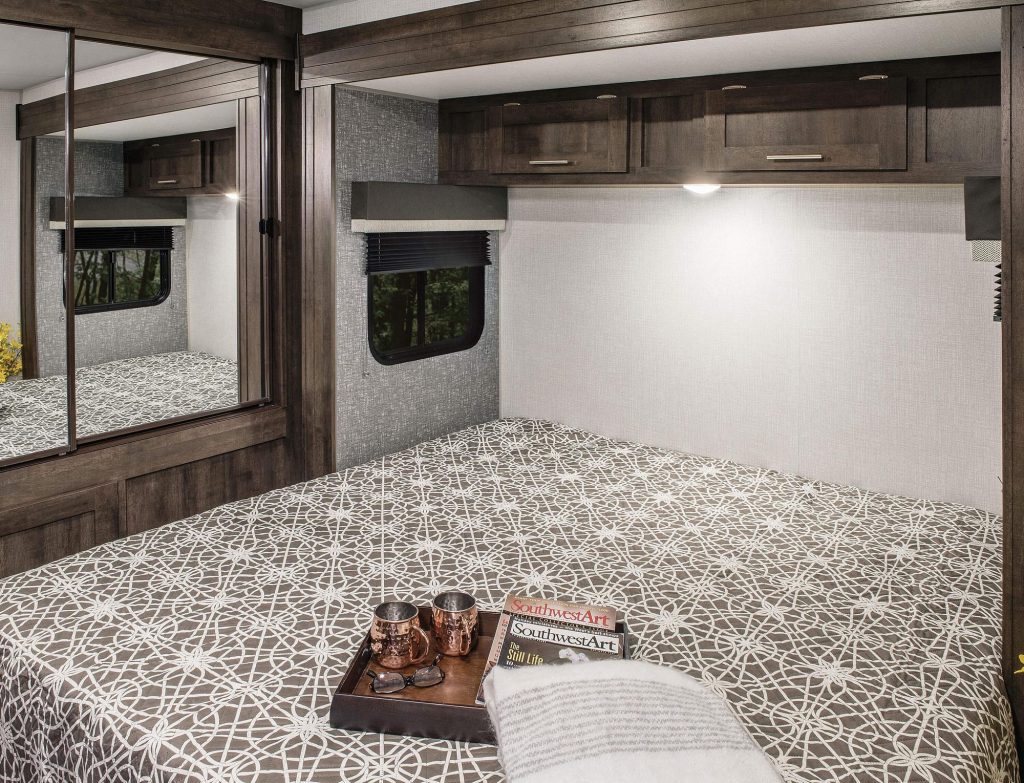 Rounding things off, the Sportsmen RV has a beautifully appointed master bedroom with private entry from the bathroom. Some of the highlights of the master suite include:
A queen-sized bed
Power outlets on both sides of the bed
Twin closets placed either side of the bed
It's a comfortable retreat that you'll always look forward to retiring to at the end of a long day of family fun.
The KZ Sportsmen come in various models and floorplans to choose from!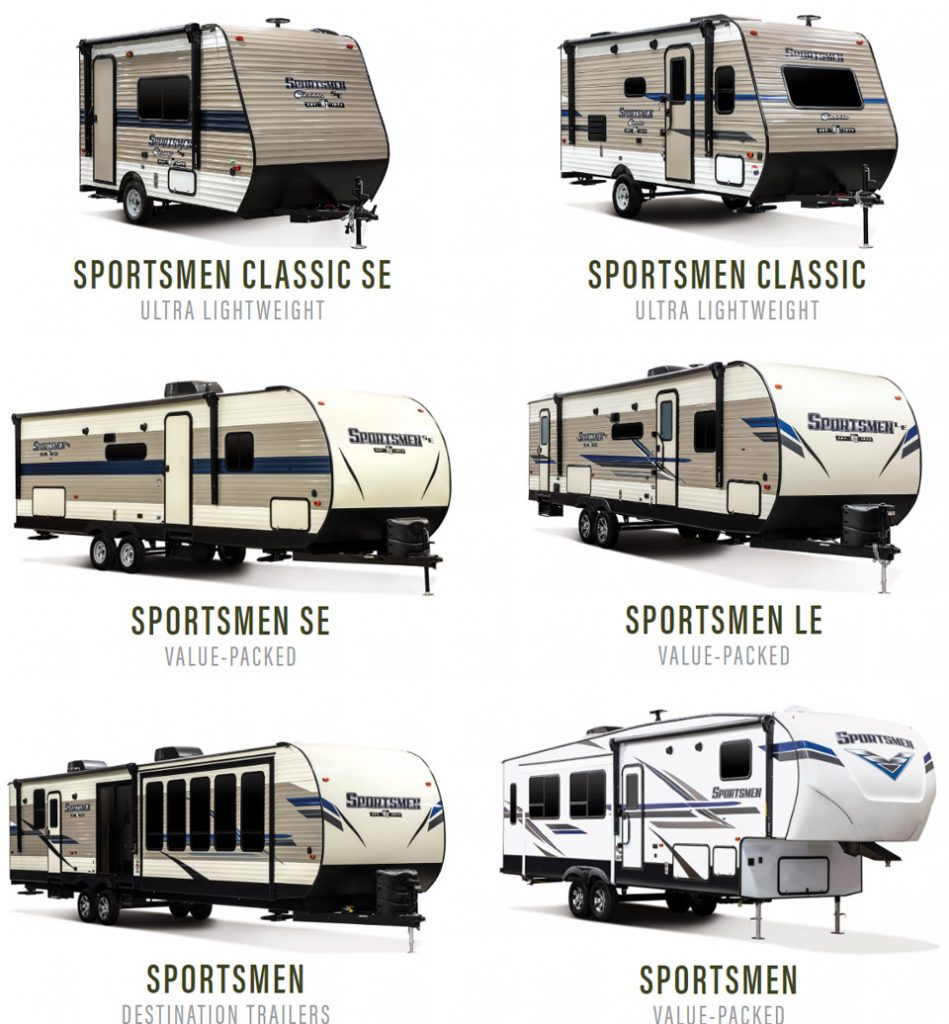 There we have it! We hope you found this guide to the KZ RV Sportsmen insightful. Here at Leisure RV Sales, we've been big fans of the 2020 model ever since the specs were announced. It has so much going for and we're sure it's going to be one that you and your family love too. Leisure Trailer Sales are authorized KZ RV dealers Ontario, and because of that, our team is very well versed in their products. We know that a blog is a great way to introduce you to a new RV, but we also firmly believe that there's no better way to get to know what a trailer has to offer than to come see it in person – with that being said, we'd love for you to come and get your questions answered in person! Our team can give you a tour of one of the KZ Sportsmen units on our lot, and if what we have on-site isn't what you're looking for, we can also help you to custom order your dream RV direct from the factory. Call for an appointment on 519-727-3400, or just swing by any time – we're conveniently located just off of 22 at 204 Patillo Rd, Tecumseh Ontario. We really can't wait to see you!