Hello, and welcome to Leisure Trailer Sales of Ontario, Canada; Family owned, and family driven, since 1957. The 2019 camping season is upon us, and there is no better time than now to invest in a fantastic new travel trailer – and who better to purchase from than the most trusted name in recreational vehicles! With over 23,000 RV sales under our belts, here at Leisure Trailer Sales, we've learned a thing or two about the business. Today we are going to introduce (or reintroduce for those familiar with the brand) you to the 2019 model year of one of the most popular travel trailers on the market; the Jayco Hummingbird. This is the latest lightweight travel trailer from Jayco, and this year it really is something
special!
DOWNLOAD THE 2019 JAYCO HUMMINGBIRD BROCHURE
---
Construction
One of the major draws to the Jayco line of recreational vehicles is their superior build quality and attention to detail. The Jayco Hummingbird is sometimes seen as an entry level trailer, but don't let that fool you, it's just as sturdy as its big brothers! The construction starts with the Stronghold VBL vacuum bonded laminated floor and side walls, and an integrated NORCO A frame – this set up lends exceptional strength. It features impact resistant, powder coated black aluminum fenders for unparalleled durability in its class. The roof is constructed from a single sheet of fiber glass, it is aerodynamic, and it just happens to look good too, see, you can have it all!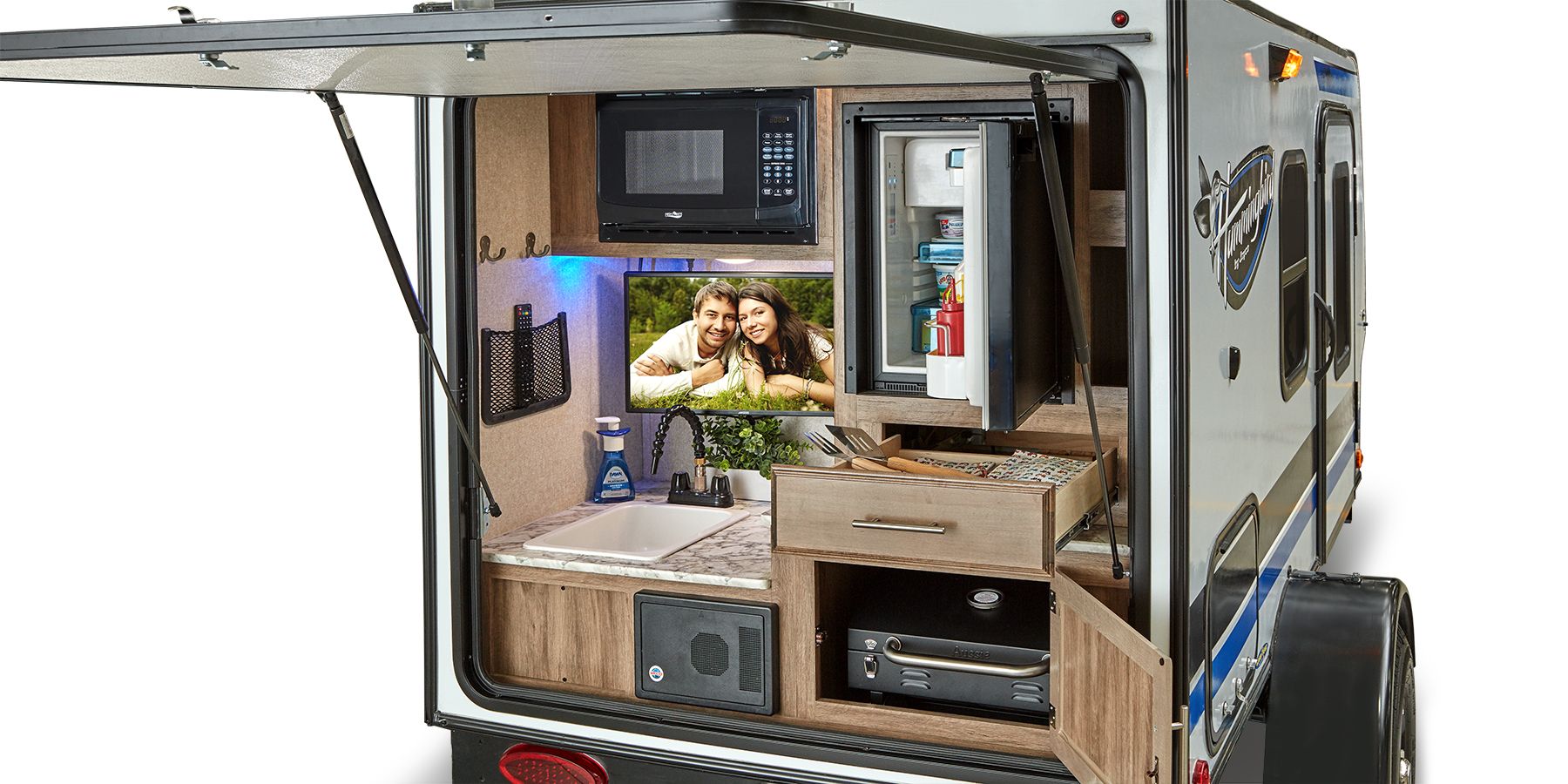 The glass is G20 tinted safety glass, this means much lower risk of damage due to jolts and vibrations, and the tint additionally provides privacy and some respite from the sun, helping you to lower energy costs as well. Like to get off the beaten path? The 2019 Jayco Hummingbird gives you the tools you need to explore Canada's beautiful back country, including US made goodyear tires, filled with nitrogen for increased pressure stability across a range of temperatures. It features aluminum rims, for durability and unmistakable style, as well as self adjusting electric brakes, and high performance Dexter axles with rubber torsion suspension.
Living Area
You'll be pleasantly surprised by how functional this compact living space is. Clever design has allowed Jayco to keep the 2019 Hummingbird bright and airy, while still maximizing inside amenities. It features an attractive plywood dinette, and for comfort, the cushions are crafted from top quality, high density foam with vinyl backing.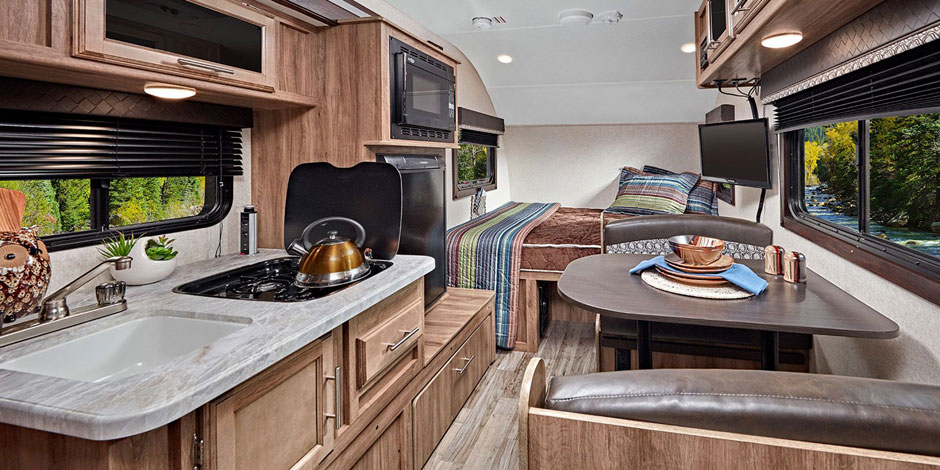 Simply opening or closing a drawer gives you a quick indication as to the quality of the 2019 Jayco Hummingbird. Featuring 75 lb rated ball bearing drawer glides, this often overlooked feature makes getting gear in and out, an absolute pleasure. Keeping things comfortable, the 2019 Jayco Hummingbird is available with a Fan-Tastic power vent, and optional 8000 BTU side mounted air conditioning unit. If you're strictly a summer camper, you can even upgrade your AC to a low profile 13500 BTU unit for the ultimate in climate control.
Sleeping Quarters
Jayco have seen fit to equip the 2019 Hummingbird with their exclusive Teddy Bear residential style mattress, this means you're getting the best night's sleep possible whenever you take this amazing travel trailer out. It also features decorative window treatments and pleated window shades, little touches of home to make sure you're always feeling at home.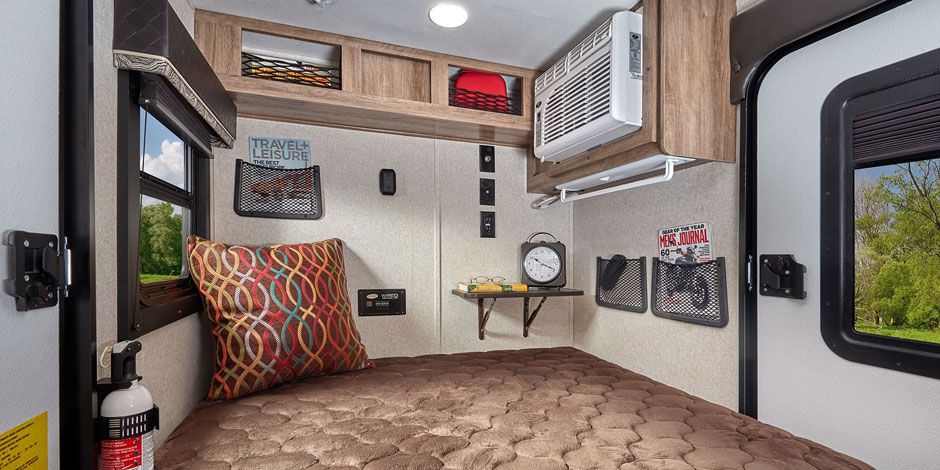 There are clever net storage bins around the bed for easy access to your essentials in the night, and to make it easier to see what's in them, you'll enjoy the LED lighting, placed throughout the interior. Thoughtfully placed hanging hooks provide an extra means of keeping clutter off the floor or bed too.
Kitchen
The Kitchen is often said to be the heart of the home, and in your Jayco Hummingbird, you'll certainly be able to rustle up some memorable meals. The residential style seamless countertops are a breeze to keep clean, and the 2 burner recessed cooktop allows you to have multiple dishes on the heat simultaneously. For the leftovers (if there are any!) you'll make light work of warming them with the flush mounted convection microwave.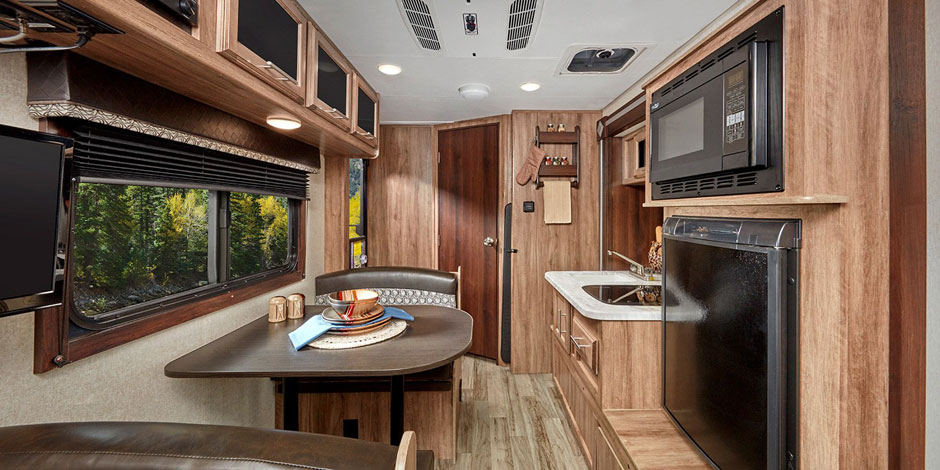 One of the stand out features of the 2019 Jayco Hummingbird is the available outdoor kitchen. This set up is enormous! This rear mounted exterior kitchen features a quick connect faucet, an additional microwave, as well as TV and refrigerator. If you so choose, you can opt for the available exterior grill too.
Floor Plans
Offering a world of options, the 2019 Jayco Hummingbird is available in any one of 7 fantastic floor plans, some even including built in shower and toilet facilities – a feature not often found in this category of travel trailer. Each can be configured to your exact specifications by your friendly sales team here at Leisure Trailer Sales, and believe us, there really is a floor plan to suit every taste and need.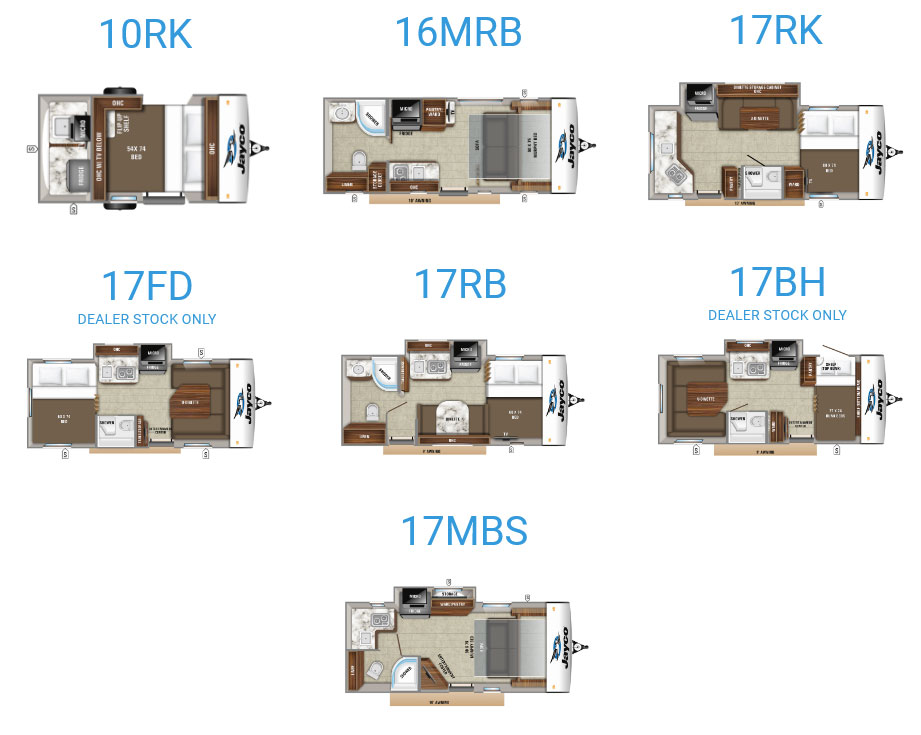 Storage
The 2019 Jayco Hummingbird is chock full of space efficient nooks and crannies for keeping life's essentials out of your way until such a time as you need them. Net storage bins and overhead lockers provide quick access opportunities, while the large, rear outdoor storage compartment provides ample space for bigger items and bulky supplies.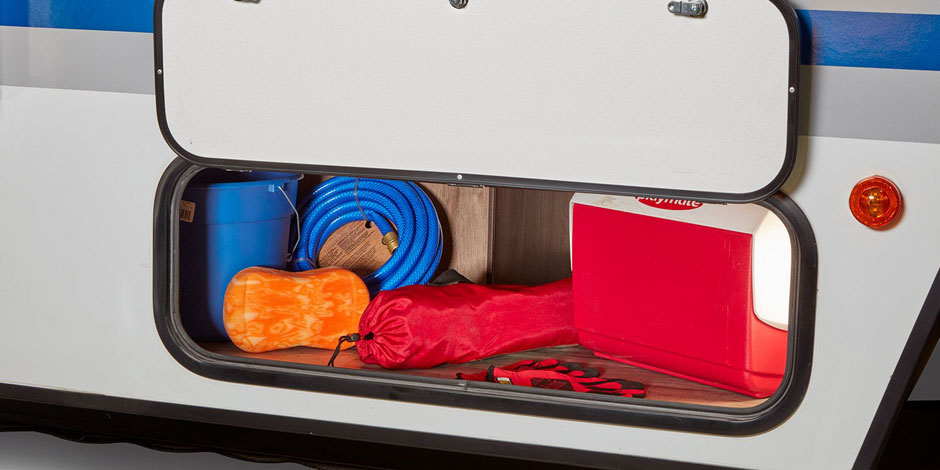 Towing
Thanks to the light weight of the 2019 Hummingbird, you needn't invest in a super duty truck, or even any truck in order to tow this excellent travel trailer. The aerodynamic design makes towing this this thing incredibly simple, and non intimidating for even the most novice owner out there. That slippery design will also reduce your trips to the gas pump compared with boxier competition.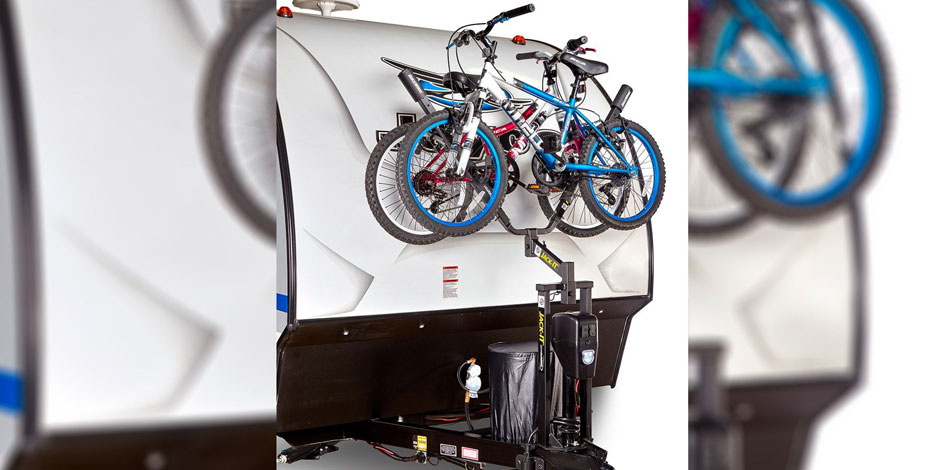 We hope you've enjoyed this brief intro to the 2019 Jayco Hummingbird. We really could talk all day about this great Jayco travel trailer, but we don't want to take up all of your time just reading about it – we want you to come and see how awesome it is for yourself! Words really can't do this Jayco RV justice. So make your way down to Leisure Trailer Sales, we'll take great care of you and make sure you leave with the travel trailer that's right for you!