2019 Jayco Jay Flight Bungalow
Welcome to Leisure Trailer Sales, the top destination for Jayco RVs Ontario, and Jayco Travel Trailers Ontario! We are based in beautiful Tecumseh, and we're perfectly positioned to serve the great people of this region and beyond. Our RV dealership has been in business for an incredible 62 years! We've sold over 23,000 RVs, and helped to create countless vacation memories; if anyone knows RV Sales Ontario Canada, it's us! We are an authorized and full-service Jayco dealer in Ontario, and we simply love their products! Today we are bringing to you one of Jayco's best residential models, the Jay Flight Bungalow. This trailer is purpose-built for those who tend to spend a long time out on the campsite and want more in the way of creature comforts that a more traditional towable RV can offer. Without further ado, we're proud to present, the 2019 Jay Flight
Bungalow.
Construction

The 2019 Jayco Jay Flight Bungalow is built to last, it features an atrium style front wall, with integrated lights. The hitch is detachable too for convenience when you're stationary for an extended period. There's a residential style sliding patio door, constructed from Low E thermal pane glass. Just some of the features that make this the perfect trailer for long haul stay. Measuring around 40 feet in length, the Jay Flight Bungalow really is a mighty unit; it is available with fiberglass walls that not only look great but make cleaning and maintenance so, so simple! It features 102 inch wide body construction, for ease of movement inside too! Of course, the Jay Flight Bungalow incorporates the legendary Jayco Magnum Truss Roof System, a construction feature that increases roof load capacity by as much as 50 percent over competitor's trailers.
Living Area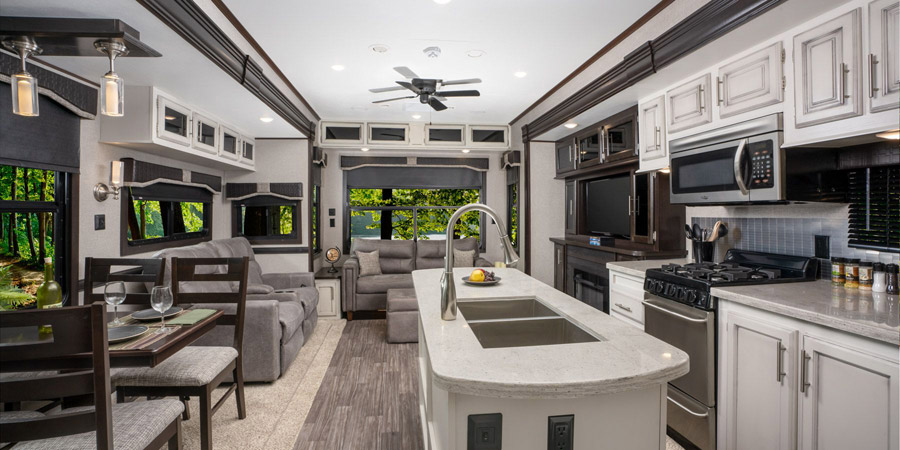 The interior living space is where the 2019 Jayco Jay Flight Bungalow really comes into its own. You'll find incredible residential features come as standard on this model, including an electric fireplace with thermostat controls – perfect for staying warm on cold nights! You'll love the crafted dinette, it's perfect for enjoying a gourmet meal lovingly prepared with friends and family. The available décor selections are bright and modern, yet retain a timeless feel, so you know they won't be looking dated years down the road. Furniture is carefully selected to fit, not only physically speaking, but to fit the general aesthetic of this beautiful RV. You'll find LED lighting throughout, and beautifully smoked glass inserts on select cabinets, all adding up to a stunning interior you'll be proud to call your home away from home. The extra tall ceilings, available slide-out rooms, doorways, and large windows all add up to give the feel of a wide open space that really feels like home. Further residential touches like ceiling fans, hardwood look vinyl flooring, and Shaw residential carpet only add to the overall appeal of life in the Jay Flight Bungalow.
Sleeping Quarters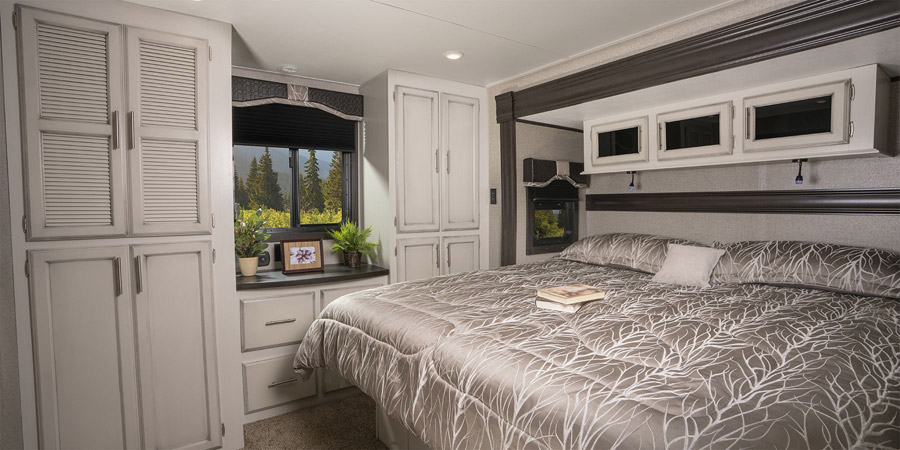 If you demand the best of the best when it comes to sleeping arrangements in your travel trailer or RV, then the 2019 Jayco Jay Flight Bungalow is going to be right up your street! Let's start with the master bedroom; this is an absolute masterpiece, with available washer and dryer prep, abundant storage, and windows complete with pleated blinds. A queen size bed is standard, but that can be upgraded to a King Size should you wish. Every master bedroom also comes with a 120-volt ceiling fan, stereo speakers, reading lights, and power outlets on each side of the bed – a must for keeping mobile devices charged. You'll immediately notice the premium nature of the Jayco Jay Flight Bungalow when you set your eyes on the standard and exclusive Simmons pillow top mattress in the master bedroom. One of the most popular Jay Flight Bungalow floor plans comes with a trick loft area, perfect for families looking for a little privacy. This clever loft area sits above the master bedroom and provides an additional sleep or play area without sacrificing the main living space.
Kitchen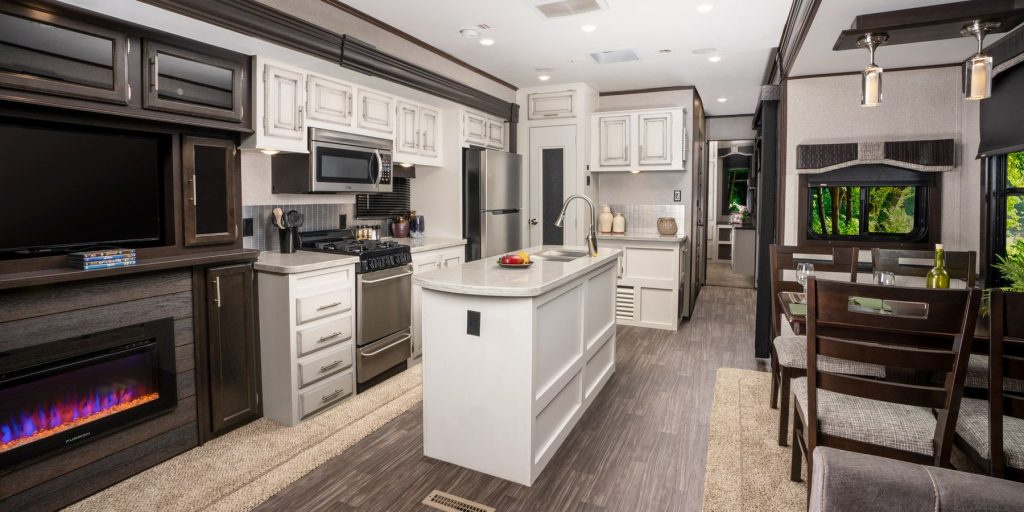 The 2019 Jayco Jay Flight Bungalow's kitchen really brings the 'wow factor', you might even forget you're in a portable RV after you've seen the beautiful island set up, featuring residential sink and faucet, as well as a huge amount of seamless solid surface look countertop space. In addition, the as standard, 120 volt 18 cubic foot fridge with integrated ice maker, and the 20 inch free standing 4 burner range and oven provide real 'home kitchen' facilities, no matter where you choose to take your RV. As far as design goes, you can even opt for contrasting colors for the kitchen cabinetry, an option that really adds some flair to your kitchen design, and sets these storage units apart from the main living space.
Bathrooms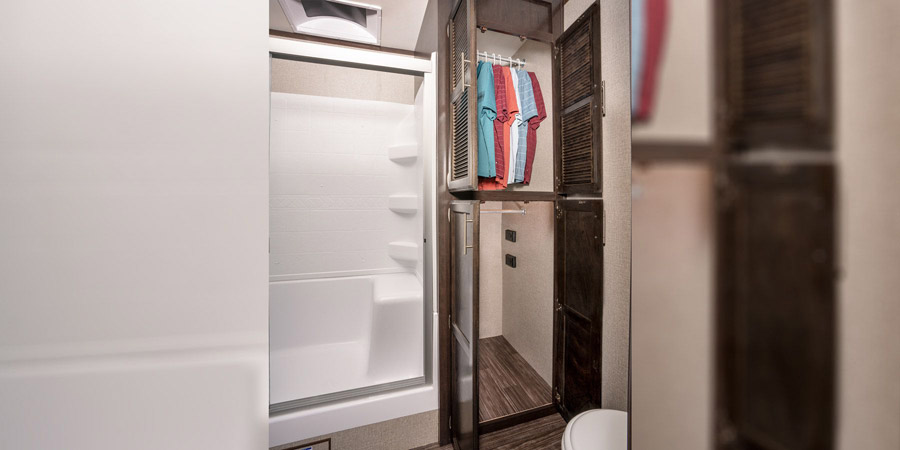 You're really going to love the options available when it comes to bathrooms on the 2019 Jayco Jay Flight Bungalow. This travel trailer includes a porcelain toilet with a convenient foot flush, an attractive mirrored medicine cabinet, and even a seamless solid surface look countertops. Another area of the bungalow that truly feels like home.
Floor Plans
There are six excellent floor plans available in the 2019 Jayco Jay Flight Bungalow range, each offering unique features ideally suited for various applications. There are options with slide outs, with theater seating, with loft accommodation, and much, much more! As with all Jayco RVs, the Leisure RV Sales team would be more than happy to help you custom order your very own to your exacting specifications!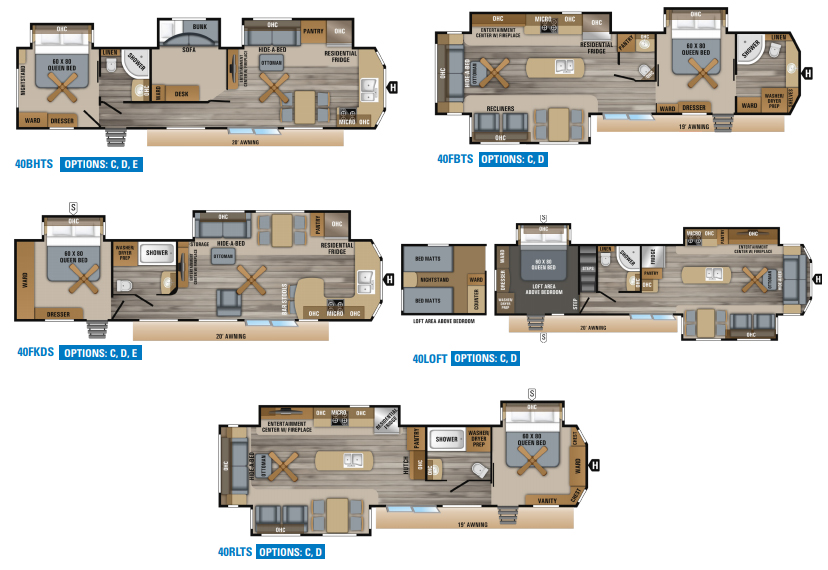 Storage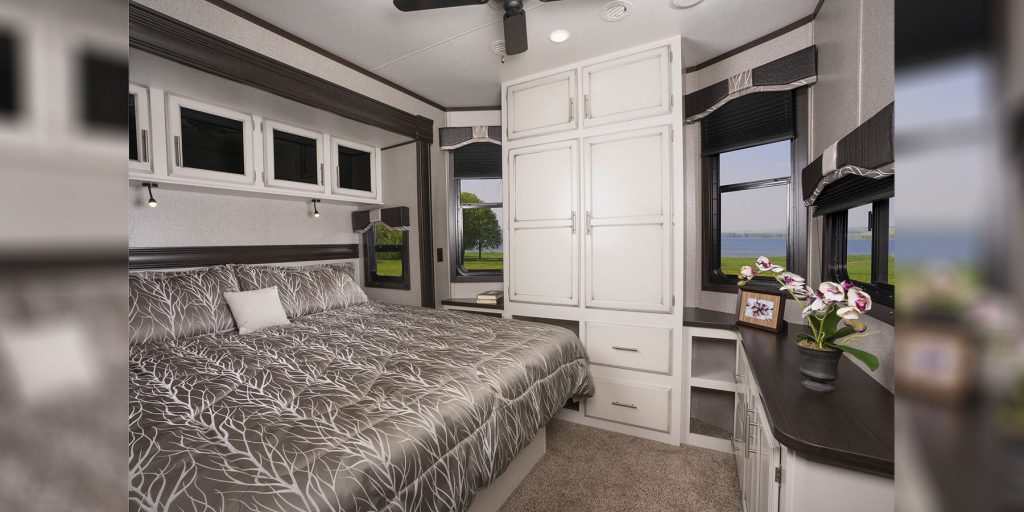 As you might expect from an RV of this size, storage really isn't an issue. With cabinets, both lower level and overhead are almost everywhere! Speaking of storage everywhere, even the bathroom makes clever use of available space by way of a spacious hanging closet, not only convenient but also great for privacy too!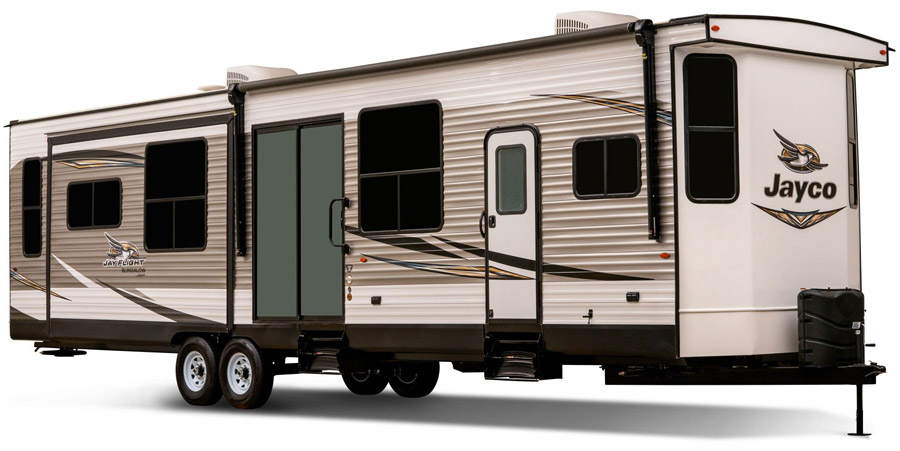 Wow, what a residential trailer! The 2019 Jayco Jay Flight Bungalow, we think, is the ultimate long trip trailer. You really could consider full-time life in this thing if you wanted! With some beautiful amenities, luxury features, and solid residential facilities, the Bungalow is a real gem in the Jayco Lineup. Here at Leisure RV Sales, we're big believers in seeing any RV in person to get a real sense of what it's like, and that's why we'd love for you to visit our Tecumseh Ontario Dealership! Our team will gladly give you the grand tour and answer any and all of the questions you may have, as we already mentioned, they'd also be thrilled to help you to specify a custom order too! So if you're looking for Trailers for sale Ontario we really do hope to see you soon here at Leisure RV Sales, thanks for stopping by!
---
Learn more about the 2019 Jayco Jay Flight Learn more about the 2019 Jayco White Hawk Learn more about the 2019 Jayco Jay Feather Learn more about the 2019 Jayco Hummingbird