Welcome one and all, to Leisure Trailer Sales of Ontario Canada. If you're looking for Travel Trailers Ontario, look no further. Our Family owned and family driven business has been dealing in the finest recreational vehicles on the market since 1957, and in that time we've sold over 23,000 RVs; so, trust us when we say that there's never been a better time to buy a new Jayco RV. Our 2019 models are in stock, and in our opinion, they're the best we have ever seen. Today we're proud to talk to you about the awesome new, 2019 Jayco Jay Feather Travel Trailer. This is a world class RV with some state of the art features, designed to bring season upon season of joy to you and your travel companions.
Construction
Jayco are of course renowned in the RV industry for their top class build quality, and generous warranties; nothing changes here with the 2019 Jay Feather – it's as solid as a rock thanks to Jayco's cutting edge construction technology. It boasts Stronghold VBL vacuum-bonded laminated floor, sides rear and front walls, even including the slide-out walls when slideouts are equipped. The Jay Feather is built around Jayco's famous A Frame, which is actually sturdy enough to directly mount bicycles and even dual 30 lb propane cylinders and auto regulator.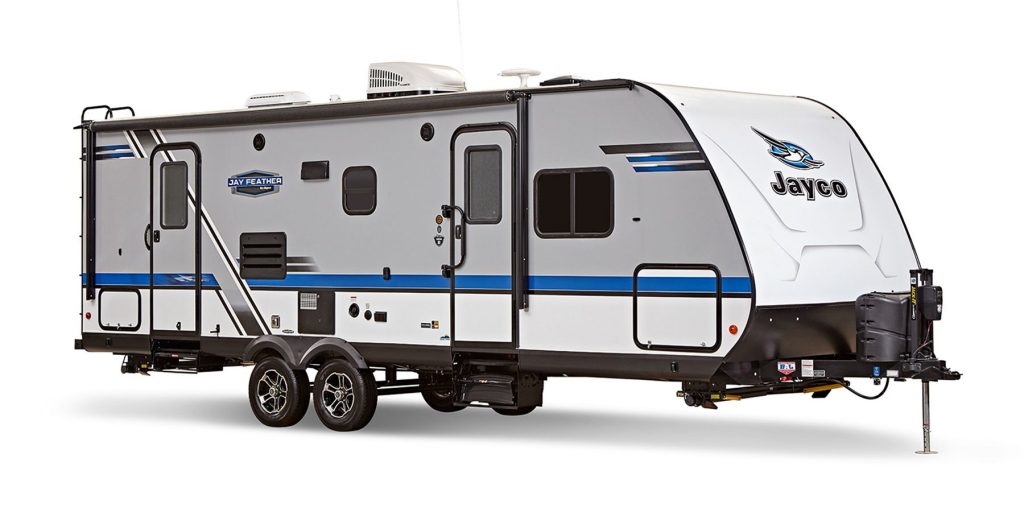 Little touches such as the use of high quality, marine grade outdoor speakers ensure years of faithful service and minimal intervention to keep things running – just as it should be! The 2019 Jay Feather gets Nitro filled Goodyear radial tires with self-adjusting brakes and aluminum rims when equipped with the customer value package, and in case you didn't know, the use of nitrogen over regular compressed air ensures a more consistent pressure across a wide range of temperatures. Another new for 2019 feature is the use of American made Dexter axles, a premium feature that is standard on all Jay Feather models.
Living Area
Anyone familiar with the Jayco brand knows all too well that these are real luxury travel trailers, and we're sure that even the most seasoned travel trailer owners will be bowled over by both the design, as well as the fit and finish of the Jay Feather's interior. The living areas are incredibly spacious, take for example the dining space, which, boasts ample seating around the table, and speaking of the dining seating – you might just mistake it for your couch! It boasts 4-inch high-density foam cushioning backed in top quality vinyl, which is both attractive and durable.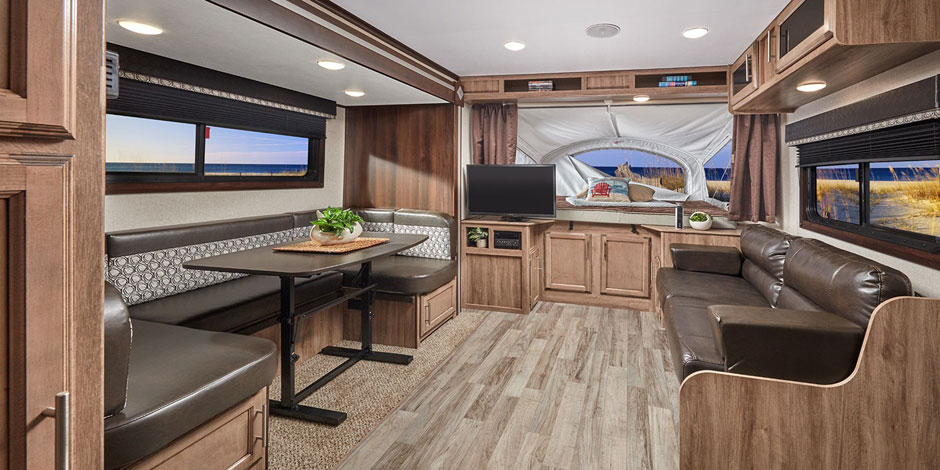 You'll see clearly in all corners of the Jay Feather, thanks to the standard, full trailer LED lighting, and that's definitely a good thing, as you'll be better able to enjoy the premium woodgrain accent on select interior panels, and touches like the smoked glass cabinet inserts and crown molding. You might even just forget that you aren't at home!
Sleeping Quarters
We know you're going to love sleeping in the 2019 Jay Feather's excellent sleeping accommodations. With so many configurations to choose from, we'd be here all day if we listed them all! But just know that you'll have the choice of bunk beds, comfortable and convenient fold-out Murphy beds, and even residential style Queen size beds, with the Jayco exclusive Simmons mattress!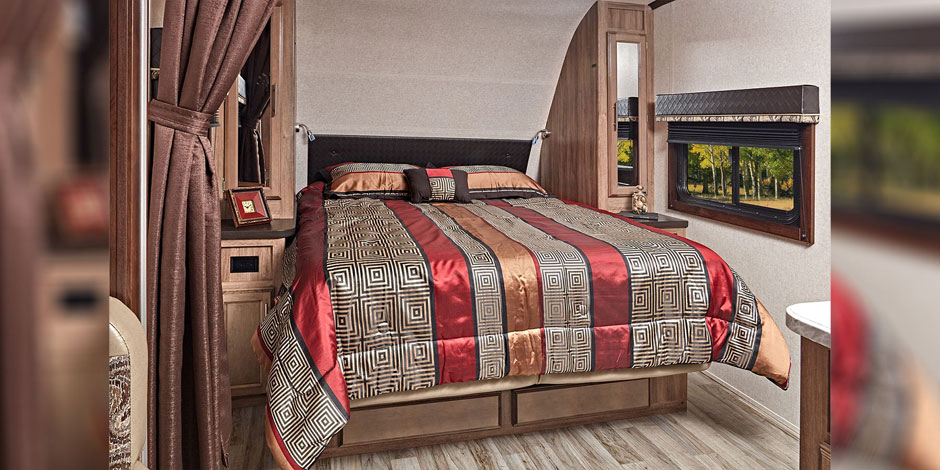 Kitchen
Love to cook? Then this is probably the travel trailer for you! The 2019 Jayco Jay Feather is feature heavy in this area, with a recessed microwave, a full function sink, and even a residential style oven with three burner stove top. With these kinds of facilities, you'll be putting together the kinds of gourmet meals usually found in top restaurants, but from the comfort of your very own Jayco Travel Trailer! Keep food fresh in the standard, 6 cubic foot refrigerator, perfect for storing leftovers (if there are any!).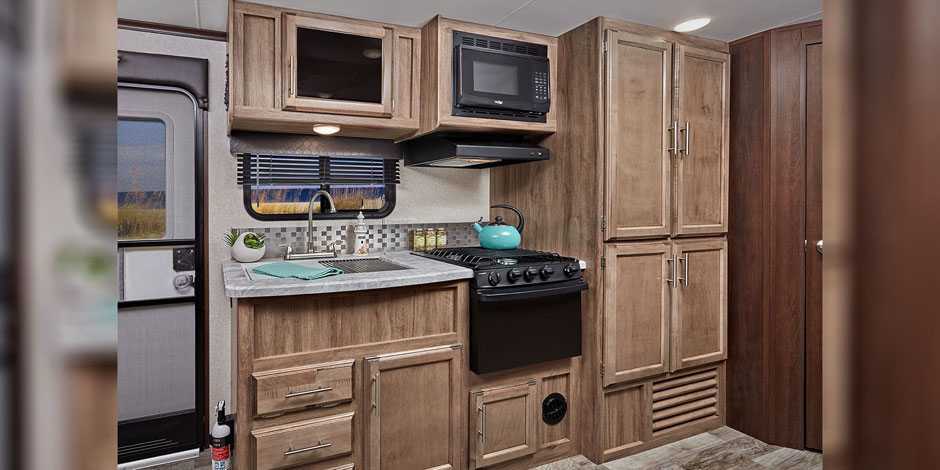 If you like to cook al fresco, the 2019 Jay Feather has the tools you need! It features an outside grill propane quick connect coupling, as well as 30 amp electrical service. Select Jay Feather floor plans include the option of a full outdoor kitchen too! If you opt for this you'll get an external sink, fridge, as well as a storage space and a cooktop.
Bathrooms
Opting for a larger travel trailer such as the Jayco Jay Feather means you'll enjoy facilities like a full bathroom – quite the amenity when you're out in the middle of nowhere! Wash away the day in the beautifully appointed shower, and enjoy the natural light streaming in through the bath skylight. A roof vent keeps the room fresh and gives steam a chance to escape, and the foot flush toilet adds a real element of convenience!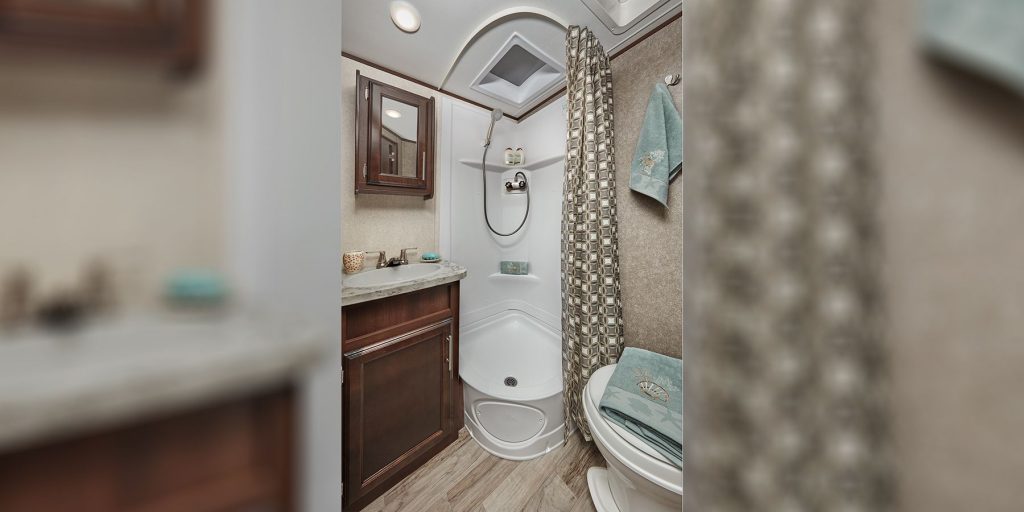 Floor Plans
Where Jayco really stand out from the competition is the sheer volume of choice you have when it comes to models and floor plans. The 2019 Jayco Jay Feather comes in an absolutely astonishing 21, that's right, 21 floor plan options. These aren't simple layout changes, you'll find models with and without slide outs even hybrid tent setups! The Team here at Leisure Trailer Sales would be more than happy to help you figure out which would be best for you, and even to help you to custom specify your very own design.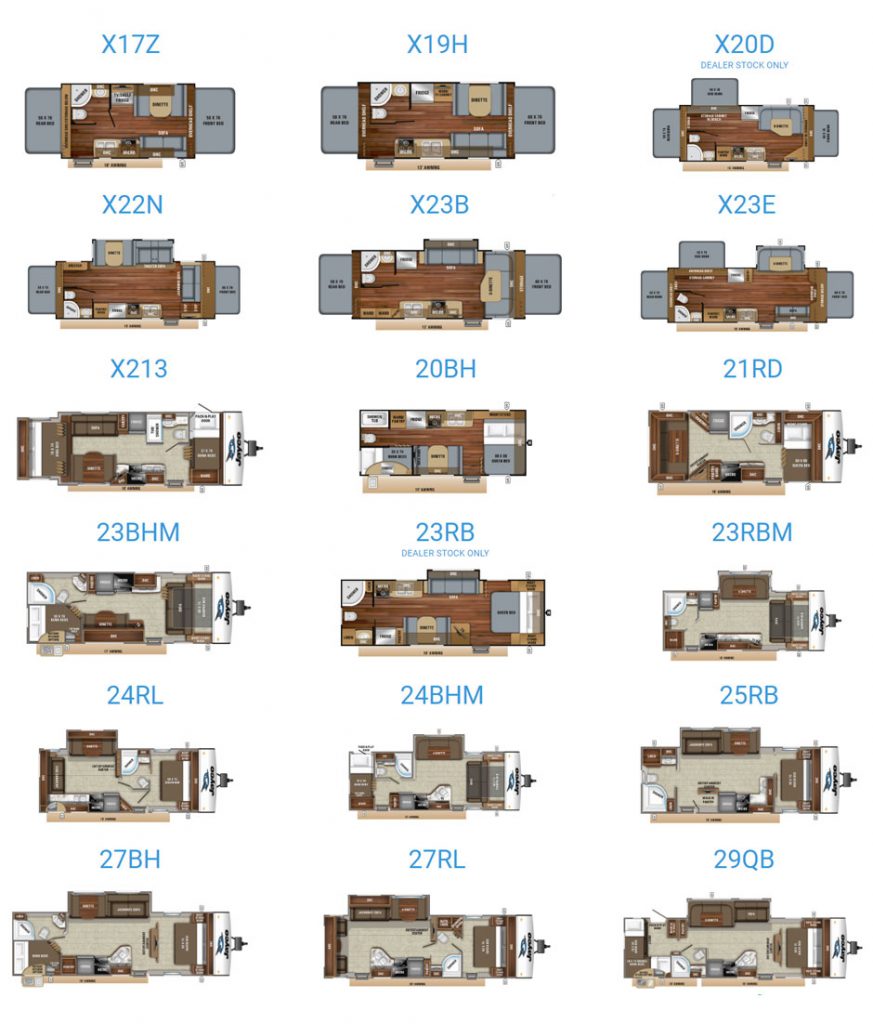 Storage
The 2019 Jayco Jay Feather has been cleverly engineered to accommodate a surprisingly large amount of gear! Anyone who has spent any amount of time in any RV will tell you, it's essential to have places to keep things tucked away, but still easily accessible, and you'll find that in bunches in this travel trailer. It is available under bunk storage, and the large pass-through area under the cabin provides a large amount of space for bulkier items.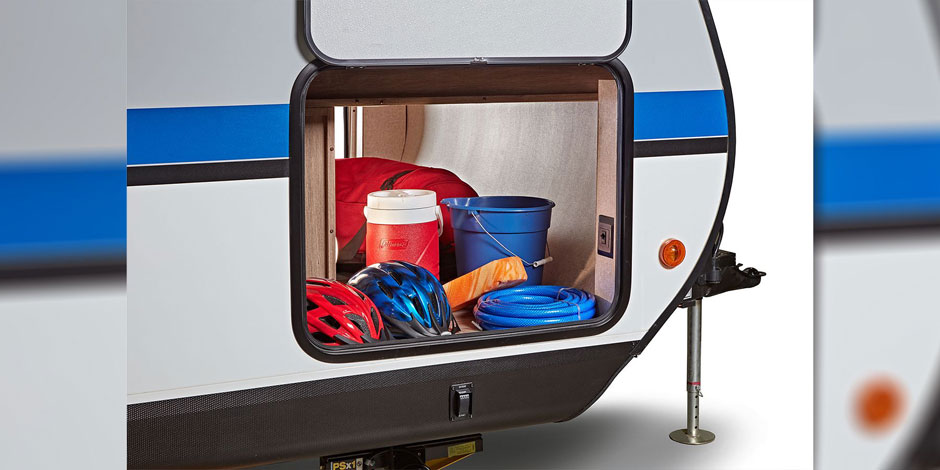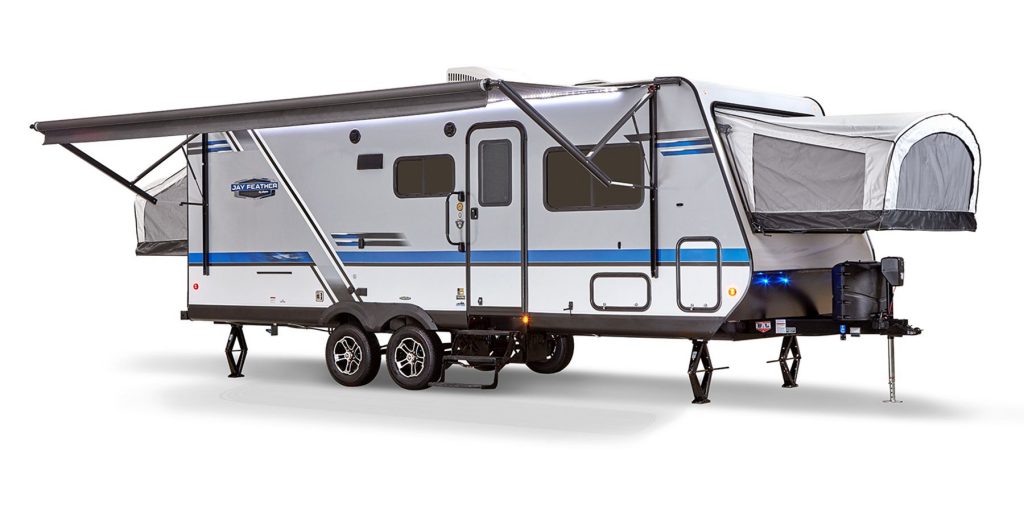 It's been our absolute pleasure to bring you a taste of the 2019 Jayco Jay Feather. This is an incredibly popular model, and it's pretty obvious why! It's of course, very easy for us to write all about this phenomenal RV, but seeing is believing; and that's why you should come on down to Leisure Trailer Sales to see the Jay Feather in person! Our top sales team are primed and ready to show you around this 2019 model, and walk you through all of its excellent features, and they simply cannot wait to meet you!