Grand Design is a relatively new company in the RV sector, but that doesn't mean the people behind it all are rookies. The people in charge used to all work for the largest RV manufacturer in the world, and they decided that getting too big meant there was too little focus on the customers and quality of the product. They banded together back in 2012 to start a new recreational vehicle company that was going to put all of their focus on quality and the customer experience.
Click image below to Download Grand Design Reflection brochure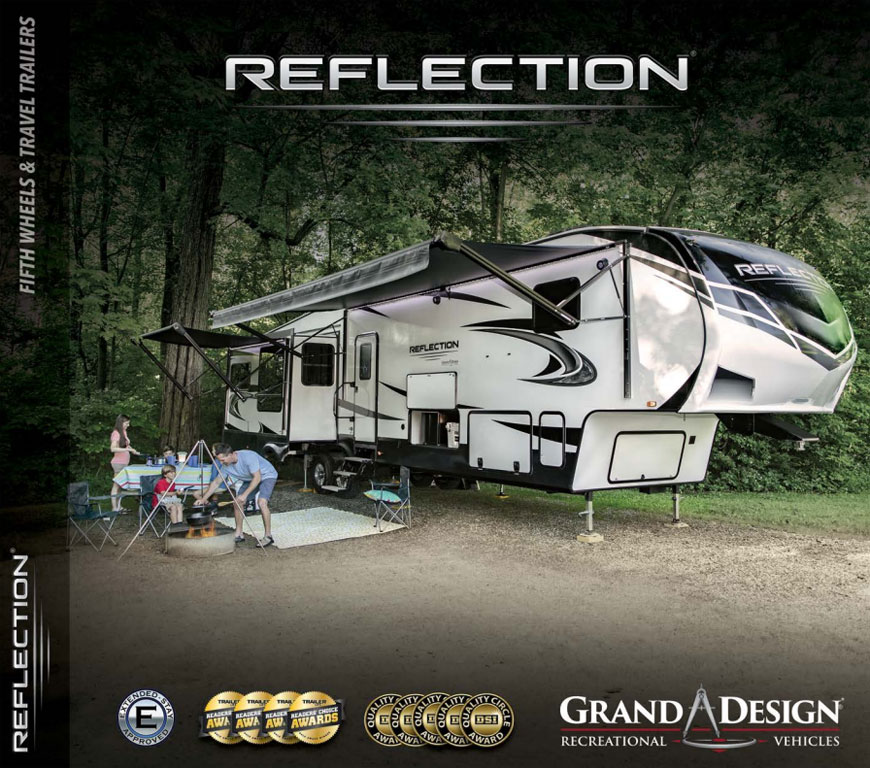 The Grand Design Reflection series is proof that these experienced RV manufacturers could come together and put out a product that people would love from the start. While there are numerous models under the Reflection name, today we will focus on the 28BH model and everything it can do for you. If you are looking for a new fifth-wheel to get around the country, you must keep Grand Design RV in your thoughts, as they have poured years of knowledge and experience into their designs.
A Grand Exterior
As you walk up to the 2020 Grand Design Reflection you will immediately be impressed with what you see on the outside. Every Grand Design RV is going to have the brand's unique style and look, and they are very noticeable. It comes equipped with all of the standard features you would expect. You have a front cap that is designed to be ultra-aerodynamic to give you the best possible fuel efficiency in your vehicle. You also get things like marine grade speakers, LED lighting, and aluminum steps to safely enter and exit the vehicle.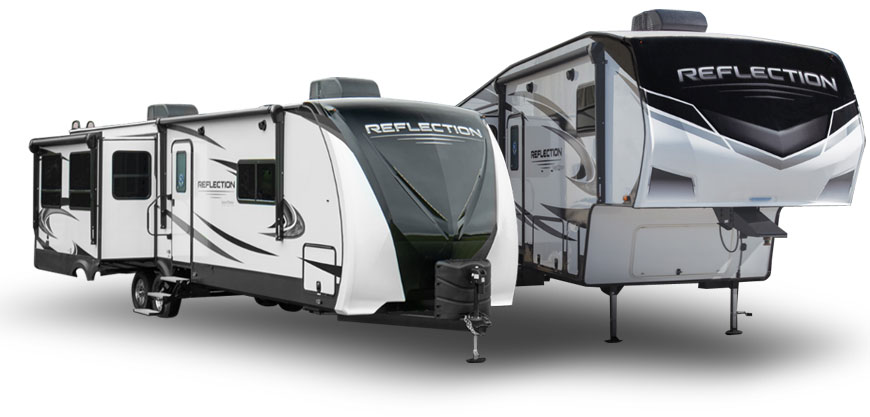 This RV also comes with a few extras on the outside that can be very handy. You get a 21-inch power awning, with the option to add a second one. It also comes equipped with a very nice outdoor shower for those times you are just too dirty to head inside. The fiberglass roof is also equipped with a factory-built ladder, just to make things that much safer if you need to get up top. You are also going to get a high-capacity water pump and an extra-large 2-inch drain valve. Last, but not least, there is a small refrigerator on the outside to keep your beverages cold. At the price, you couldn't ask for anything more out of a recreational vehicle.
An Interior to Match
While it is important to have a stylish and functional exterior on your RV, everyone knows it is the inside that really counts. All of the RV dealers Ontario has to stock these beauties are excited to show them off, and they won't stay on the lots for long. There is a lot to be said about the inside of the Reflection, and it is going to start in the kitchen.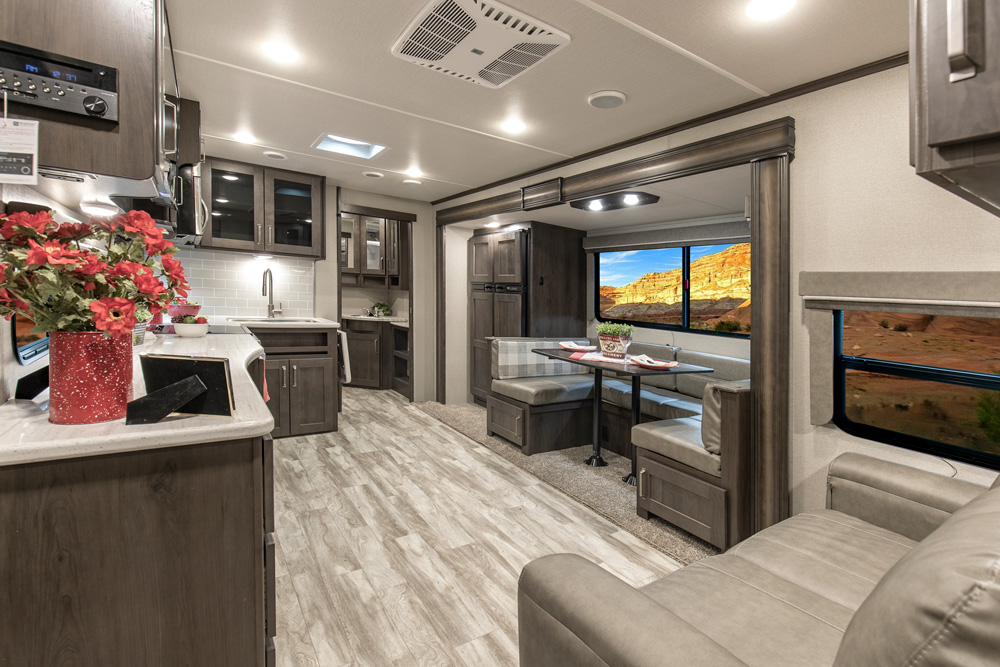 When you are traveling across the country it is important to try to keep the feel of home and cook meals when you are able to. This kitchen comes fully stocked with tons of overhead cupboards, counter space, and even a counter extension that flips up and down. It has a huge 12 cubic foot refrigerator, deep stainless steel sink, and a large convection microwave oven for all your cooking needs. When you are ready to eat you have a wonderful U-shaped dinette area, which can be upgraded to 78-inch theater seating.
Stay Entertained
There are many travel trailers for sale in Ontario, but not many that are going to be this entertaining. Keeping everyone entertained on a long road trip is not going to be difficult in the 2020 Grand Design Reflection. You get, as mentioned, the optional 78-inch theater seating to go along with a standard 40-inch LED TV on the wall across from it. You can throw in the amazing AM/FM/CD/DVD/HDMI Bluetooth stereo system, and you will never run out of things for the family to watch or listen to.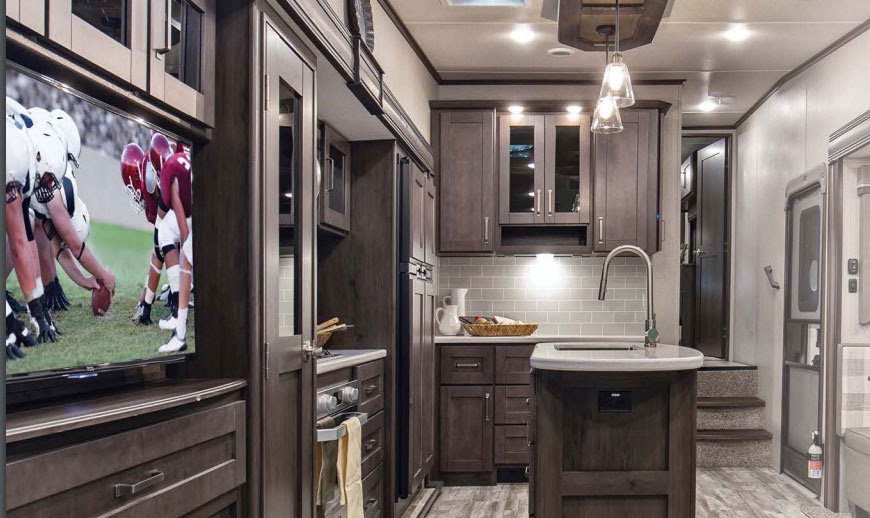 Get a Comfortable Sleep
When you are going to spend a lot of your time on the road, for an extended period of time, it is essential that you can get enough solid sleep. This fifth-wheel has you covered with a standard queen-sized bed in the main bedroom, which is also upgradeable to a king-sized if wanted. The main bedroom features a linen closet, plenty of other storage, and a nice large window on the righthand side.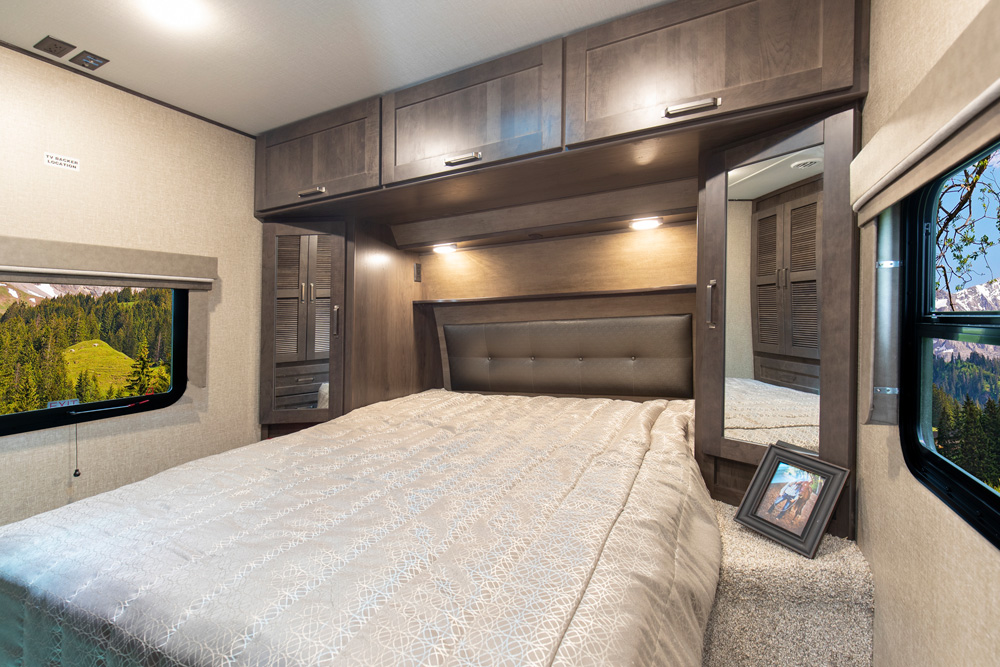 The other bedroom has 2 sets of bunk beds, along with dressers and other storage to fit all the young ones. You also have a sofa in the living room that can fold down and accommodate another person sleeping. This setup is going to ensure everyone gets enough beauty rest so they can enjoy the vacation the way it was meant to be.
A Washroom With a Bit Extra
The last stop on the tour is going to be a necessity for everyone, the washroom. Most recreational vehicle washrooms are not going to be anything fancy. The one in the Reflection goes above and beyond the standard, to give you room and comfort. You have a large radial shower that even has a skylight built-in. This is the extra bit of quality that Grand Design RV is going for. You get plenty of room to move around and a very functional sink and toilet. You also have the option of upgrading to a 17-gallon quick recovery water heater, which means there is no more waiting to shower.
Grand Design Reflection Travel Trailer Flooplans
Click the image below to view all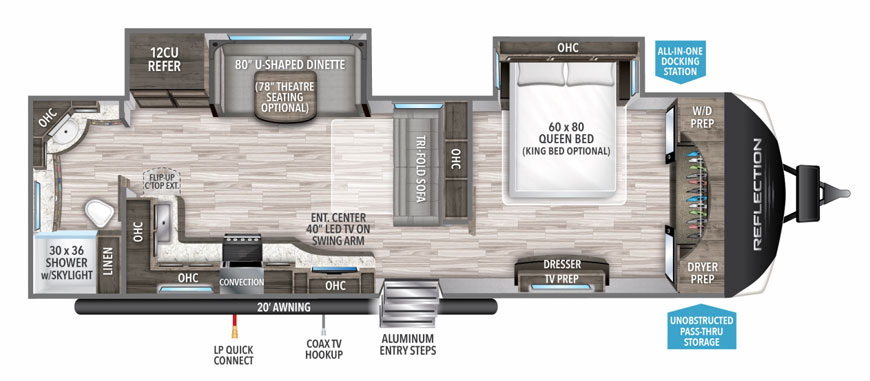 Grand Design Reflection Fifth Wheel Floorplans
Click the image below to view all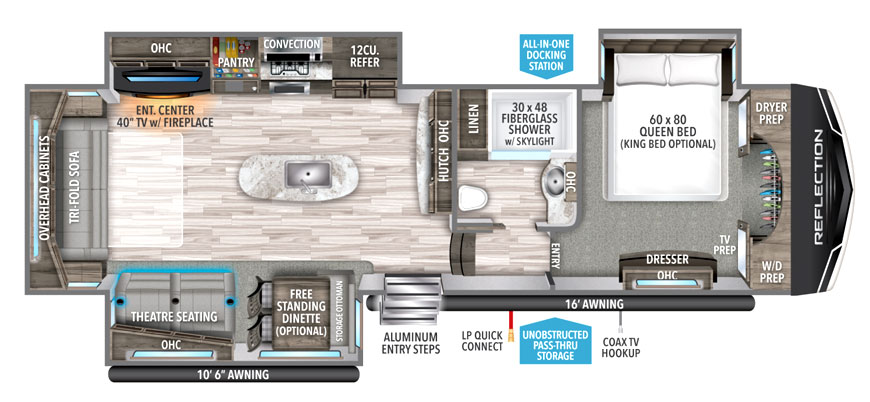 Leisure Trailers Makes the Difference
If you have found yourself looking around for new or used travel trailers, why not come see a company that has been doing it for over 60 years. Since 1957 Leisure Trailers has been family owned and operated, and we have a passion for what we do, it is in our blood. We have many years of experience in the recreational vehicle industry, and it is our goal to help you find the vehicle that is right for you.   Whether you are looking for a brand new 2020 Grand Design Reflection or any other model that is available, we are here to help. Our dedicated staff is highly trained and knowledgable, with a willingness to go the extra mile for you. Give us a call or come see us today, Leisure Trailers is always here to meet all of your recreational vehicle needs.   >> VIEW OUR INSTOCK GRAND DESIGN REFLECTION INVENTORY