Hello all, welcome once again to the Leisure Trailer Sales Blog! We've been serving campers all over Ontario from our home in Tecumseh for 63 years now. If you've been looking for an RV dealer Ontario, we are here to help! Our decades of experience mean we've learned exactly what it takes to keep our campers happy, in fact, we even see different generations of customers from the same families coming through our doors!
Click image to download brochure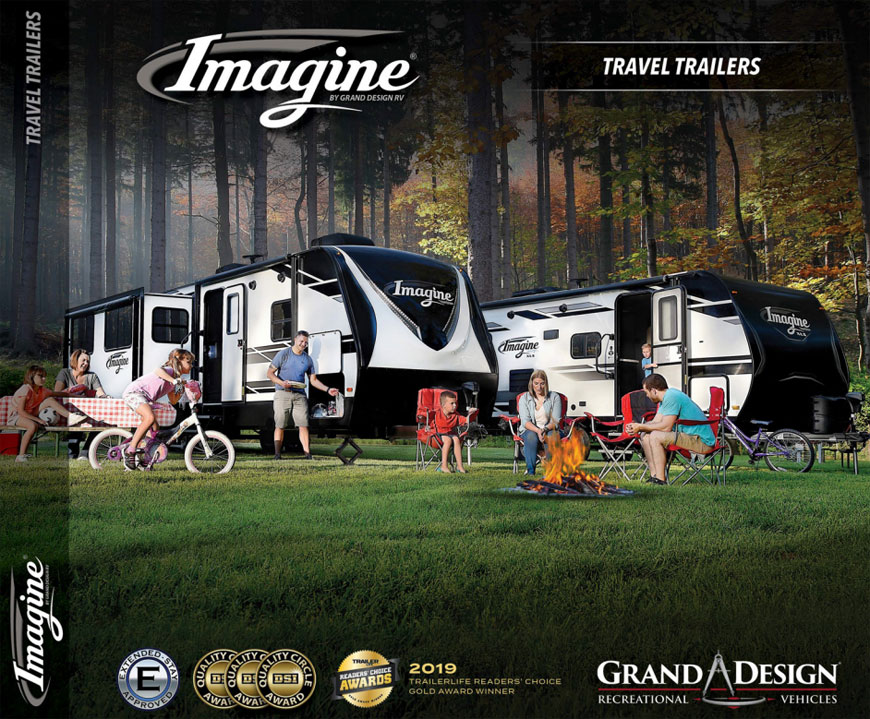 One of the things the keeps our customers coming back is the selection of top quality RVs. We stock pop up tent trailers, lightweight travel trailers, full-size travel trailers, and fifth wheels from some of the most established brands as well as from some up and coming names. Today's focus is on one of those up and comers – Grand Design RV. Grand Design started back in 2012 with a vision of a better RV company in mind. This company was started by former employees of one of the world's largest manufacturers of RVs who had a dream of creating a company in which they could better connect with their customers. Since operations began, Grand Design has gone from strength to strength, and thanks to its customer-centric approach, they pan to get even bigger.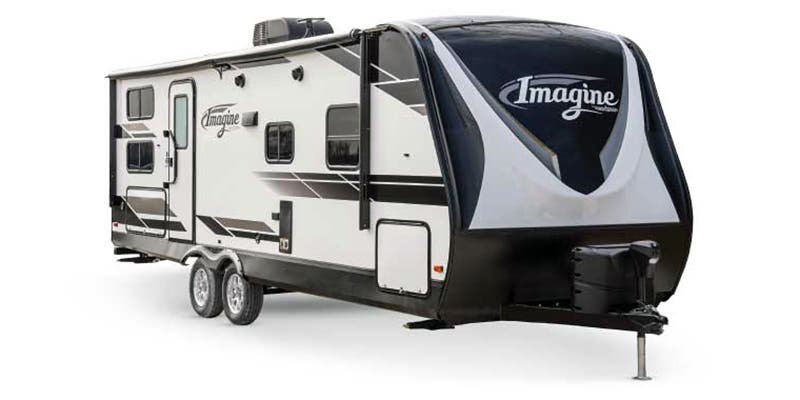 One of the best selling models in the Grand Design line up is the Imagine travel trailer. This range of innovative lightweight travel trailers are accessible to all, and because they can be towed by medium-duty trucks and SUVs, there's no need to invest in a new vehicle to haul this unit. The special design and engineering that has gone into the Grand Design Imagine travel trailer means that the lightweight has been achieved without compromising on interior amenities.
Construction
Especially when starting up a new RV company, it's incredibly important to get the construction right. Fortunately, Grand Design prioritized this from the get-go. The Imagine is built with
Fully laminated walls with rigid foam insulation.

This is a vast improvement over the soft fiberglass used by other manufacturers that can settle over time and leave uninsulated gaps

Double insulated underbelly and floor

The underbelly is fully enclosed and heated with a layer of radiant foil for four-season camping

Double insulated roof

The roof benefits from a layer of radiant foil insulation as well as a layer of fiberglass insulation

Double insulated front cap

Unlike the majority of manufacturers, Grand Design have even double insulated the front cap by extending the radiant foil and fiberglass insulation layers from the roof, wrapping them all the way to the bottom of the front cap

High-Performance heating

This unit is delivered with a powerful 35,000 BTU furnace

Superior functionality

The Imagine has heated and enclosed dump valves, suspended tanks, a designated heat duct to the subfloor, and even an attic vent

Warranty
Because of the superior construction quality, Grand Design has no qualms in offering one of the best warranties you'll find from any manufacturer. You'll get a 3-year limited structural warranty, that unlike other brands, covers extended stay camping, perfect for those looking to do long trips, or even live part or full time in their RV. As well as the limited structural warranty, Grand Design also offers a 5-year axle warranty, a 5-year warranty on exterior graphics, 12 years warranty for the roof covering, a 3-year chassis warranty, and most impressively, a 5-year tire warranty, with a 12 month no questions asked replacement period!
Exterior
Exterior features on this Grand Design RV are plentiful. Standard amenities include a solar power inlet, ideal for those looking to reduce their carbon footprint and produce some green energy. If you're looking to have an easier time setting up at the campsite, this unit comes pre-prepped for a backup camera, so if you've got one to use, or you're thinking of investing in this kind of setup, your Grand Design RV comes pre-prepped.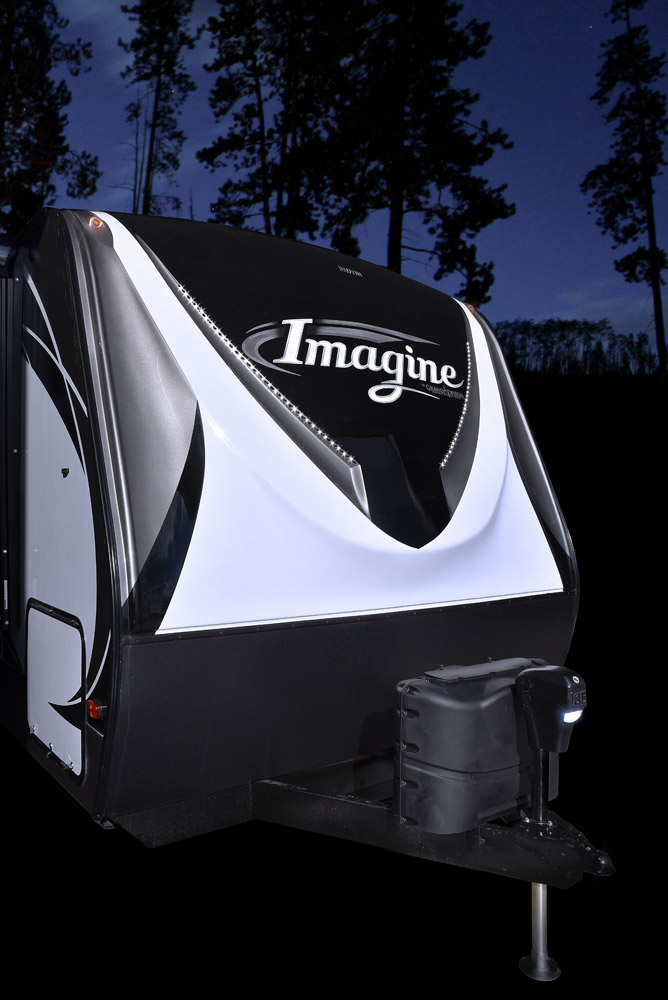 For your power needs, the Imagine travel trailer comes with twin 20lb propane tanks, and even a cover for the cylinders to help keep things looking sharp.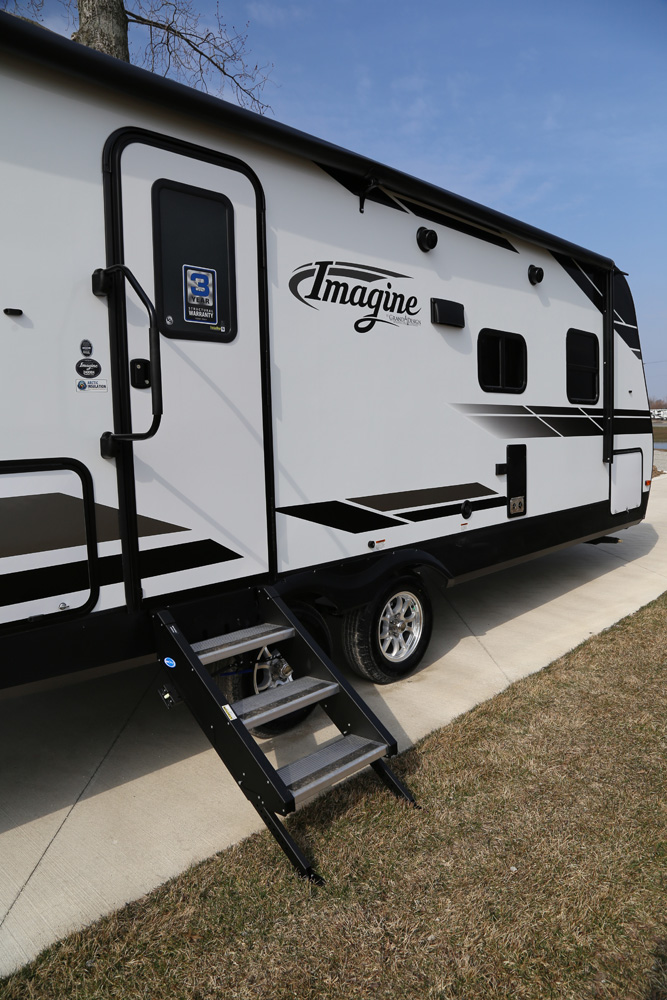 There is a huge exterior pass-through storage section boasting magnetic latches for a hassle-free experience – this is extremely handy when you're dealing with arms full of gear! Inside the pass-through, you'll find a conveniently located battery kill switch. This is perfect for those planning to leave their trailer unused for a period of time.

Bed & Bath
The bedroom and bathroom facilities in the Grand Design Imagine vary between floor plans, but today we'll talk through some of the most popular features. Select floor plans feature Grand Design's "always made" Murphy bed, an innovative Murphy folding bed design that actually keeps the bed made, even in the folded position! The Murphy bed, when equipped also comes with handy storage drawers.   The master bedroom features a comfortable 60" x 70" queen bed, complete with a residential bedspread. For your entertainment, the bedroom also boasts tv cable and satellite prep, so should you choose to bring a TV in, you'll have all of your channel options available.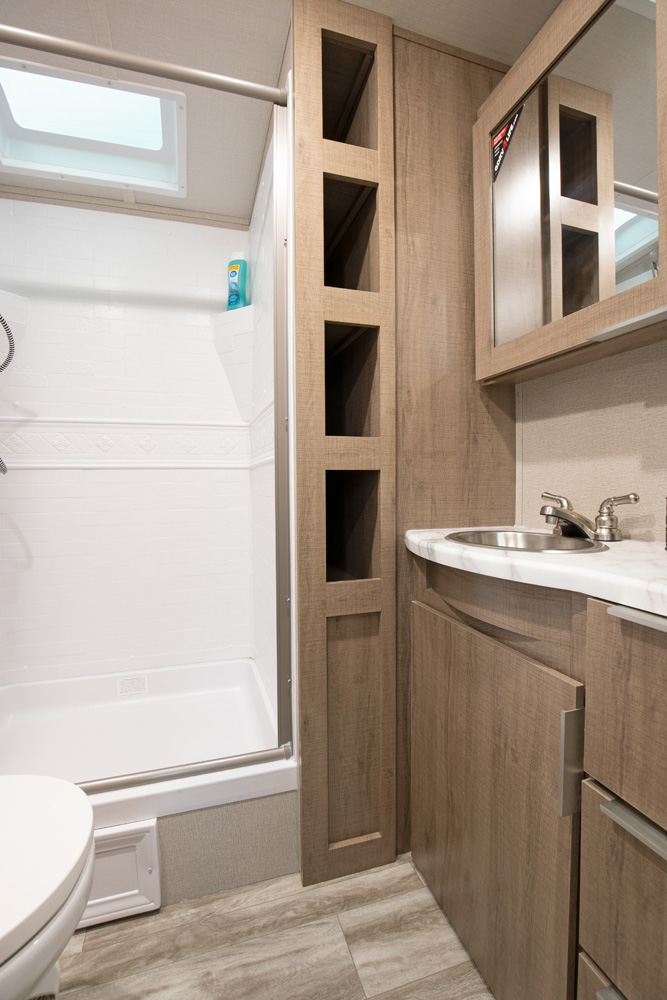 Over in the bathroom there's a residential walk-in shower, and to maintain privacy while keeping the room bright, there's an over shower skylight. Of course, bathrooms can start to develop mildew and mold if you don't keep the moisture down, so you'll be pleased to know the washroom is equipped with a power vent fan.   For convenient and private storage, the bathroom does also boasts a mirrored medicine cabinet.
Kitchen
Your kitchen in the 2020 Grand Design Imagine is set up for gourmet cooking, so those who enjoy working with food will love the residential countertops, the three-burner gas range, the gas oven, and microwave. The standard refrigerator is a double door type, meaning you'll have plenty of room for fresh produce should you be planning an extended trip, or even space for leftovers (if there are any!).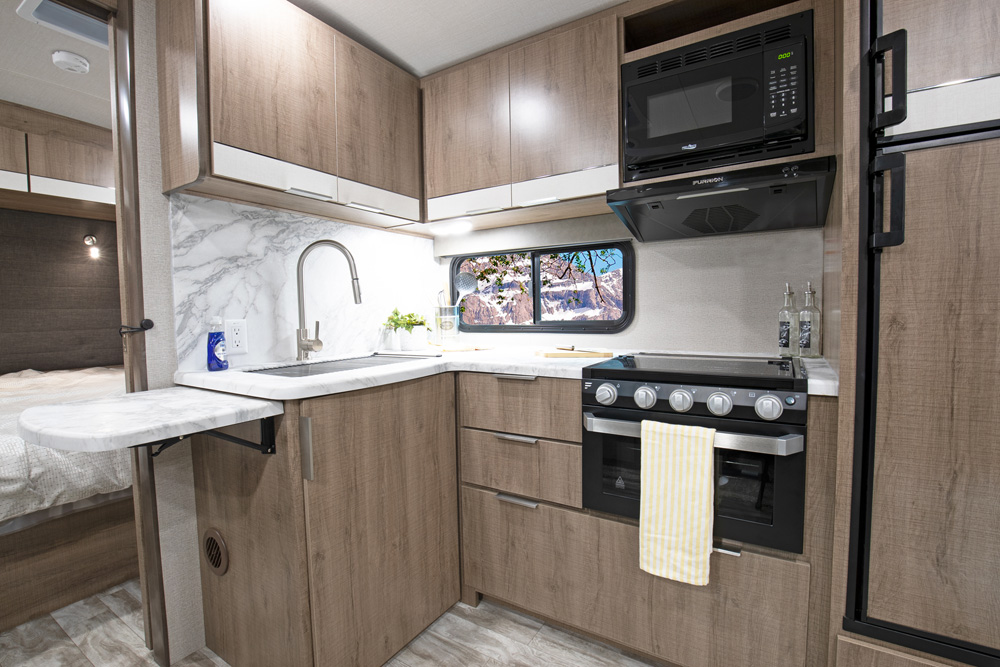 When it comes time to clean up, you'll find it so easy in the stainless steel sink with residential fixtures and residential-style pull-down faucet. To create extra workspace when you're not using the sink, the Imagine travel trailer comes with a sink cover.   The kitchen area is designed for gathering, just like it is in many homes, that's why Grand Design has incorporated a comfortable dinette in this space for family and friends to share a meal together. The seat cushions in the dinette are reversible too, so it's easy to change up the interior appearance at any time.
Living Area
There's nothing worse than feeling cramped when you're trying to relax, and with that in mind, Grand Design RV designed the Imagine with towering 81" ceilings. If your idea of a good time on a camping holiday is catching the big game or watching a movie with your group, you'll be living your best life in this travel trailer! The HD TV is mounted on a swing arm for setting up the most comfortable viewing angle possible.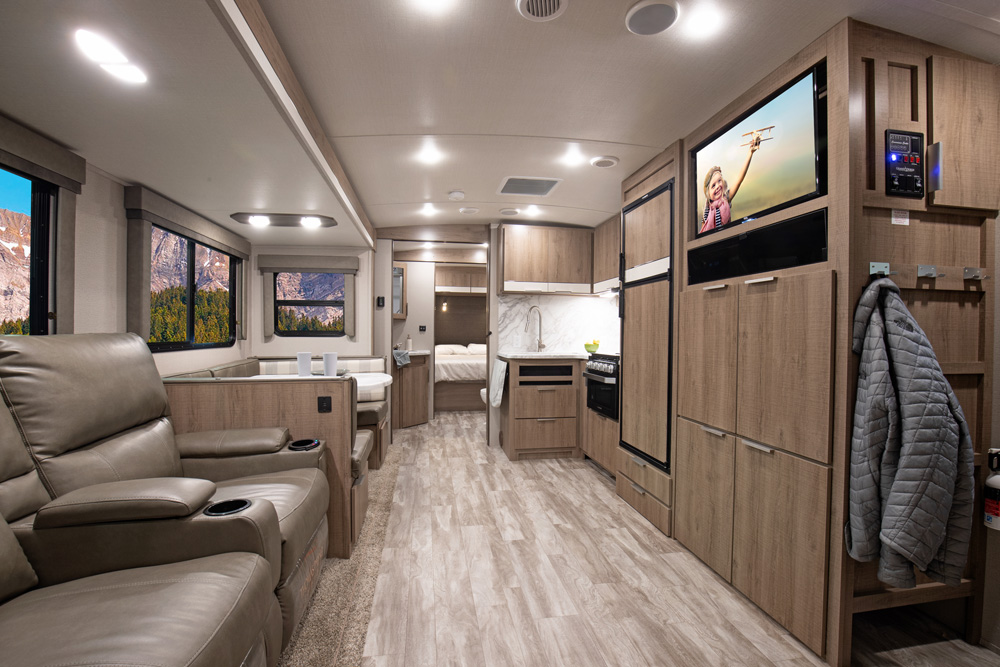 If you want a real movie theater experience, opt to add the available theater-style seating, too!
Floorplans
We hope you've enjoyed this first look at the 2020 Grand Design Imagine. At Leisure Trailer Sales in Ontario, we absolutely love this brand and this model. We've heard customers say that once they tried a Grand Design, they won't even consider another brand again! This popular model is moving fast, so we encourage all of you who are interested to come and check them out in person as soon as you can. Consider this your official invitation to come to Leisure, your RV dealer in Ontario for an official guided tour of the Imagine.   If like many Ontarians you plan to spread the cost of your new RV over a few months or years, come and see us for your finance needs. We maintain great relationships with some of the biggest lenders in the country, and because we know the business, we're equipped to provide some of the most competitive rates you'll find anywhere. You can even get a head start on the paperwork by filling in a credit application form right here on our website.
A little history about Grand Design RV…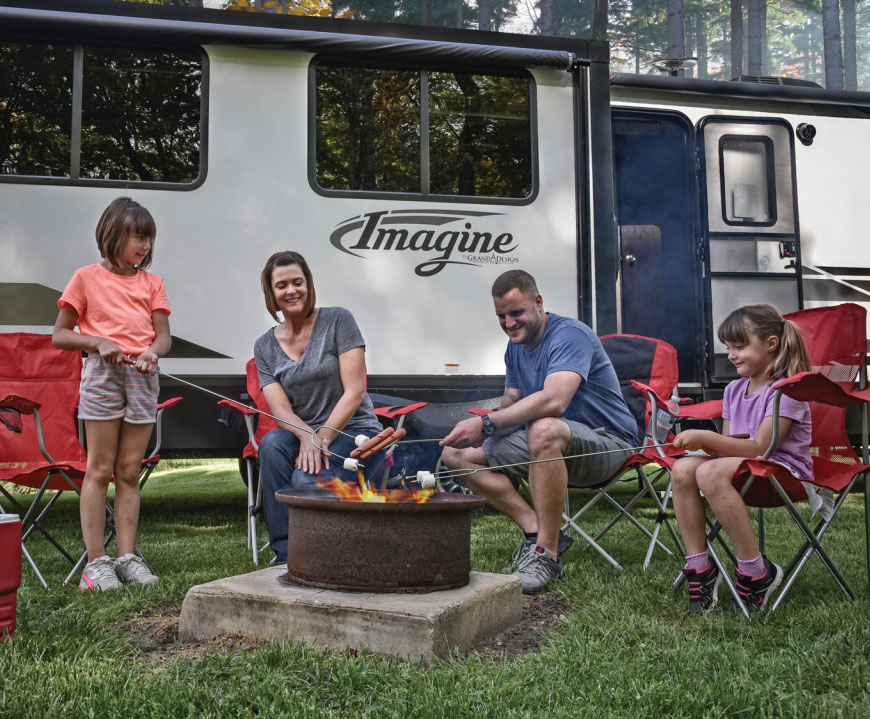 If you're planning to trade in your old RV when you come to buy your new Grand Design Imagine, we'd love to talk to you about that. If you call ahead to give us some details about your old rig, we can get a jump on the appraisal to get you on the road with your new travel trailer even faster. We're constantly looking for new inventory for our pre-owned lot, and to encourage trades, we offer some of the most competitive prices for used RVs in the area. Leisure Trailer Sales are so much more than a showroom and lot. We are a full-service dealer, and we gladly take care of all ongoing routine and unplanned maintenance and repairs for most major RV brands. On top of that, we offer parts and upgrades for your RV too.   We are thankful that you have taken the time to join us for a taste of the new Grand Design Imagine. We hope you enjoyed it, and we can't wait to see you at the dealership soon.